Filipino Flavors
A look into the underlying and delicious world of authentic Filipino cuisine
Hang on for a minute...we're trying to find some more stories you might like.
The Philippines is a country characterized by its collection of various islands and tropical beaches. The country is home to illustrious views and ample cultural diversity. What is often overlooked is the cuisine and dishes that lie under the surface. From rich soups and stews to savory pork dishes and sweet desserts, the Philippines has much more than clear water and coconut trees.
My mother came to America over twenty years ago, when she was twenty-one. After spending her life in the Philippines, the change was immense, but over the years, she has adapted to life in America. In Matalom, on the island of Leyte, her family lived as rural farmers. On average days, their diet consisted of fish and vegetables, as they were too poor to afford more on a daily basis. However, on special occasions, her mother would cook various meals and dishes for the family to enjoy. These dishes are something that my mom brought with her all those years ago.
---
Pancit
Pancit is a dish mainly consisting of noodles with vegetables. This dish comes from Chinese descent and is often served on birthdays. This is one of two of my mom's favorite dishes. She added cabbage and green bell peppers, but usually, she also adds carrots.
Adobo
Adobo is a dish and cooking process that originated in the Philippines. This meal involves marinating meat (in this case, chicken) in a mix of vinegar, soy sauce, garlic, and black peppercorn. This meal is very savory and is great with white rice. This is the second of my mom's favorite dish.
Lumpia
Lumpia is a dish of Chinese descent. It is vegetables and meat, mostly pork, wrapped in what is called "Lumpia wrap". This dish doubles as a main course, and also a snack. The crunchiness of the wrap and the juiciness in the middle is a great contrast.
Turon
Turon is banana or plantain wrapped in lumpia wrap and fried with brown sugar. Sometimes, jackfruit is added, but not in this case. This dish is sweet and is often served as an afternoon snack or dessert. This is one of my favorite dishes and my mom loves to make it for me.
Cassava Cakes
Cassava Cakes are of Vietnamese descent and are small cakes made with cassava–a woody shrub–, sugar, and coconut milk. These are served as dessert and are very soft and sticky.
Sticky Rice Cake
Sticky Rice Cakes are made of rice sweetened with coconut milk and condensed into small cakes. Sticky rice can be eaten in cakes or by itself, and as the name suggests, it is very sticky and very sweet.
---
These six dishes are just a few of my mom's favorite. We barely scratched the surface of Filipino cuisine, however, these meals may give a peek into the seemingly endless world of Filipino cuisine. My mom and I had a lot of fun shopping and cooking, and I learned quite a bit about Filipino culture. Needless to say, dinner was excellent and we were certainly full!
About the Writer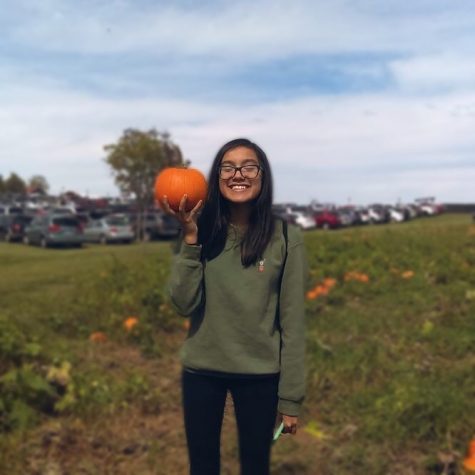 Ashley Courtney, Staff Reporter
Ashley is a sophomore, and this will be her first year on The Jacket Journal staff. She likes reading, petting dogs, and watching movies. When she's not...