Huntertown History Project: One Year Later
Revisiting the Huntertown Project one year later, featuring pictures of the site and an interview with a volunteer.
Last March, myself and colleague Blake Heller did an interview and photo essay about the newly formed Huntertown Project, being constructed on Huntertown Road. The land is a former freed-slave community, being converted and restored into a walking park and interpretive history preserve, allowing Woodford residents to see how the people before them went about their lives. Now, a year later, they are holding workdays to clean up the site, after ice storms felled a few trees. I went to the first of these workdays, to get a better idea of what we can expect when the park opens on August 28th, for the 150th-anniversary celebration.
---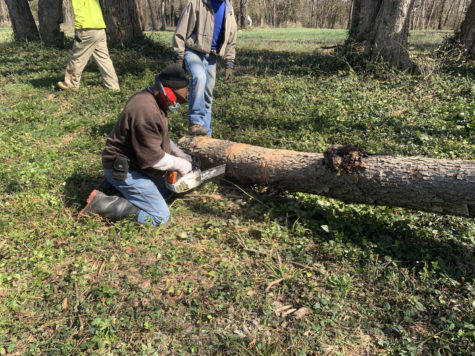 I arrived around 10:20, for a workday lasting from 10 am to noon. Despite my tardiness, the atmosphere was welcoming, and I went straight to work. Right now the main task is to clear downed trees, cutting them into small sections with chainsaws and handsaws, then putting them into piles for a truck to take them away. There were also some groups clearing the invasive winter-creeper vine that had taken hold of the site, and picking up trash. I felt surrounded by people who truly cared about getting this park up and running, and when asked about it they would share their enthusiasm. Among the rest of the volunteers, I spoke some with Sioux Finney, a former WCHS Social Studies teacher, who introduced me to the Huntertown Project. I also spoke with Larry Blackford, pastor and elected magistrate of Huntertown, a volunteer who agreed to a short interview.
---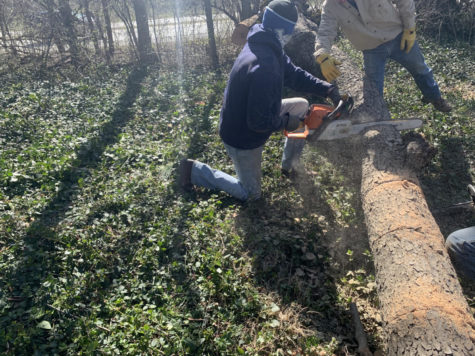 How'd you get involved with this project?
"I got involved with the municipal court, and came to know some people who'd lived here, and Sioux Finney, who wanted to do a good job of re-establishing the community and the history of it, to create an interpretive park for the community. It's very exciting, everyone likes a good park, everyone can enjoy history, so that's why I'm a part of it."
What, would you say, is the ultimate goal of the Huntertown Project?
"To develop it … and to make it a place where people in the community, families can come and enjoy walking around, the outdoors, the history of this community, to read and learn about it. A place to come enjoy yourself, the quietness and the beauty of it. Just, nature itself is a remarkable place."
When can we expect the park to be up and running? What events might we see in the future?
"Opening day for the community's 150th anniversary is August 28th and 29th. We're gonna have a dedication that first day, with a monument and things like that dedicated. We're going to hold services. We are going to recognize the African American men in the Colored Army who lived in this community and recognize a cemetery. Come August 29th, we'll hold church services. We plan on having a speaker come out, those kinds of things. We're also gonna have a cookout on the 28th, for the community to come and be a part of that dedication on that great day. We're developing the park as we go along [to meet the August deadline], and are still in the first phase."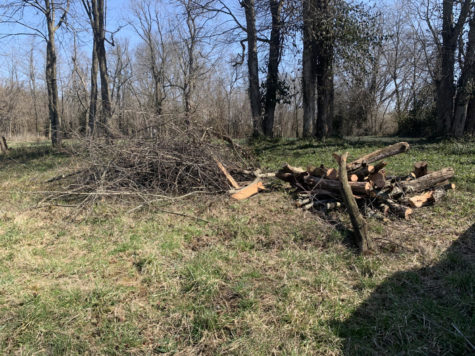 Is there anything you'd like to say to the people of Woodford County High School? Anything they should keep in mind?
"I would hope that all students can be involved in this community. I love young people being involved in things like this, I'm glad you're here today … other young people out here also. I think it's so important you people are involved, so you can know the history of the community.  I am hoping young people will make this park useful to them, I'm sure they'll be out here and that this park can become a part of their life. I think there's no better way to serve mankind than to serve people, serve the community."
"
I think there's no better way to serve mankind than to serve people, serve the community."
— Larry Blackford
---
For anyone interested in volunteering, or just curious about the park and its rich history, you can contact the leader of the project, Sioux Finney, at [email protected]. Any help would be much appreciated and volunteers would be welcomed with open arms. When the site opens to the public on August 28th, it can be found at 1546 Huntertown Road.

Loading ...
About the Contributor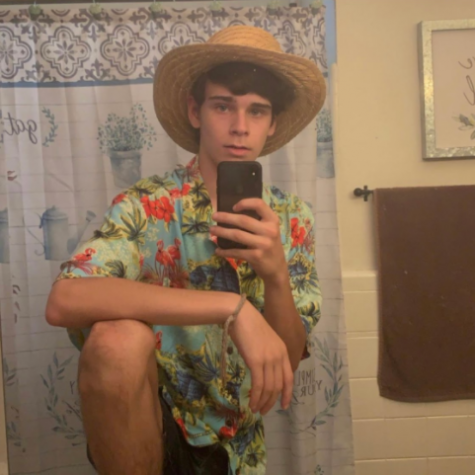 Aydin Khosrowshahi, Editor, Staff Reporter
Aydin Khosrowshahi is a Junior and Staff Editor for the Jacket Journal at Woodford County High School. He enjoys hanging out with his friends, writing...