WCHS Jacketfish's Wave
As the 2022-2023 swim season closes, checkout what the Jacketfish were up to this year. Both teams, boys' and girls' swam their way to victory and created memories to last a lifetime.
Chills pass through the air. The atmosphere breathes tension. Warm white light, lit barely from above, flickers, gracing any surface it touches. A ghostly breath draws water particles downward across the face. A whistle blows. The platform is slippery. Eight swimmers align, taking one step forward, and another back. One by one, they lean into starting position. An official blows the whistle. A beep commences. Just like that– water powerfully emerges from the stills below, encircling one another. 
---
Over the span of two days, February 3rd and 4th, 2023, the WCHS Jacketfish competed at the KHSAA Region 6 Swim and Dive Championships in Shelbyville, KY. Both combined and the boys' team received Region Runner-up. While the girl's team placed 4th overall. The boys' 400 free relay broke both the Region-6 and Woodford County High School records. Congratulations to Xavier Moore (12), Brady Miller (11), Charlie Gatewood (9), and Ben Carey (11), for swimming a 3:15.20. In another victory, Brady Miller broke his school record in the 500 freestyle. Two weeks later, the swim and dive state championship would follow. 
Longly awaited, early mornings of February 17th and 18th, the swim team competed at the state championship meet. Outstandingly, the Woodford Swim team placed 7th overall at State. The boys 200 medley relay finals, composed of Xavier Moore (12), Tiernan Moore (11), Charlie Gatewood (9), and Ben Carey (11), resulted in swimming a 1:36.05 in the finals, and a 1:37.41 in prelims, winning as runner-up at state. While the boys 400 medley relay finals performed a 3:15:20 in finals, and a 3:16.10 in prelims, the team made up of Xavier Moore (12), Brady Miller (11), Charlie Gatewood (9), and Ben Carey (11): scored 5th place overall in the state. 
The Gold Standard
500 Strokes Aead
Meet Brady Miller, who broke his school record in the 500-yard freestyle and placed 4th in the State, performing with a 4:38.67 in finals. He's a current junior and a distance swimmer. He has swum for WCHS for 3 years and independently participated in club swimming (year-round swimming), for as long as he can remember. When racing, Miller's main events are the 200-yard freestyle and the 500-yard freestyle. Though, in relays, he races with teammates in the 200 and 400-yard freestyle relays. 
This season, Miller's goals were to break the previous 500 freestyle record, with the help of his coaches and teammates. After a momentous effort, he accomplished breaking the previous 500 freestyle record: twice, breaking his own record. Now, he plans to work on breaking the 200 free records. 
"I was filled with happiness and excitement… It feels incredible to have accomplished something like this."– Brady Miller
To achieve this, Miller dedicated exercised techniques on breathing, diving, flip turns, and pacing. Though it was no easy adjustment, it took months of hard work to do.
Record Relays
Over the course of the swim season, students have been training intensely in preparation for meeting the requirements to participate in regionals and state. 
Following, the boy's 200-yard medley relay, composed of Charlie Gatewood (9), Xavier Moore (12), Tiernan Moore (11), and Ben Carey (11), broke a school record and were state runner-up, resulting in a 1:36.05.
The WCHS 4×400 freestyle relay record involved Brady Miller (11), Xavier Moore (12), Charlie Gatewood (9), and Ben Carey (11), successfully placing 5th at State.
---
Practice Options
On weekdays, most Jacketfish practice Mondays-Thursdays, from 4:00-5:15 pm at the Falling Springs Pool. Generally, high school meets are held at the Falling Springs pool for the Jacketfish. Also, there is another practice option, swimmers have the opportunity to practice with KYA: Kentucky Aquatics. Here, student-athletes swim on a club team based in Lexington, KY. Participating in KYA means being a part of a competitive, year-round swim team. Regardless of doing club swim, a student has the ability to swim for their high school team as well and to compete in the high school championship series and their club series. The team practices at Lancaster Aquatic Center on the University of Kentucky campus for a little over two hours (typically, 7:30-9:30 pm).
---
To illuminate the swim team in all of their efforts and accomplishments, I had the delight to meet with five students. For two WCHS swimmers, this would be their last year swimming for the Jacketfish.
"I'm very happy with our team's performance at Regionals and proud of the individual/team support going on the whole meet."– Xavier Moore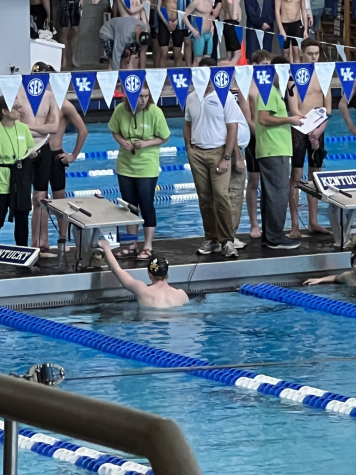 First, Xavier Moore, a senior, is captain of the WCHS swim team. Moore has swum for WCHS for 6 years, but independently for nearly 10 years. His regular events are in competing in the 100 backstroke, 50 free, 200 medley relay, and 400 free relay. 
"
It's almost like flying.
— Xavier Moore
In the 2022-2023 season, Moore wished to foster a good team environment, to help his teammates perform to the best of their abilities at regionals. Ever since Moore was young, he chose to swim because he loved the feeling of the water and simply enjoys gliding through water. 
Next, there is Samantha Padgett, a senior, who has swum for WCHS for 6 years, and independently since she was 6 years old. She competes in the individual 200 IM, 100 breaststroke, and the following relays: the 200 medley, 200 free, and 400 free. 
For this season, Padgett's goals were to PR by regionals, make regional finals, and make state. 
Senior Dive In
Imaginably so, participating in swimming as a senior holds a new perspective. Moore and Padgett enlighten us with their experience. 
Moore lays the land of junior vs senior year regionals, "Regionals as a senior was much more emotionally charged than the previous meets." In fact, Moore's favorite season was this year, "I think my favorite swim this season was our 400 freestyle relay at Regionals, we broke the region record and the energy for the relay was electric."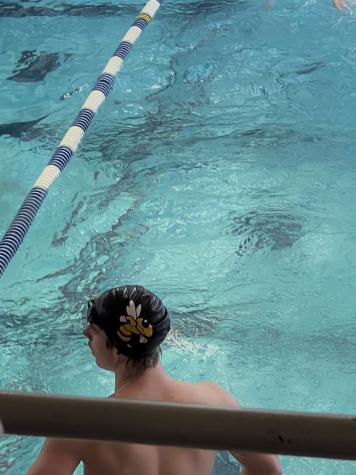 Meanwhile, Padgett felt faced with a novel set of emotions, as this happened to be her personal favorite and best season, "Not only did I PR in both of my races but so did the whole team. I was able to make regional finals in my 200 IM and as an alternate for my 100 breast… one of the best parts of regionals this year was watching many of my teammates PR."
Juniors
Upcoming, is rising senior, Ben Carey, a sprinter, who swims the 50 freestyle and 100 freestyle, along with the 200 medley relay and the 400 medley relay. He has been involved in swimming for 3 years on the WCHS team. Interestingly enough, Carey has been swimming for as long as he can remember but stopped swimming independently during his sophomore year. 
In the 2022 swim season, Carey's goals were to beat his last best times. He says, "I think I matched the times but haven't beaten them yet."  
Last but not least, Avalynne Goins, a current junior, has been involved in WCHS swim for 3 years, and this is her seventh year swimming individually. Typically, Goins swims the 100 butterfly and 50 free, as well as swimming in both the 200 Medley Relay and the 200 freestyle relay.
As the season progressed, she simply wished to improve and feels there is clearly displayed growth in the 100 fly, since before, she had not regularly swum the 100 fly.
---
In light of next year's swim season, 2023-2024, the juniors share their take on becoming the next lead, that of to be seniors. 
Goins expresses pensiveness toward the upcoming final season of high school swim, "Part of me is excited and hopeful that I will have another good season, but another part of me is definitely sad and even a bit scared that it will be over after that." Regardless, swimming isn't Goins favorite thing, as it's not been always easy, yet, she finds it will forever remain a part of her life.
On the other hand, Miller speaks of pride but also somberness, "… I feel like my team has had another great year. It is hard to believe it is almost over, I can remember us just having our first meet at the end of November. I am excited for next year, but also a little sad since it is my last year in high school."
In addition, Carey "I'm interested to see how my senior year will play out. Major voices in our team, arguably the most critical leaders we've had in a while, will no longer be there." In the forthcoming swim season, Carey finds himself challenged but ready to take on senior leadership roles and behavior, as the rest of the juniors are. 
"Perhaps I'll garner the wisdom to help guide and assist team members. It's not a small job though; I think the current seniors have done a really good job doing that. You can't simply replace that."– Ben Carey
Take your mark, get set– GO!
Right before a race, a myriad of emotions lies, no matter the event or time, everyone faces a little bit of everything. For instance, Miller shares the insight into his inter works, "I try to envision myself swimming it, I just remind myself that I know what this is going to feel like." As Miller swims, he feels himself becoming exhausted but knows the pain is only temporary. "At the end of the race, I feel exhausted, but when I look up at the scoreboard and see a fast time, I am happy with how I had just swan, and I encourage myself to go faster…" 
"Before a race I'm always extremely excited, I love racing, it's amazing to test the limit of my abilities."– Xavier Moore
In another setting, Goins freely prepares herself by playing upbeat music, helping her de-stress before a race. Once arriving at the meet, she tries to relax and hangs out with her teammates to shift focus to simply enjoying swimming. Before she goes up on the platform, Goins shares, "Right before races, I usually say a prayer to release any extra worries I have about my race going well." Not only that, but Goins introduces her favorite pre-race traditions with her relay team, "We always encourage each other and say "7s," which basically means we're going all out."
---
Final Words of Wisdom From Seniors
With the season coming to a close, senior, Padgett gives advice and words of encouragement to underclassmen or to those interested in joining, "… Never doubt yourself. Your doubt is what will disappoint you in the long run. You should always believe in yourself. Also always show up to practice even if you don't feel like it. Somehow after I practice I always feel better and relaxed. The more you show up to practice and push yourself the more you will improve." 
Ultimately, congratulations to the team on their achievements this season, whether big or small. To many more memories and chapters from the Jacketfish to come.
---
Interested in seeing the results of the Jacketfish from region and state? Click the meet links below to view specifics from the Jacketfish's season (2022-2023) performance.
Leave a Comment
About the Contributor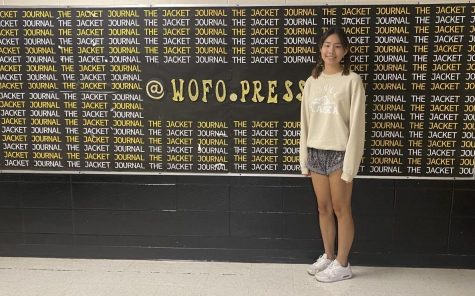 MeiLi Caldwell, Staff Reporter
MeiLi is a WCHS senior; this is her first-time reporting for The Jacket Journal. She has run for four years on WCHS's cross-country team. She is a driven...