Let Digital Journalism Fill Your Ears with The Music of Spring!
Are you in need of some whimsical spring songs? Check below for two spring-filled playlists!
---
As spring weather is approaching and flowers are blooming, people are shedding their winter coats and preparing for the fresh air of spring. Music lovers are also making their spring playlists and filling their ears with light tunes that correlate with their vision of the season.

While I was making my own spring playlist during Digital Journalism class, I looked around at my classmates and started wondering what songs would be on their spring playlists. This inspired me to make a playlist compiled of everyone's favorite "spring songs".

As you can see in the class playlist, there is a variety of music tastes and personalities within the class, an element that makes this such a special class to be in. Along with the Digital Journalism playlist, I decided to include my personal spring playlist so myself and others can compare our music tastes.

Warning!!! Some of the songs on these playlists are explicit!
---
The Digital Journalism Class' Spring Playlist
It was so interesting to go around and see what everyone in my class's go-to spring song is. When asked why her song is a good song spring song, Mason Stamper (9th) said, "The fun beat (not the lyrics) makes As it Was by Harry Styles the perfect song for spring." This project has helped me to realize that everyone associates spring with different things, so I liked that I was able to dig deeper into the personal lives and experiences of my classmates. "I think spring is a happy season and I spend spring with my family and Happy Together by The Turtles represents all of these things" explains Gavin Barrows (11th) when I asked him why he picked his song. I hope that this playlist allows you to dig deeper into the Digital Journalism class's music tastes as well!
---
My Spring Playlist
My playlist consists of songs that I feel like encapsulate the beautiful and fresh feeling of spring. Most of the songs are upbeat, with the exception of a few. I wanted to add songs that represent all the feelings that come with spring. LUCY! by Jaden and Black Licorice by Peach Pit are both upbeat songs that capture that happy feeling that you get when the birds wake you up and you step outside into the warm, fresh air and realize that you can finally go on a bike ride with only a thin sweater on. Whereas, songs Wasted by Tomberlin and anything by Adrianne Lenker provide that pretty spring shower feeling that is ever so familiar when it comes to spring.
Leave a Comment
About the Contributor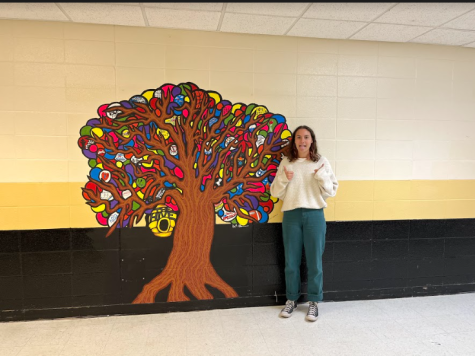 Logan Weaver, Editor, Staff Reporter
Logan is a senior at WCHS and this is her first year as an editor and her second year as a journalist for The Jacket Journal. In her free time, she enjoys...