Student Opinions on the Hybrid Schedule
Students express their opinions on the hybrid schedule.
In March 2020, a global pandemic was declared. People were then told to wear masks to protect not just themselves but others too. Here in Woodford County, Covid-19 hit hard as well. People were put in quarantine, places closed, and people couldn't go out anywhere to prevent this virus to spread. But in the 10-11 months of quarantine, places started to open up such as the Woodford County Schools. In 2021, administrators implemented a hybrid schedule for the spring semester, to safely get students back in school.
The hybrid schedule places students in two groups: Group A, and Group B, and these two groups of students go to school on different days of the week. Group A students go to school on Tuesdays and Thursdays, while Group B students go Wednesdays and Fridays. Woodford County High School students have opinions on this hybrid schedule–so,  I sent out a survey to find out how students felt about this schedule and I received 94 responses.  Check out the results below:
Feelings On The Hybrid Schedule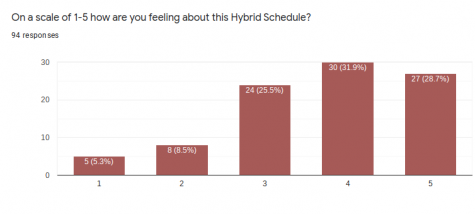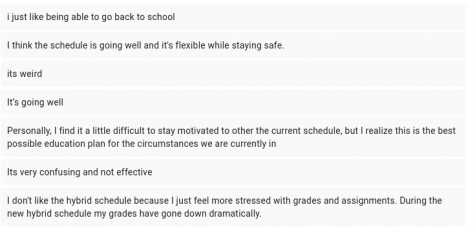 Students have been surveyed on how they are feeling, what changes they would make, and overall if they like or hate this hybrid schedule. In the survey the question, "On a scale of 1-5 (with 5 being very good) how are you feeling about this hybrid schedule?" Most of the students put that it's mostly going well so far, but other students have said, "It's harder to understand the context in class because they are only in school for 2 days a week." There are more comments like this one where students express how sometimes they feel stressed or overloaded with work from teachers, but mostly most of the students have said that they are doing okay and some have even said, "I like having to only go to school for 2 days," or that they are just happy to be back in school and not be stuck at home.
Emotions On The Hybrid Schedule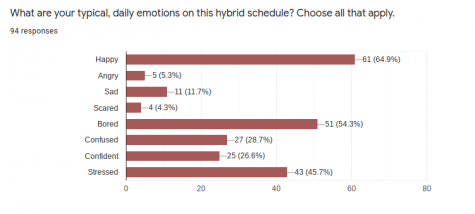 In the survey, students were also asked about their emotions currently, the top three most picked emotions were Happy, Bored, and Stressed.  Some students were Confused or Confident and barely any students said that they were Angry, Sad, or Scared. They even expressed their emotions like saying how they are "okay and happy" to even some saying that they are bored or stressed. One student wrote, "I am okay at the moment. My anxiety has gotten better since this schedule has been implemented." Other students have said this and they are basically saying that having school for two days and the rest of the days doing school work at home is relieving stress or their mental-emotional state.

Extra Thoughts and Comments

At the end of the survey, students were asked about any extra thoughts/comments on the hybrid schedule and some students said no, or that it's alright and it is going well. There are also students saying that it's better than being virtual all week, "I would rather have a hybrid schedule than be all virtual." Students say they like being back to seeing their teachers and friends.  Other students, like the one in the picture above, expressed appreciation for teachers, as well.
Overall, most students are feeling good about this hybrid schedule or that they don't mind it. Others have said that it's stressful or boring. But in the end, most students are happy to be back at school after 10-11 months of quarantine and are happy to see their teachers and friends.
Leave a Comment
About the Contributor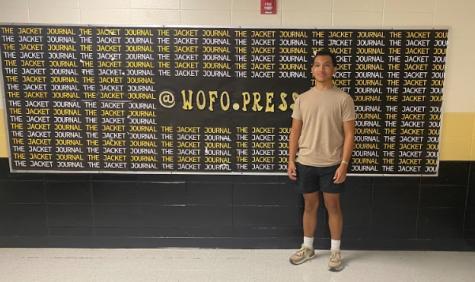 Jose Cedillo, Staff Reporter
Jose Cedillo is currently a Junior at WCHS and this is his second year working on The Jacket Journal Staff. He is interested in the community and the people...