10 Cheap Staycation Ideas For Spring Break
What to do when you're stuck at home during spring break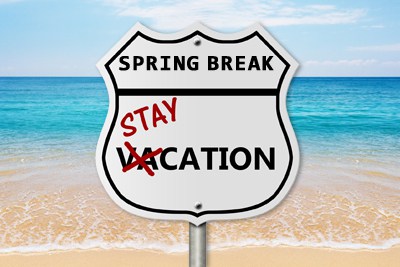 Hang on for a minute...we're trying to find some more stories you might like.
Spring Break is finally upon us! After what has felt like an eternity, it's finally time to kick back, have fun, and relax. Too bad you have practically no money in your bank account. Keep hearing about other people's plans to go to the beach or other fun vacation destinations? Don't be jealous, because you can have just as much fun without going too far outside your house and without breaking the bank.
Go For a Bike Ride 
When was the last time you rode your bike around town or your own neighborhood? Take some time to slow down, clear your mind, and just ride around for a while. You mom has probably been nagging you to get up and exercise anyway so you might as well go out and use this time to your advantage. Don't have a bike? No problem! Go for a walk, or, if you want to really push yourself, go for a run.
Go See a Movie 
Who doesn't love to go to the theater? Pack up your snacks and go see a movie! May we recommend a few ?
Go to Falling Springs or
Bring the Pool to You 
Everyone who isn't going on vacation is most likely going to spend quite a bit of time at Falling Springs over spring break. You could spend spring break in what is essentially a public bathtub or you could bring the pool to you. Go to Target and pick up a kiddie pool, get some popsicles and some shades while you're at it. No chlorine to mess up your hair and no little kids who you know are about to pee in the pool all day long; gross.
Visit a Local Cafe 
If you've yet to go to Amsden, you have no excuses now. A cafe is the perfect way to relax with friends, or just hangout on your own. Chat with your friends, read a book, enjoy your coffee, and have a good time! If you've been to Amsden plenty of times, Midway has some cafes that you should definitely try!
Get Off Your Phone
Not to sound like a suburban grandfather, but you probably spend way too much time on your phone. Technically everything on this list doesn't require your phone, but just as a reminder, don't spend the whole week on your phone. It's always a good idea to detox from technology. Turn off your phone for a day or two, but if you feel the need to snap the cool things you do, at least show us @wofo.press on Instagram.
Do Some Spring Cleaning 
Ok, hear me out. Cleaning is not exactly how we plan to spend spring break, but open up all the windows, play some jams, and spend some time to clean your house. If you're not feeling cleaning your whole house, clean your room, or rearrange the furniture in your room. Still not convinced? Clean out your car, you know it's filthy.
Cook Something New, Try a New Restaurant, or Just Get Takeout 
It's always fun to try new things! Why not make something new? Try making your favorite food or make something to share with a friend. You could also try out a new restaurant with your friends and family, or if you'd rather kick back with some sweatpants and chill, treat yourself to some takeout.
Have a Picnic 
You're already eating, might as well get some fresh air too. A picnic is nice way to get outside and soak up some sun. Bonus points if you have your picnic in the park.
Have a Camping Trip In Your Backyard
Natural parks are nice and all, but who needs them when you have your own backyard? All you need is a tent and some sleeping bags. Take some time to camp out under the stars, don't forget your coziest blankets.
Host a Bonfire
Finally, what's the perfect addition to a backyard campout? A warm, and inviting bonfire! So grab some friends, some music, and some smores ingredients! Spend the night huddled around the fire with your closest friends and take this opportunity to relax and unwind.
Disclaimer: Remember to be responsible and always be safe around fires.