Sports Festival
A big festival once a year for students in Japan
Have you heard of the "Sports Festival"? I am an exchange student from Japan. We have a sports festival every year, and parents and grandparents come to school to watch the festival, so it also works for parents to make relationships with others. We have it from kindergarten to high school. I've never heard of a school which doesn't have it except for the Covid year. Also, everyone must participate in the festival. I will introduce the Sports Festival in this article. 
Introduction 
In the sports festival, we play some sports which are for the Sports Festival for points. We can get some points if we win, and then the team which has the highest points will be the champion of the festival. Also, high schools have more fancy and funny sports festivals than kindergarten, elementary school and junior high school.
Clothes to wear & goods
Kindergarten; Most kindergartens let kids wear clothes which they want, and we just need to wear a cap which has the team color. Kindergarten provides the cap for kids. 
Elementary school; Every elementary school has a sports uniform for P.E class and students are required to wear it for the festival. Also, students wear a cap which they use for their P.E class.  
Junior high school; Students have to wear a sports uniform which we use for P.E class. Junior high school doesn't have a cap for the festival and they use headbands which have a class color.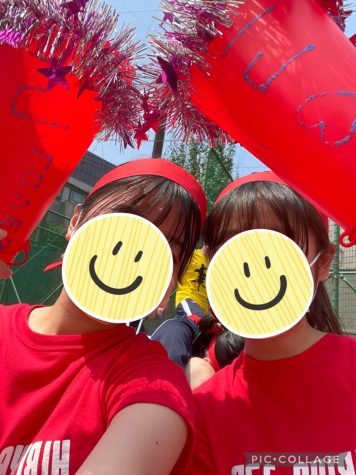 High school; High school's sports festival is the most fancy. We wear class T-shirts which were made by classmates. The students who make it, order a company to design and let classmates vote which design is the best, and then the most popular design would be our class t-shirts. Also, we use headbands for the festival. Moreover, we make megaphones or hand fans. It is so much fun to make those goods. (last year, my class color was red, so my class T-shirts, megaphones and headbands were red.) The picture I have of those goods is on the right side.
Kind of sports 
When you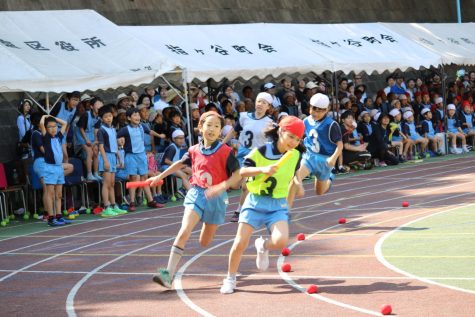 hear the word of sports festivals, I guess most Americans think Japanese people play soccer or baseball or basketball for the festival, but we do have unique competition. I will introduce two kinds of sports.
First one is the relay. I had a relay from kindergarten to high school. Elementary school was just students who were chosen to participate by teachers, but every student needed to join 
it in kindergarten, junior high school and high school. Those relays were for the point, so it is like red team vs blue team. But my high school has a relay for club activities vs club activities too. It is for junior and senior, so I just watched it. It was so funny, because every club wore their uniforms for games. Moreover, dance clubs were running with dancing, and tennis clubs used tennis rackets for batons, judo clubs were running with their judo uniform while carrying a tatami, which is used for judo's flour. Also, people who are not in any clubs are called "Go home club", and then they were running with school uniform and carrying school bags as a baton.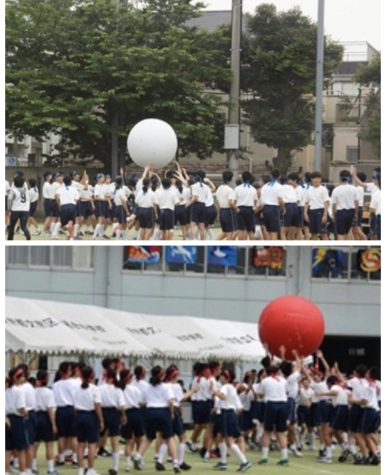 Second one is a big ball rolling. My elementary school and junior high school had it. It is a very fun sport for the festival. We carry a big ball on the ground and on the place higher than our head and the team which carries the fastest wins. No one can predict because we don't know what is going to happen when we carry the ball above our head. The ball often derails on the way.
Dance 
Between students playing sports, we have some dance performances in kindergarten to junior high school. Usually, we start to practice the dance two or one month before the sports festival. Teachers decide what dance and music we use for the festival, and they teach us the dance. The level is different each grade. Both dancing and watching are so fun! High schools have it too. My high school is only for seniors, so I've just watched it. It was so cool. Dresses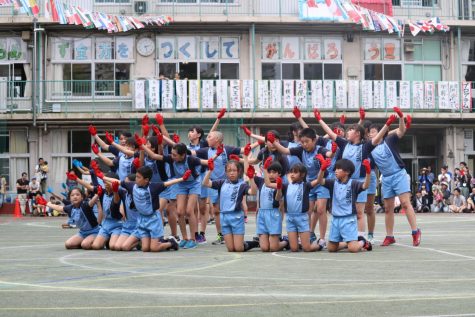 and goods for the performances at high school are the most fancy. I look forward to doing performance at high school.
Conclusion
Do you like sports festivals? I'm glad if you have a good time reading about sports festivals in Japan. I guess it is interesting for you that there are events which everyone is required to participate in, because students who want to join events at American high school, join those events like homecoming and jacket fest. Sports festival is a traditional event and it will be held forever in Japan!!
Leave a Comment