I'm With The Banned: A look into America's Book Restrictions
Take a look at the fight against banned books and what WCHS students have to say about it.
Commonly read in most middle school classrooms, the book Fahrenheit 451 tells the story of a dystopian society where books are burned to restrict the population's knowledge of "abstract ideas" and "unhappy topics". As horrible as this concept seems, its harsh reality becomes more relevant in America every day. Books are being banned in schools throughout the country for topics such as race, sexuality, LGBTQ+, violence, religion, resistance to authority, etc. Pen America describes a book ban as any action taken against a book based on it's content. Though banning books is not a new idea in this country, it has become more prevalent in recent years. Just in the 2021 – 2022 school year, 2, 532 books were challenged/banned. Republican leaders and organizations have made it their goal to "protect" children from harsh and uncomfortable topics when, in reality, it is limiting their knowledge of important topics in the world.
---
Many teachers, political leaders, and organizations around the country are doing everything but staying quiet about this topic. The passion for educational freedom has sparked a fiery movement dedicated to stopping the ban on books, which has successfully stopped the banning of hundreds of books across the county.
Though these movements and organizations have been crucial in the fight against book bans, students are also standing up for their right to read whatever they want.  To gain a better insight into how students at my school view the banning of books, I sent a Google form to the student body asking the following questions: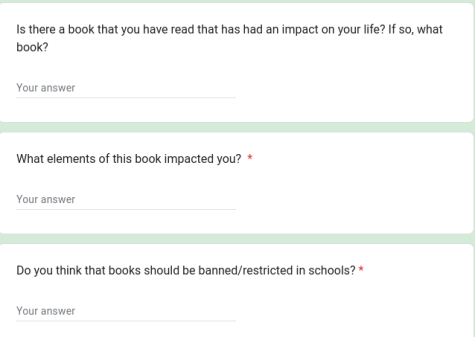 Out of the 94 responses that I received, every single student said that they do not think that books should be banned/ restricted in schools. One student even went as far as to say, "I believe that books should not be banned or restricted in schools unless the content is violence-inciting or potentially harmful. Quite a lot of banned books detail issues like racism, sexism, xenophobia, or homophobia, which are tangible problems that affect teenagers and should be represented in media."
There were two books that seemed to have the most impact on multiple students' lives: The Hate You Give and The Perks of Being a Wallflower – both of which have been banned/challenged in many schools across America. A common theme of race and LGBTQ+ is found in these books, making them easy targets in the fight against controversial books. I have found both of these books to have a tremendous impact on my life and have opened my eyes to issues such as police brutality in America and mental health among High School students. Books that tackle hard topics like these can help to spread awareness and help students feel seen. When talking about The Perks of Being a Wallflower, one student said,
"
I felt very recognized when I saw some of the struggles the main character was dealing with. I related to his feelings of being an outsider and trying to find his place in the world."
---
How You Can Get Involved
According to The Good News Community, there are many ways that you can fight for the right for students to be able to learn at their own disposal. Here are some things you can do to help:
Stay Informed
Read Banned Books
Find a School That Needs Support In Your Own Community
Attend PTA Meetings
Write a Supportive Letter to An Author of Banned Books
---
Leave a Comment
About the Contributor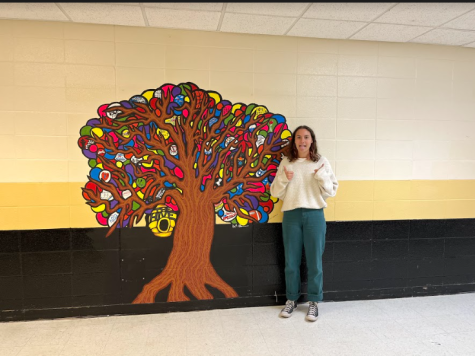 Logan Weaver, Editor, Staff Reporter
Logan is a senior at WCHS and this is her first year as an editor and her second year as a journalist for The Jacket Journal. In her free time, she enjoys...