Who Has The Best Chicken Sandwich?
A review of three restaurants and their chicken sandwiches.
Everybody loves fried chicken.  There are various options for fried chicken restaurants to eat from in the local area, and everyone has their own favorite; some prefer Chick-fil-A, others Raising Cane's, or Zaxby's. But which one has the best service? Best sauce? Who is the quickest at serving food? And, the question everyone wants the answer to know: Who has the best chicken sandwich?
---
The first stop was Raising Cane's, located on 2030 Harrodsburg Road in Lexington, Kentucky. I arrived there at 7:00 on a Friday night, and for it being a Friday night in Lexington, it was not crowded at all. Other than me, there were only about two or three other groups of people there. When you walk in you feel a very laid back atmosphere from the restaurant, as they are playing popular music and it being a pretty quiet place. The menu consists of five options, which are all different amounts of chicken fingers. All are cost-efficient, with the highest price being $10, but other than that, none exceed $7. All combos come with crinkle-cut fries, a drink, Cane's sauce, and all but the sandwich combo comes with texas toast.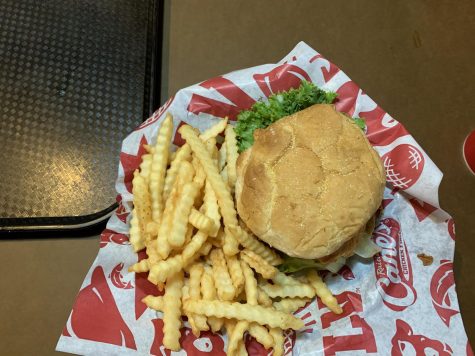 I ordered the sandwich combo ($5.98) and it took 7 minutes and 35 seconds for me to get my food. There were many options for seating, and all were virtually open. There were three TVs, all in viewing distance from any seat. There are also pictures of celebrities and famous movie covers to add to the atmosphere. When the food was ready, the chicken was hot but cooled off quickly. The sandwich came with the Cane's sauce on it along with lettuce and the three pickles under the bread. It also came with a large assortment of fries. The chicken had some crisp to it but wasn't very flavorful. The sauce was tangy and also had some flavor along with it. The fries were all crispy and had salt on them to add flavor. If you are looking for a cool atmosphere and a quick but great-tasting option that's also cost-efficient, you can't go wrong with Raising Cane's.
---
The next stop was Zaxby's, located on 1375 Versailles Road in Frankfort, Kentucky.  I arrived at 6:50 on a Monday night, and it was not too busy. There were two other groups there other than me. There is a very laid back atmosphere when you walk into Zaxby's, similar to Cane's. There were many posters, banners, and pictures mostly consisting of the University of Kentucky Athletics. The menu had many options to choose from: Wings, chicken fingers, sandwiches, and salads. No options exceed $10 unless you order a 20-piece option.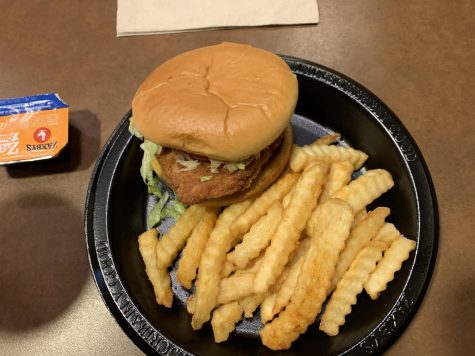 I ordered the Southern TLC sandwich($6.49) and it took 1 minute and 20 seconds to get my food, and finding a place to sit was easy. There were tables up against the wall, in the corner, and in the middle of the restaurant. The chicken was not hot, but still a little warm, as were the fries. The sandwich came with lettuce, tomato, mayo (you can switch the mayo with another sauce, which is what I did), and crinkle-cut fries. The chicken had some flavor to it but the fries carried most of the flavor in the meal. The fries were seasoned and warm, which added a lot of flavor to the meal. The sauce as well, was similar to Cane's, as it was tangy. All in all, Zaxby's is good, inexpensive, and is a laid back place to go.
---
Chick-fil-A, located on 2514 Nicholasville Road in Lexington, Kentucky, was the final stop for this review. I got there around 11:30 on a Tuesday and it was very crowded, but the line moved surprisingly quick. I waited for about 7 minutes in the line to be able to order my food. Once I ordered the chicken sandwich, it took 6 minutes and 20 seconds to get my food. Another great aspect about Chick-fil-A is their service. Every worker there greets you with a smile and they are all very polite.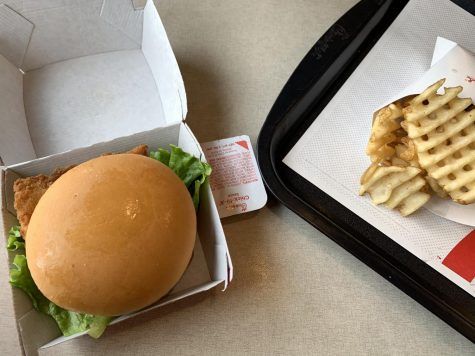 I ordered the number 1 combo ($5.95) which is a chicken sandwich that comes with fries and a drink. Once I got my food, it was somewhat difficult to find an open table, but there were a few open. When I got my food, the chicken was very warm and filled with flavor. The fries, however, were not and neither was the sauce; they were very bland and flavorless. The chicken was crispy and tasted very good. Chick-fil-A is a good destination as long as you are willing to wait in a line.
---
To wrap everything up, there are many good options for chicken sandwichs near Versailles. All are cost-efficient and all have good food. If you are near any of them, I suggest trying them out.
About the Contributor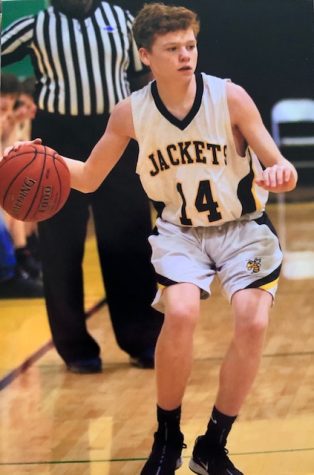 Will Dowdell, Staff Reporter
Will Dowdell is a sophomore at Woodford County High School. This is his first year on The Jacket Journal and he is excited to see where it takes him. He...