Coldstone
Coldstone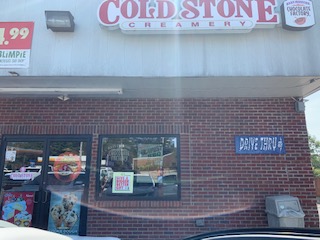 Coldstone, located on 671 E Main St Ste, in Frankfort, Kentucky, is a tiny ice cream shop that will provide savoring ice cream and a place for students who need to study.
Atmosphere
Pulling up to Coldstone already had us uneasy. The area was run-down and was labeled as "the bad part of town." This caught us off guard because we expected the location to seem family-friendly and make people feel safe. Despite the rough exterior, we were pleasantly surprised by the interior.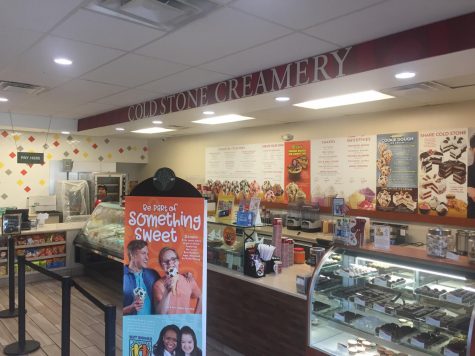 When we walked inside we were greeted with a very sanitary and well-put-together, modern scenery. The colors were neutral with a hint of bright colors that complimented each other very well.  Coldstone was connected to another sub sandwich shop called Blimpie. We found this to be a very clever business move. Due to the intriguing pictures and alluring ice cream displays, if someone were to go inside to get a sub, they would more than likely also find themselves craving something sweet.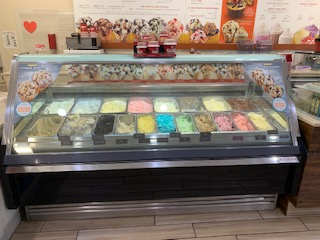 About a minute after walking in, the server came around front and took our orders. She was patient; however, she gave off a judgemental vibe. She made our ice cream in front of us, which we liked because watching the process was interesting and kept our attention while we waited. Next to the ice cream station was a sweets display. This included cookies, caramel apples, fudge bars, brownies,  and much more.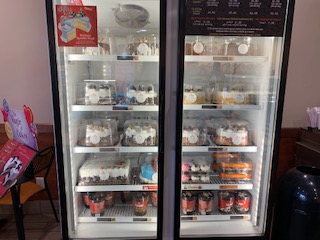 After we got our ice cream we sat down. The tables with comfortable chairs and open outlets made it accommodated students that need to study or finish up some work well. To the right of the tables, there was a refrigerator-type display similar to the ones at Dairy Queen. Inside there were cakes and packaged ice cream made by Coldstone. We thought this was a creative and heart-warming gesture for people that want to take some of their ice cream or cake for later. 
Overall, Coldstone's atmosphere was cheerful and pleasant however, there were some hints of tension and uneasiness.
Flavors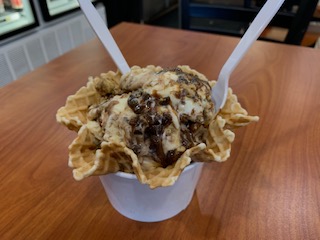 Sweet, creamy, and soft were all the words that we were left with after eating the ice cream from Coldstone. At Coldstone, they only carried basic ice cream flavors, but then the workers would put the ice cream on a cold bar to make a new twisted flavor, which is what they did to get the flavor called Cookies Donuhn't You Want Some ice cream—a basic cookie dough ice cream with a twist. 
The base of the ice cream was refreshing vanilla that was set on the cold bar, where someone mixed delicious, sweet flavor in the "Plain Jane" vanilla ice cream. The first topping that was put in the ice cream was big chunks of cookies dough that had more of a brown sugar taste to it. The next things up to go into the mix were caramel and chocolate syrup. Both syrups added a new side and flavor that you don't get in normal cookie dough ice cream. Last but not at all least, the bittersweet chocolate chips, which helped cut out some sweetness to make sure the ice cream wasn't too sweet. The bitterness from the chocolate chips was just the right touch. The cherry on top was enjoying the ice cream in a waffle cup.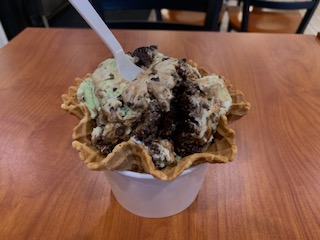 The second ice cream that we tried at Coldstone was called Mint Mint Chocolate Chocolate Chip. The base of this ice cream was a plain cooling mint ice cream, which was also put on the cold bar to begin the mixing process to create the minty chocolatey goodness. The first treat that the worker went to put in the ice cream was brownie chunks, adding some extra chocolate flavors to the ice cream. Next, some delectable chocolate syrup was added, as well as some bittersweet chocolate chips. This helped tone down some of the mint flavoring because, without the chocolate, I think that the mint ice cream alone would be overpowering. In the end, all of the yummy, sweet, cooling ice cream was put in a crunchy waffle cup.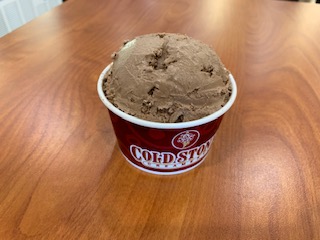 The last ice cream that we tried at Coldstone was plain chocolate. This chocolate ice cream had many flavors in it. The chocolate wasn't too overpowering; it was just the right amount of rich and sweet and creamy. The ice cream wasn't even over-blended, which is very difficult to get right. It was nearly perfect and was served in a little cup.