HOGGing Out On Some COLD Ice Cream
September 26, 2019
When it comes to ice cream, are you a chocolate or vanilla type of person? Or, maybe you like cookie dough or mint chocolate chip? No matter the flavor, you want a dessert that can fill you up while also leaving you craving more. Coldstone and Hoggy's are two shops in Frankfort, Kentucky that serve incredible ice cream and do just that. However, taking into account the atmosphere, location, and flavor, there is bound to be a better shop. Olivia Smith and Justice Mudd went to review both and compare three of their ice cream flavors: cookie dough, mint chocolate chip, and plain chocolate. 
Our Summarized Final Thoughts
When taking into account the location, atmosphere, and ice cream, Hoggy's takes the scoop. Although we appreciate Coldstone for its service and delicious ice cream, we believe the atmosphere was their make or break factor. In order to run a successful shop, the energy has to be welcoming, especially for such a family-friendly shop such as an ice cream place. We would like to thank Hoggy's and Coldstone for providing us with great service ice cream.
Coldstone
Coldstone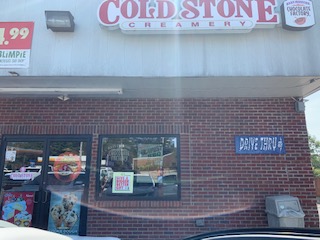 Coldstone, located on 671 E Main St Ste, in Frankfort, Kentucky, is a tiny ice cream shop that will provide savoring ice cream and a place for students who need to study.
Atmosphere
Pulling up to Coldstone already had us uneasy. The area was run-down and was labeled as "the bad part of town." This caught us off guard because we expected the location to seem family-friendly and make people feel safe. Despite the rough exterior, we were pleasantly surprised by the interior.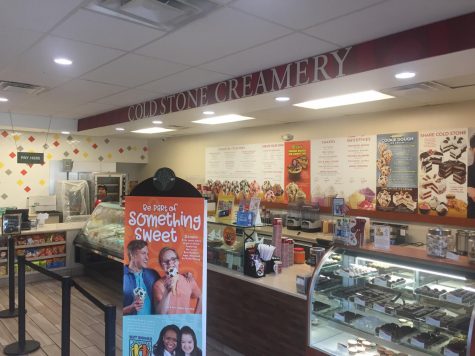 When we walked inside we were greeted with a very sanitary and well-put-together, modern scenery. The colors were neutral with a hint of bright colors that complimented each other very well.  Coldstone was connected to another sub sandwich shop called Blimpie. We found this to be a very clever business move. Due to the intriguing pictures and alluring ice cream displays, if someone were to go inside to get a sub, they would more than likely also find themselves craving something sweet.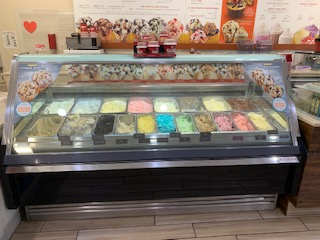 About a minute after walking in, the server came around front and took our orders. She was patient; however, she gave off a judgemental vibe. She made our ice cream in front of us, which we liked because watching the process was interesting and kept our attention while we waited. Next to the ice cream station was a sweets display. This included cookies, caramel apples, fudge bars, brownies,  and much more.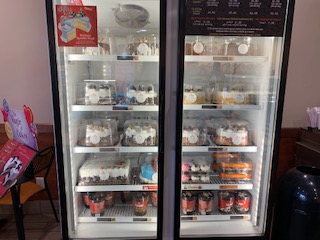 After we got our ice cream we sat down. The tables with comfortable chairs and open outlets made it accommodated students that need to study or finish up some work well. To the right of the tables, there was a refrigerator-type display similar to the ones at Dairy Queen. Inside there were cakes and packaged ice cream made by Coldstone. We thought this was a creative and heart-warming gesture for people that want to take some of their ice cream or cake for later. 
Overall, Coldstone's atmosphere was cheerful and pleasant however, there were some hints of tension and uneasiness.
Flavors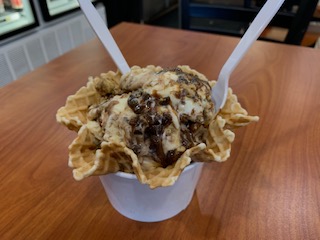 Sweet, creamy, and soft were all the words that we were left with after eating the ice cream from Coldstone. At Coldstone, they only carried basic ice cream flavors, but then the workers would put the ice cream on a cold bar to make a new twisted flavor, which is what they did to get the flavor called Cookies Donuhn't You Want Some ice cream—a basic cookie dough ice cream with a twist. 
The base of the ice cream was refreshing vanilla that was set on the cold bar, where someone mixed delicious, sweet flavor in the "Plain Jane" vanilla ice cream. The first topping that was put in the ice cream was big chunks of cookies dough that had more of a brown sugar taste to it. The next things up to go into the mix were caramel and chocolate syrup. Both syrups added a new side and flavor that you don't get in normal cookie dough ice cream. Last but not at all least, the bittersweet chocolate chips, which helped cut out some sweetness to make sure the ice cream wasn't too sweet. The bitterness from the chocolate chips was just the right touch. The cherry on top was enjoying the ice cream in a waffle cup.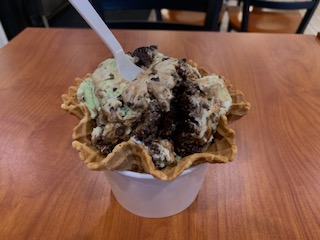 The second ice cream that we tried at Coldstone was called Mint Mint Chocolate Chocolate Chip. The base of this ice cream was a plain cooling mint ice cream, which was also put on the cold bar to begin the mixing process to create the minty chocolatey goodness. The first treat that the worker went to put in the ice cream was brownie chunks, adding some extra chocolate flavors to the ice cream. Next, some delectable chocolate syrup was added, as well as some bittersweet chocolate chips. This helped tone down some of the mint flavoring because, without the chocolate, I think that the mint ice cream alone would be overpowering. In the end, all of the yummy, sweet, cooling ice cream was put in a crunchy waffle cup.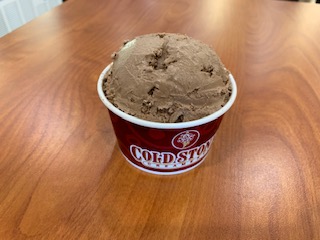 The last ice cream that we tried at Coldstone was plain chocolate. This chocolate ice cream had many flavors in it. The chocolate wasn't too overpowering; it was just the right amount of rich and sweet and creamy. The ice cream wasn't even over-blended, which is very difficult to get right. It was nearly perfect and was served in a little cup.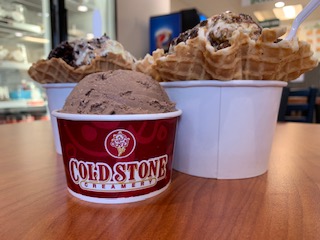 Leave a Comment
Hoggy's
Hoggy's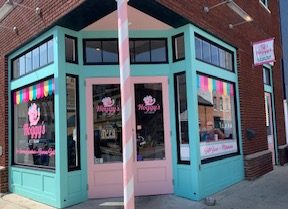 Hoggy's, located on 301 West E Main St in Frankfort, KY, is a family-friendly shop that is perfect for people strolling downtown who want to please their sweet tooth. Hoggy's has been rated a 4.7 out of 5 stars on Google Reviews.
Atmosphere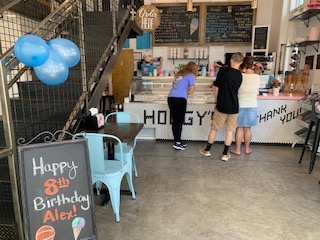 When we saw the charming entrance to Hoggy's, we knew we were in for a treat! The door was surrounded by colorful designs and the window to the left was immersed in the Hoggy's logo. There were patio tables outside for the people who would rather enjoy the outdoors while indulging in their sweet of choice.
When we walked inside there were chants of happy children running around in an upstairs area. The area was somewhat blocked off and had a chalkboard next to it that said "Happy Birthday Alex." Anyone who were to walk inside would immediately be delighted and feel joyful and safe. Looking around from the workers to the customers, there wasn't a single person who seemed to be in a bad mood, which created a welcoming vibe.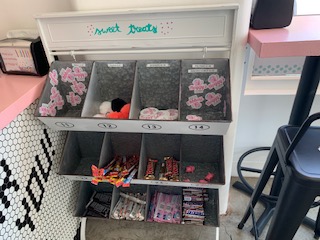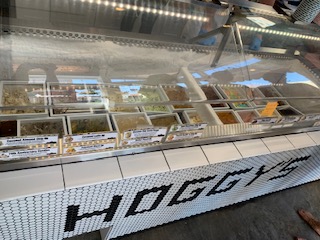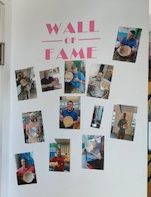 There was a tiny line of customers eager to get their hands on some ice cream. Once it was our turn to tell the server what we wanted we were greeted delightfully. There wasn't one ounce of unpleasant energy in the room. The menu was covered in an array of colors and nearby was a "Hall of Fame" wall with pictures of people holding a huge pig bowl. It was a part of a challenge Hoggy's offered called "The Hog Wild Challenge." This nice touch along with the ecstatic energy gave Hoggy's a fun environment. They made our ice cream in front of us, which, as mentioned in the Coldstone review, we enjoyed a lot because we liked seeing the process of how our ice cream was being made. While paying, we noticed that to the right of the cash register was a section for their merchandise. This included keychains, stickers, candy bars, and even some t-shirts hung up on the wall next to the menu.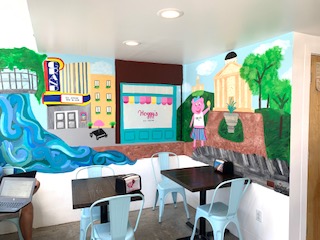 We sat down and appreciated the beautiful, hand-painted mural surrounding us. Then we got to looking around even more and noticed the fall decorations to match the season. The shop was modern with a retro twist which made it perfect for taking some aesthetically pleasing photos. Like Coldstone, the displays and energetic colors would intrigue someone to buy more. Throughout our time sitting down we took note of the servers checking up on people and making sure everyone was satisfied which made us feel very safe.
Hoggy's radiated nothing less than gleeful energy and the atmosphere was amazing. We left Hoggy's with smiling faces and with an eagerness to try the icecream there again in the future. 
Flavors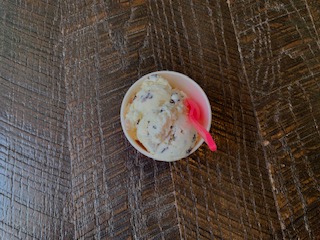 Decadent, delicious, and smooth are all words to describe the first ice cream that we tried at Hoggy's, which was Chocolate Chip Cookie Dough. This ice cream was great between the small pieces of cookie dough to the smooth, refreshing vanilla ice cream. Every bite we took of the ice cream made us want more and more. The cookie dough chunks were smaller than the ones at Coldstone, which we preferred because it was easier to eat. Overall the Chocolate Chip Cookie Dough ice cream from Hoggy's was balanced, smooth, and overall delicious to eat.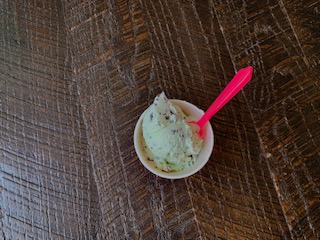 The second ice cream that we tried at Hoggy's was Mint Chocolate Chip ice cream. The ice cream was blended perfectly. It was not over-blended or unblended. The chocolate chips in the ice cream were more like chocolate flakes that melt in the mouth each and every bite. The amount of mint was just the right amount and not too much—sometimes it's a bit too much and the ice cream starts to taste like mint gum. The Mint Chocolate Chip ice cream was the perfect treat to cool and refresh on a hot summer day.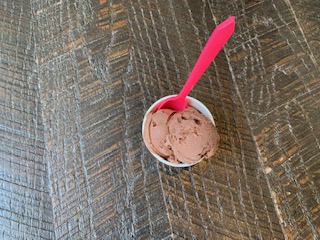 The last ice cream that we tried was the plain Chocolate ice cream. The Chocolate ice cream was rich, creamy, and tasty. This ice cream was light and airy, allowing us to enjoy the ice cream even more.  The Chocolate ice cream was sweet enough to stop a sweet tooth craving, but not too much. All in all, this ice cream was great!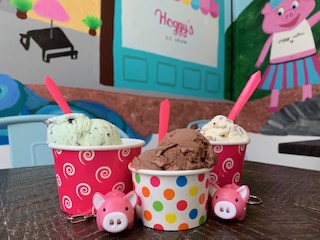 Leave a Comment