Looking Ahead for WCHS Boy's Soccer
A look into what the next couple of seasons may hold for the WCHS Boy's Soccer teams.
Hang on for a minute...we're trying to find some more stories you might like.
Many people focus on the here and now. They only focus on what's in front of them and don't look too far ahead. With this Woodford County soccer season well underway, it's easy to get wrapped up in the season, and being content in the moment. But little do they know, Woodford County soccer fans have a lot to look forward to. Here's a closer look into the next years of Woodford County Boys soccer.
With the season in full swing, it has brought many exciting moments. The varsity has had a multitude of mercy rules, and some games that have come down to the wire.
"
The JV team has been undefeated thus far!"
This has helped provide experience and helped the younger players really know who they are on the field.
As Andy Johnson (10), a goalie on the soccer team that has varsity experience, said, as the season has gone on, everyone has "understood our place on the team and how we all work together," and he also added that "moving forward… as a whole we're all going to do a lot better."
Nate Wells (10), who plays defense, went on to add that he has noticed a change with this team as well. Wells said, "Since our first scrimmage we have moved the ball a lot more smoothly, and find more options and gaps in the defense to play the ball through and score." It shows a lot to hear how two sophomores with plenty of games to play, already see changes in a team and feel like this team is getting better.
It can also be expected that these young players will get even better as they mature and get even more experience. Caleb Evans (10), who plays defense with varsity experience, went on to say that he has seen the team come closer together as the season has gone on. "The team has just been coming together as a whole… and the team has been working together well," Evans said. Not only has Evans seen the team bonding and getting closer, but Nate Wells (10) also said that some of his best memories on the team were "practices and bonding with friends and just getting to know your teammates better." It can be understood that these players will only have their bond grow more and learn to play with each other even better.
The players also know what they want to achieve by their senior season, and they know how to get there. All four of these players (Johnson, Evans, Garcia, and Wells) said that they wanted to start for varsity and to win districts and state tournaments. Now, one would think that these are common goals and that every high school player should have, but what sets Woodford apart from the others is their drive, and knowing what they need to do.
Fabian Garcia (10), also with varsity experience, stated, "From the beginning [of the season] we started slow, like the teams were scoring on us first and we had to cut back and trail back…" but then he went on to say, " with us working harder in practice we have learned that we are the better team and we can do well." Not only do the players have the drive to achieve their goals, they know what they need to do on the field. As Wells said, "Me and other defenders hold it[the defense] down and make sure everything is good," and Evans added that "The harder games have brought us together more because they have taught us what we are doing wrong and what we can improve on."
Not only do all the players have the same goal for soccer on the field, but they have also realized the importance it brings to them off the field. Fabian Garcia said that soccer helps him focus: "When I'm not focused or anything, I probably just go back to soccer and it helps me think." Andy Johnson also added, "Soccer has really helped me off the field with my work ethic and how confident I am."
Not only have Garcia and Johnson noticed that soccer helps them off the field, but so have Wells and Evans, each having their own take on the matter.  Evans said, "It teaches you a team mentality that each person has their role and they have to do that role good for the whole team to be good together." Wells said, "It shows me that you have to put in work on the field to have your spot on the team, and you have to stay consistent and be good, just like in the classroom, you gotta do your homework."
All in all, it is clear that there is a lot to be excited about in the future for Woodford County soccer!
About the Contributors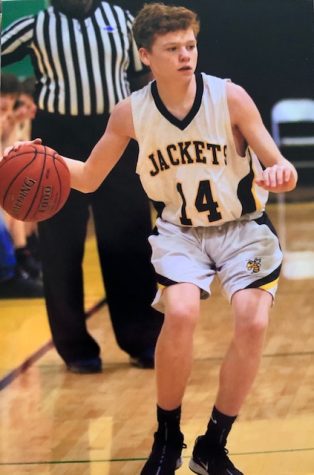 Will Dowdell, Staff Reporter
Will Dowdell is a sophomore at Woodford County High School. This is his first year on The Jacket Journal and he is excited to see where it takes him. He...