DECA: We Mean Buisness
The Woodford County DECA Club, headed by Mrs. Schuerman, and what it's all about
Hang on for a minute...we're trying to find some more stories you might like.
DECA is a business club that's affecting the world. By putting an emphasis on professional conduct in the business community, DECA is able to place high- schoolers in scenarios that make them put on the persona of a prevalent person in the business world, and find out how they respond.
For Heather Schuerman, a teacher at Woodford for two years and a representative of the Woodford DECA for both of those years, that was where her interest for business started. "I was drawn to business because I knew I wanted to work with people in some fashion and was really interested in marketing," said Schuerman. As she progressed in her training, she decided that working with people didn't represent the whole spectrum of what she wanted to do; to accomplish this she would have to combine her love for business with her passion for teaching, and so she became a marketing teacher. This passion for teaching is what ultimately led her here to Woodford County High School.
"
"I decided to become a business educator so that I could teach others about business and help them network."
— Mrs. Schuerman
Immediately she immersed herself in the culture of business at Woodford: DECA. "I help with DECA because I love being with the students and seeing them succeed." And through this business-oriented club, Schuerman has helped many to succeed. In 2019 alone, four students managed to qualify for the international competition, hosting an astounding nine countries. Not only that, but every single member of the Woodford County DECA Club was able to advance past Regions and onto State.
While this may seem like an insurmountable challenge, not everything about DECA is solely competitional. Through this club, not only will you make new friends, but you will be able to improve upon communication skills, all whilst networking your personal brand. "Don't judge it by it being a business and marketing club. That sounds boring, and it's so much more than that! It's about networking, communicating, being a professional, and having fun. You'll meet new people, become friends with people you never thought you would, and have an amazing asset to add to your resume!" said Schuerman.

Loading ...
This business-oriented club is a great way to improve all aspects of yourself, be it communication all the way to the presentation of yourself. DECA is not for those who simply want to be a CEO, it's also for those quiet and reserved people that want to branch out. Something as simple as wanting to work with people can lead you to DECA, and don't be afraid to come and see it for yourself!
Visit Mrs. Schuerman in room 110 if you have any questions.
About the Writer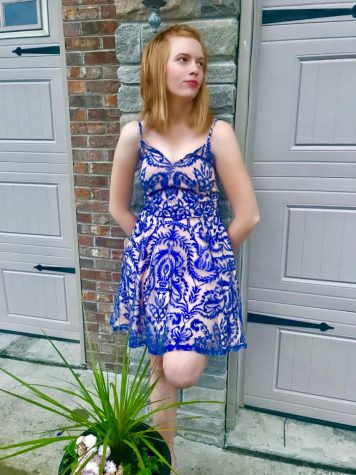 Katherine Kelly, Staff Reporter
This is Katherine's first year at The Jacket Journal. When she isn't at school, she can be found riding horses or hanging out with her friends. When she...