First Time to Disney!
A collection of pictures from my Dream Factory Disney vacation
Hang on for a minute...we're trying to find some more stories you might like.
I bet you all are probably wondering why we decided to do this with everything that we've been through. Sometime in 2017, I filled out an application for The Dream Factory. I said I wanted to go to Disney World and Harry Potter World. The Dream Factory is an organization that gives disabled youth their wish. The Dream Factory doesn't grant everyone's wishes, so I thought it was a long shot but a cool idea, so I gave it a chance!
Fast forward to August 2017. My life was falling apart. I had completely forgotten about the dream factory thing. In April 2018, when I got home from prom (very sore and tired I might add), my family sat me down and told me they had a surprise. I didn't want to do it right then because it was like 2 am and I had been up since 6 am and I had just danced from 9 pm to 1 am so I was a little grumpy. Well, my parents said we had to do it now, and I would be excited. I said, "Fine, just hurry up, I'm tired!" that's when they told me that The Dream Factory had granted my wish! In an instant, my aching feet and sore back seemed not to matter because something good had finally come out of this big wild mess that started the previous August. So, we left on October 26th, 2018 and got back November 3rd. Here are some pictures from my trip! I loved it so much!
Day 1: Universal for The Wizarding World of Harry Potter
Day 1: Give Kids The World Halloween Party at the Village
These pictures are from the Halloween party at the Give Kids the World Village. That Halloween party was so fun and fabulous! There were games, music, candy, and Mayor Clayton was there! Earlier that morning at breakfast some of the Disney characters were there, and we got them to sign our stuff!
Day 2: Halloween Party at the Magic Kingdom
These are some of the pictures from the Halloween party at the Magic Kingdom. The party was terrific, and I got to meet Jack Skellington and Sally from The Nightmare Before Christmas. Jack was so pleasant, and Sally was so sweet, they both were lovely and kind.
Day 3: Animal Kingdom
Animal Kingdom was so cool! (pun intended) They had big fans everywhere and trees to make it feel more like a jungle. You probably won't enjoy this park as much if you aren't into animals but to my family and me, it was terrific.  We saw the Finding Nemo show and the Lion King show.
Day 4: We Head Back to the Magic Kingdom
I don't have many pictures of this day, but we did some neat things. We went to the Hall of Presidents, shopped, watched the parade, explored the park, and I attempted my first rides.  I had been worried about riding rides for fear of blacking out during them.  But everything went well, and I rode two rides.
Day 5: Epcot and Hollywood Studios
About the Writer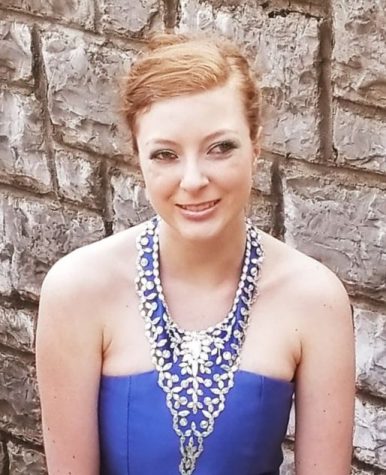 Annie Denington, Staff Reporter
Annie Denington is a senior this year. She loves reading, writing, horses, Supernatural and hanging out with friends and family. You're most likely to...