Lax to the Max
WCHS boys and girls lacrosse teams take to the field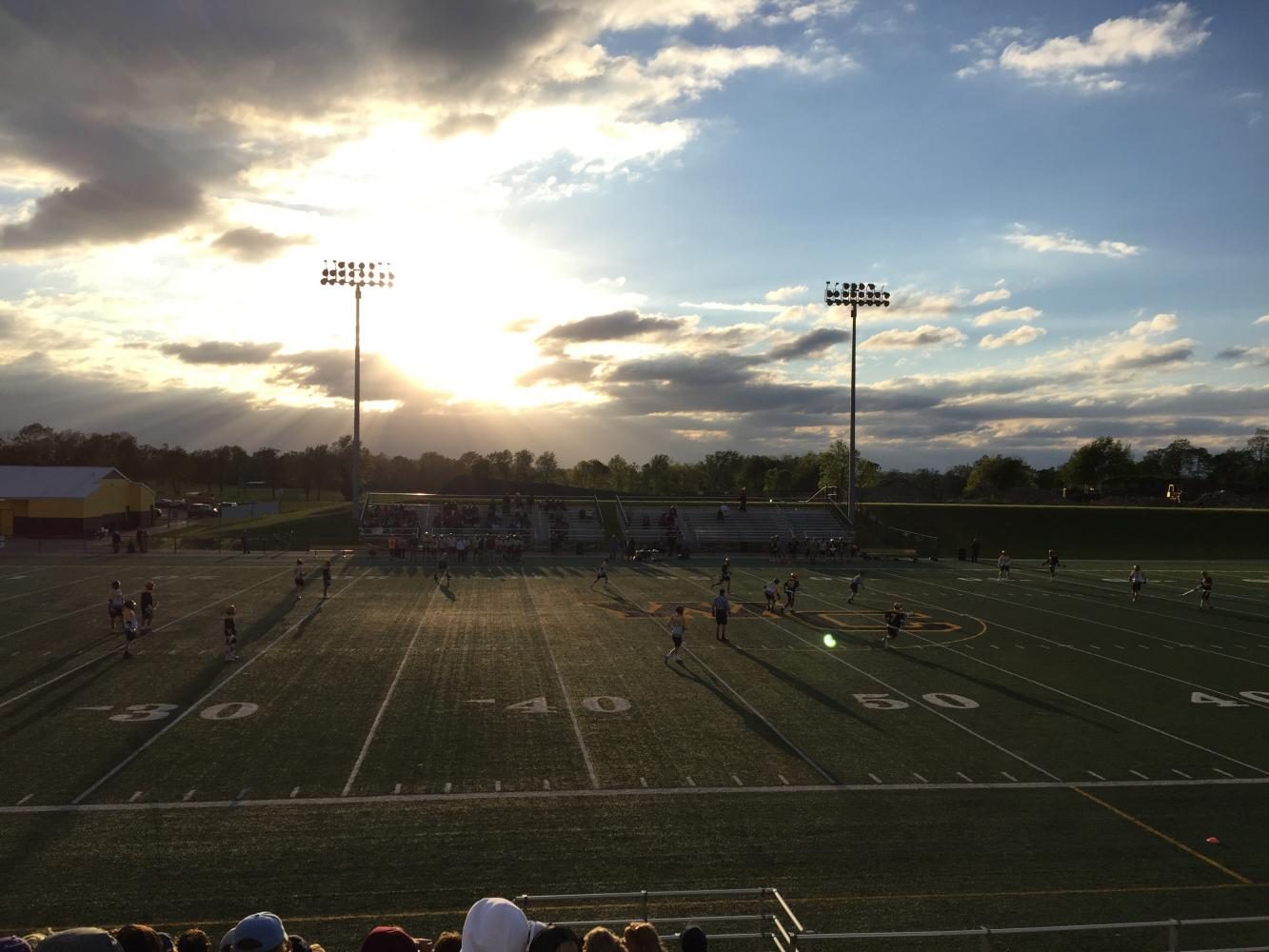 "
The most exciting game anybody could come out and watch."
— John Mullins
Did you know that Woodford County High School has a lacrosse team? Spring sports are slowly closing in. The students have been prepared to step out on the field and get playing. Lacrosse is a sport where eleven players compete against each other and the object of the game is to use a long stick to catch and to pass a solid yellow rubber lacrosse ball into the opponent's goal.
"Lacrosse is a fun sport to play and it can be stress relieving," said freshman team member Brie Gaines. Gaines, number 44 for the girls' lacrosse team, Gaines, plays defense and has been playing for two years. At Woodford, the girls' lacrosse team is not considered a sport, but rather a club. Even though they're not considered a school sports team, that does not stop them from offering fierce competition.
There are many reasons the players chose lacrosse as their sport. "People asked [me] and [I] tried it and ever since [I've] been hooked," said sophomore Abbey Peterson. Others added they wanted to play lacrosse to simply be involved a sport, meet new people and had family members who played. Freshman Luz Moreno said, "Lacrosse is where you can meet new people and having fun while playing."  Furthermore, Maddie Kuebler said she "loves how competitive the sport is and love everyone on the team." 
The boys' lacrosse team is also working hard this season to improve.  Junior Brody McCoun, a returning player, is looking forward to this season and the improvement the team is working to make. McCoun said he's "looking forward to improving as a team and coming together." He added that he's looking forward to the team "working as a unit to win more games this season."
"
 It teaches you how to work harder and to push for your goals."
— Ethan Vanover
The boy's Lacrosse coach, Coach Faulkner has great confidence in his boys. ¨Woodford has never been what you would call a good or great team if you look at the records from years past, but everyone wants to work hard and play hard. I fully expect the team to go above .500, to score over 200 goals, allow only 8 goals a game or less, and to help make everyone that is on the team better. I think those are goals we can for sure reach with the talent with have across the board," said Faulkner.
¨I would want every player to learn that everyone is important, from players who just started in January, to players who have been playing since 4th grade. We are only as strong as our weakest link, and that doesn't mean you treat the weakest link bad. Everyone seems like they are treating their teammates with respect and are staying positive. I would also like them to learn that it takes hard work to be good. You can't walk through games/ life and expect everything to be there for you and for everything to go your way. If you don't work hard, things won't go your way, and I think they are starting to get that.¨