MatJackets Take On State
The KHSSA wrestling championships were held on February 16 through the 17 at the Alltech Arena. The state championships is a two-day tournament where wrestlers from across the state will compete to see who will take the state title home. The two day tournament finished off with Union County taking the team state title for the third year in a row with 186 points,  St. Xavier came in as runner up with 163 points, and Woodford took 3rd place at the state tournament with 155 points.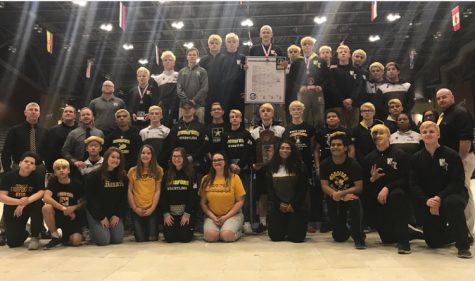 Woodford had 12 wrestlers qualify for the state tournament, and came out with two wrestlers who finished top two in their weight class and five others who placed on the podium top 8.
Senior Tylan Tucker took first place at the weight class 126 beating Union County's Sam Bacon with a decision of 6-4.  This is Tylan's first high school state title but he has placed at the state tournament before.
Sophomore Chase Yost was runner up at the 138 weight class losing to Union County's senior Saul Ervin. Ervin beat Yost with a decision of 9-3.  Yost won state as an 8th grader in the high school division and also, like Tucker, has placed before in the KHSSA state tournament.
Junior Wyatt Andreoni placed 4th at the 152 weight class and 8th grader Gavin Andreoni took 5th at the 106 weight class.
Senior Adam Bender placed 5th at the 113 weight class.
Freshman Dylan Preston placed 6th at the 120 weight class followed by Junior Ronan Wyatt who took 7th at the 145-pound weight class.
Woodford had five other wrestlers who qualified for the state tournament but did not place. Their names follow here: Tony Ornelas (9),  Triston Brooks (10),  CJ Cardwell (11),  Juan Chavez (11), and Jack Hill (12). These wrestlers placed top four in their region but fell short at state.
Near the end of the tournament, KHSSA honored and held an award ceremony for the Woodford wrestling team of 1993. Some students might even recognize members of the team as some of Woodford's own, such as teacher David Graves and Joe Carr Jr.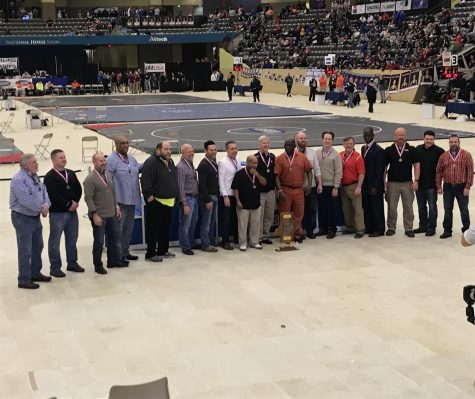 Union County's wrestling team broke a record this year becoming the second team to reach the achievement of winning a state title three years in a row. And Woodford being the first to in 1972. Now that state has concluded, the wrestling season is officially over for the  MatJackets. They finished the season strong and will hopefully have a successful season next year in November.
Congratulations MatJackets!