Backhands and Forehands
An overview of the tennis team
Hang on for a minute...we're trying to find some more stories you might like.
"
"I've been playing for a lot of years and I like how you can play at any age.""
— Alyssa Feldner
The wind blusters around the players as they come out for the first tennis practice of the year, ready for the new season.  "I like tennis because it's fun and everybody's really nice," said Katelyn Hamilton (9) as she got on the courts.
But this first practice is what the players have worked for all winter; because, when the high school season is over, for most players, competing in tennis doesn't stop. In the summer and fall, USTA (or the United States Tennis Association) opens team tennis leagues to keep players on the tips of their toes, bring players closer as a team, and introduce tennis to new people. Team tennis works differently than other matches because the sets are only played to 4, instead of 6, mixed doubles (one girl and one boy) is required to be played, and the winning team is determined by adding up all of the games that each team won, not the number of matches.
At the end of the team tennis season, a tournament is held for teams across the state; and this fall, the Woodford County High School team advanced to the semifinals for the first time. Apart from team tennis, players have attended clinics at some of Lexington's indoor courts (such as Bluegrass Racquet Club, Lexington Tennis Center, etc.) , taken lessons, and played in individual tournaments, also through USTA.
But once the season starts, it's teammate against teammate as challenge matches begin. In challenge matches, players go head-to-head for a set (either 2, 4, or 6 games) to determine whom the top 6 spots, the people that will actually play in the matches, will go to. Once the spots have been decided, the team practices, working on strategies to help beat the other teams in matches, which will begin on March 20.
If you are interested in joining the tennis team, please come out to the tennis courts at Falling Springs at 3:30 every weekday that it is above 40 degrees and not precipitating!
About the Writer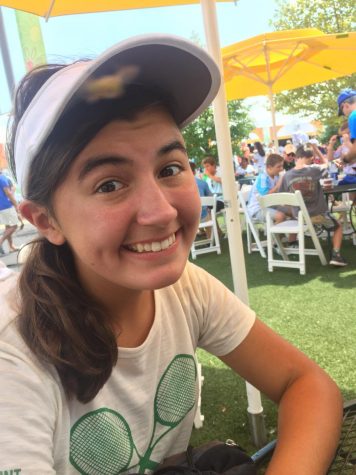 Claire Pinkston, Staff Reporter
Claire Pinkston is a freshman at Woodford County High School. She has played tennis and been on the Academic Team for five years, and enjoys doing both....