Jacketfest 2018
An exciting yearly school tradition makes for an amazing week of spirit, fun, and school pride.
Hang on for a minute...we're trying to find some more stories you might like.
As January comes to a close, one of the most exciting and spirited weeks of the begins. The week leads up to the Jacketfest girls and boys basketball games on Friday night, followed by the Jacketfest student dance.
This year, many students throughout the school participated in the themed spirit week. These themes included Maui Monday, ZOOSday, College gear/support a Senior Wednesday, Class color Thursday, and Extreme spirit Friday. Classes competed to collect the most points and win the spirit stick by participating in the spirit day themes, competitions such as change collecting, and the student competitions at the pep rally. After a week of competition between the grades, the Senior class came out on top with the most points.
The Jacketfest pep rally brought students together as the classes cheered and celebrated the students competing. The entire school seemed to go all out with spirit in an endless wave of black and gold. The hype continued as later on Friday night, the girls basketball team faced off against Franklin County. Many students came out to support the boys and girls teams playing, and the band provided excellent music throughout both games.
In the girl's basketball game, the girls faced off against Franklin county, and almost immediately took the lead. After an exciting game, the girls team took the victory.
The boy's basketball team also played next. During half time, the Jacketfest king and queen were announced. These students had been nominated and voted on by the students over the past week, and everyone nominated was part of a club. As the boys game continued, the boys were eventually defeated, but played a very good game.
After the games came the most exciting part of the night: the Jacketfest school dance. Students from all grades arrived in fancy attire to enjoy music and dancing with friends. The cafeteria was cleared out and lit up with brightly colored lights and loud music. The dance continued on into the night as students celebrated the spirit-filled week coming to a close.
About the Contributor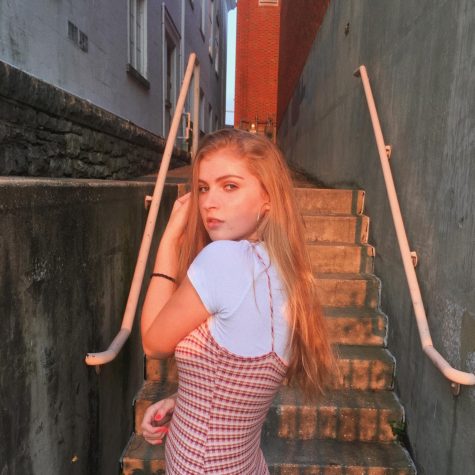 Catie Heerman, Staff Reporter
Catie Heerman is a Junior at Woodford County High School. In her spare time, she enjoys doing makeup, shopping, traveling and playing lacrosse. This is...