My Experience With Podcasting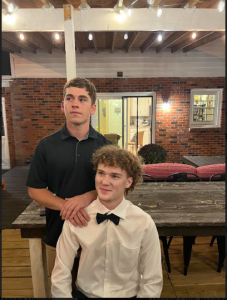 September 19th, 2023 Zach Meckley, Sam Dowdell, and I decided that we wanted to begin filming a podcast. Prior to the beginning of filming, we would talk about hot sports topics in the morning for fun, so we thought why not film this and let other people hear what we have to say? Or what if this gets popular and we can make a career out of it? There were no negatives for any of us so when the opportunity arose to start a project for our Digital Journalism class we thought it would be the perfect opportunity to start.
For the first episode, we decided to mainly focus on NFL and college football, so each of us started researching and watching these games. Some of the predictions that we got right were Sam knew that Colorado was not as good as they were hyped up to be. I knew that Oklahoma was going to be a top-level team. Zach knew that Penn State was going to be very good as well. However, we ran into and big issue. The audio was scratchy throughout the whole episode. This did not take away from the fun for us, but it did ruin the viewing experience. Despite that fact, we received praise from many fellow classmates saying it was very beneficial to them. It also engaged many members throughout the community that were not just students. 
For the second episode, we made some adjustments to the audio. We figured out that we could use voice memos on our phones to eliminate the scratchy audio. This made the episode sound way more professional and clean. Furthermore, we also received some feedback to introduce ourselves before talking. This made it clear to the audience who was talking so that they did not get confused if they did not know each of our voices. This really helped listeners outside of the high school who weren't listening to us talk every day.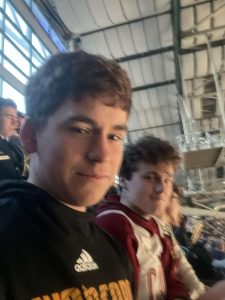 For the 3rd episode, we are preparing to film it at this moment. One thing we would like to change is how focused our topics are. Before we would just say let's talk about college football and we would go from there. Now we would like to focus on let's say Kentucky football or Oklahoma football. This keeps us from doing too much research and also makes sure we get to highlight every team we want to highlight. This way each of us will be more knowledgeable on each topic and be better able to collect relevant information. Furthermore, we would also like to add intro and outro music. This would give our show more personality than just speaking. 
All in all, I have enjoyed the podcasting experience very much. It has strengthened my bonds with my friends and gotten me ready for a career in sports. Since I want to be a sports analyst being able to make my own personal analysis and express that to an audience will help me greatly in my search for jobs. I would also like to thank Mrs. Boss and Elijah Martin. I thank Mrs. Boss for giving us the opportunity to film while in her class. Being able to use the high school resources has helped us greatly. I thank Elijah Martin for editing for us because none of us would be able to.