Let Digital Journalism Fill Your Ears with The Music of Spring! Pt. 2
Are you in need of some whimsical spring songs? Check below for two spring-filled playlists!
As Spring is slowly creeping into our weather forcast and blooming in our gardens, people are shedding their winter coats and attitudes. Music lovers are making their spring playlists and filling their ears with light tunes that correlate with their vision of the season.

Each year, I make a new spring playlist and reflect back on how my music taste has evolved over the past spring years. Last year I decided to make a spring playlist for my Digital Journalism class and I was able to learn a lot about my classmates and their music taste. Because of the success of my article and spring playlists last year, I decided to once again make a playlist of my Digital Journalism class' favorite spring songs and compare it to my own!

The vibe of this years class is very different from last years so it was very interesting to see what songs everyone wanted to add to the playlist.

Warning!!! Some of the songs on these playlists are explicit!
---
 My Spring Playlist 
This spring, I find that my music taste has grown since last year. Different artists with different sounds have made their way onto my spring playlist. Recently I have been listening to more mainstream artists more consistently, which the many Harry Styles songs on the playlist show.  The cover by Fiona Apple of the song Across the Universe and similar songs really allow me to focus on the beauty and simplicity of spring. Whereas songs like Be Careful With Yourself help me cope with the craziness that comes with the school year ending and for me, high school ending all together.
---
 The Digital Journalism Class' Spring Playlist
This year's class has a very wide range of music tastes. From J. Cole to Harry Styles, each person in the class connects different songs with this season. Lucas Mckale's song of the spring is After The Storm by Kali Uchis and Tyler, The Creator. He says, "After The Storm is just a happy song. Winter is kind of associated with depression and the song says, "The sun will come out", and it's very uplifting." Lily Slayton's go-to spring song is (ironically) August by Taylor Swift because "the upbeat tempo and lyrics correlate with the happy feeling of spring."
View Comments(1)
About the Contributor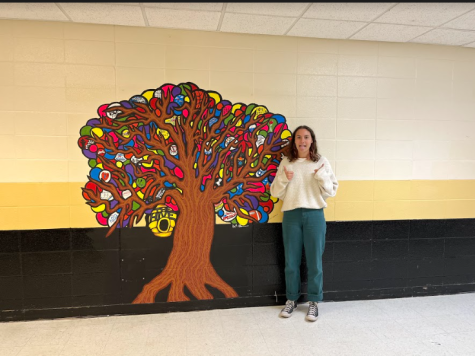 Logan Weaver, Editor, Staff Reporter
Logan is a senior at WCHS and this is her first year as an editor and her second year as a journalist for The Jacket Journal. In her free time, she enjoys...