Class of 23 in NYC!
The WCHS Seniors explore the Big Apple to celebrate all their success!
Day 1
"
I loved getting to visit NYC. It's been a dream of mine to get to go and see all that the big sights and unique spots. I'm so grateful for the chance to go there for my senior trip. I'll always remember the memories I made with my friends and all of the adventures we had
— McKenzie Snellgrove
At 5:30 AM, these sleepy seniors boarded the bus and hit the road. After 12 hours of uncomfortably shifting around and getting Chick Fil A at a random mall in West Virginia, we arrived in New York at 6:30ish. One aspect of this trip that pleasantly surprised me is we were given free time without chaperones and teachers. While that sounds scary, they sent street parameters and a meeting place through Remind, which we could always contact them through. I loved feeling independent and getting to create my own agenda with my group of friends, as we were also encouraged to not be alone. We visited a really interesting ramen place and having never had authentic ramen before, I rate it 8/10! We watched seemingly pro rollerskaters in Rockafellar Center, visited an Amish Market, and witnessed a new scam for money that involved getting volunteers to jump over. While I was exhausted and slightly confused by the lack of structure, this was a great first taste of what was to come.
Day 2
This day really set the tone for the rest of the trip in the best way possible! We started with breakfast on our own and headed to the Top of the Rock, which takes you to a striking view of New York, specifically the Empire State Building. While the sky was grey and it was chilling so high in the air, it was nice to see the whole city laid out in front of me. We got to jump right into that city with several hours of free time on, mainly, 5th Avenue, which is where I drained most of my bank account. The inner child in me was quite satisfied with the Lego and the American Girl Doll store. While I was encouraged to not purchase an American Girl Doll, my Lego Daffodils  have already been built carefully and displayed. As an additional note, I cannot recommend purchasing the Lululemon belt bag enough. As an original hater, I understand all the queries: yes, it is truly a fanny pack and no, it does not make sense, but only at first. You will learn to see its practicality in the sense that all your stuff is on your body and is very difficult to have stolen.
"
New York was truly amazing! I found myself talking to people that I hadn't talked to in years which was really nice…This was my 4th time in New York City and I always love visiting because it's where I want to live after I graduate college!
— Luc Vandenbroek
A highlight of the trip was seeing Aladdin on Broadway. As someone who has seen several Broadway shows that are known for their raw emotions and deeper meaning, I wasn't overly excited about what I knew was going to be over-produced and very Disney-fied. I was pleasantly surprised, however, because I forgot that Broadway has the resources to make magic that you weren't even expecting. Not only were people climbing and jumping from towers as they were singing, there was fire, people coming from the floor of the stage, quick changes, and a carpet that I still have no idea how they made fly convincingly. While the cheesy, Disney writing warrants some cheesy acting, the vocals and the dancing delivered every single time. New versions of characters graced the stage, like a completely human version of Iago with all the physcial and vocal comedy of the beloved character formerly known as a parrot. Abu was most uniquely replaced with Babkak, Omar, and Kassim, Aladdin's gang of thief friends who have their own plot points in trying to rescue Aladdin from Jafar. Overall, there were many elements of Aladdin that left me in wonder and awe, but it was especially nice to see my classmates enjoy a product of the world I partake in and love so much. I am really glad exposing people to Broadway is an integral part of the NYC Trip itinerary.
Day 3
This was, unexpectedly, a really entertaining day that started off with a kick at Ellen's Stardust Diner, an establishment where your servers not only serve food, but crazy vocals as they serenade with you Broadway, pop, anything you can think of. One minute, you are receiving French Toast from a cute brunette girl and 5 minutes later, she's belting "Part of Your World" like its her last chance to ever sing again and the cycle repeats itself. This was followed by 4 hours in Chinatown and Little Italy, somewhere made out to be quite scary and does have its dangers, but when done right, can be thoroughly enjoyed. After spending 45 minutes walking in circles, trying to find a bathroom, I eventually found a spark of joy in trying boba or "bubble milk tea" for the first time. I am not one for trying something new, but I was really excited by the interesting flavors, textures, and aesthetic of the drink, spurring me to have more courage among street vendors and finding joy in what can be confusing and frightening. Did it lead me to buy a $5  ring for $15 ? Yes, but I like the ring and we were given $15 for lunch, so it worked it out for me in the end.
"
It was a blast! I loved all of the shops and food; the dinner cruise was fun as well. However, my favorite part was Chinatown and Little Italy as they were the most interesting places to be. I would recommend this trip to all that are interested!
— Harrison Hamlin
The food in Chinatown and Little Italy certainly proved to be better and more intriguing than our meal on the dinner cruise, but the experience itself could not be beat. While I was initially weary being on a smaller boat with another school called Immaculate Conception (what kind of name is that?) and limited food options, the view of Lady Liberty and the dance party that soon followed made it all worth it. The DJ they had faded songs right into one another so seamlessly that I remember wishing we had him at prom. I don't usually end up in "The Middle" at school dances, but I was at the center of the dance floor with 30 of my classmates and I had way more fun than I've had at any other dance. Cole Dycus demonstrated his hidden, but undeniable dance talent that made me wish I had his grace, even if he was sweating a lot. My runner-up for Life of the Party has to be given to Finely from Immaculate Conception, who made up the fact that it was his birthday to get in the middle of our circle, but still made me glad to be a part of his main character moment.
"
I loved seeing the skyline at sunset on the dinner cruise! My favorite part of the New York trip was Central Park! It was beautiful and a calm space in a busy city.
— Reese Nickels
Day 4
My absolute favorite day took place primarily in Central Park, starting with the Museum of Natural History & Science. This was the only time where I thought we needed way more free time, as we only had 2 hours to explore a 4-floor building with models of everything you could imagine and a reputation of being the set of Night At the Museum. I didn't stop to read much due to our time limit, but they had plenty of engaging models and experiences such as dinosaur bones, fake plant environment, taxidermy mammals, and a to-scale model of a blue whale. While this might not be for everyone, I highly recommend getting lost in all the different, engaging set-ups of this museum.
"
My favorite part of New York was exploring Central Park. It's amazing to see such a beautiful and natural space within a metropolitan area. I really liked having a picnic with friends while playing music
— Eva Kate Probus
Following our gallivanting in the museum, we were free to conduct our own picnics in Central Park, complete with a provided lunch, blanket, and umbrella. I have never felt more at peace and relaxed on the tall, flat we settled on as the sunlight created the perfect temperature for a New York summer day. Walking around, I enjoyed seeing couples out for walks, fellow picnic participants, people playing Frisbee, and several of the film landmarks for Enchanted. Our tour guide led us on a more thorough walk-through to see beautiful skylines, "Turtle Pond" (accurate considering the amount of turtles), and Strawberry Field (not actually a strawberry field, the memorial to John Lennon).
By this time, we were exhausted and ready to take on the 4 hour drive to Pennsylvania, so our drive home the next day would be shorter.
Day 5
This trip, however, did not feel shorter to me. However, in their routinely kind fashion, Mr. Ellis and Mrs. Probst provided us boxes of Great American Cookies from the mall in West Virginia (where most of us had Chick Fil A…again). This gesture was on of many that our teacher sponsors made to add even more fun to our trip. Whether those surprises have actually been around for years and their routine has already been perfected, I still think this trip lived up to everything it was supposed to be and more. On the behalf of the 45 lucky seniors that got to attend, thank you to Mr. Ellis, Mrs. Probst, Mr. Grant, Mrs. Hicks, and everyone at Freedom Tours Support for helping us create memories I know I won't forget. Next time I visit the Big Apple, I'll know exactly what spots to "take a bite out of" thanks to this trip!
Pictures

 
Leave a Comment
About the Contributor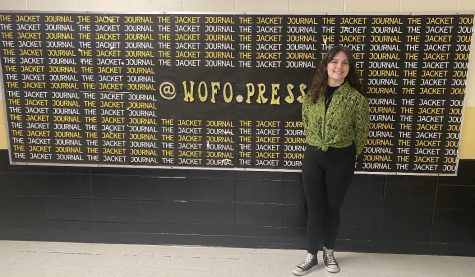 Rylie Sudduth, Staff Reporter
Rylie Sudduth is a senior at WCHS and so excited for her first year with the Jacket Journal!! Rylie's passions outside of school lie with the arts, so...