All About the Amsden!
A look inside the beloved coffee shop in downtown Versailles.
The Amsden, located in downtown Versailles, has become a lively hang-out spot for people of all ages. The building includes The Amsden Coffee Club, Gathered Mercantile, The Amsden Bourbon Bar, Skin Boutique by Kaylan, and The Yoga Room Versailles. It hasn't always been this way though; before the Amsden came along, the site was home to many different establishments. Originally, the property was Watkin's Tavern which was a tavern/inn built by Thomas Metcalf. Shortly after the tavern burned in 1886, the Amsden bank building was constructed. It was open from 1890-1931. Since then, the building has housed a variety of different businesses, and now, it has been restored into the Amsden coffee shop that we know today.
Coffee is not the only thing offered at the Amsden. The Gathered Mercantile is a shop that is connected to the Amsden. They sell a variety of different goods such as unique jewelry, clothing, vintage items, and more! These goods are supplied to the mercantile by over 15 local makers.
In addition to this, the Amsden has become a welcoming place of work for kids in high school. For example, Elizabeth Jackson (a sophomore here at Woodford County Highschool) speaks about her experiences working at the Amsden in a short interview: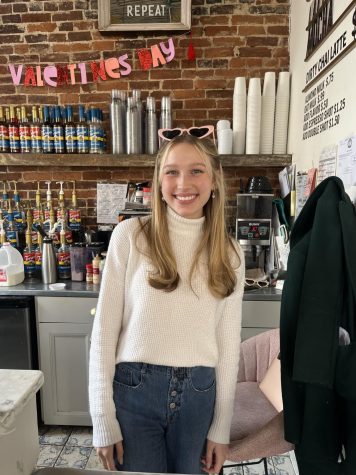 How do you like working at the Amsden?
"I love working at the Amsden! The atmosphere is absolutely cunning and as a coffee drinker I love that I get to make it for other people."
What is your favorite part about working at the Amsden?
"My favorite part about working at the Amsden is easily my coworkers. I love every single person I work with so much and I'm fortunate to feel so comfortable and loved at my workplace."
In what ways would you say the Amsden has benefitted the community?
"The Amsden has without a doubt brought this community closer in a way no small business ever has before. In the past 5 years, we have done and plan to do so much. We have expanded our shop from fun coffee drinks to exceptional events such as movie nights story hours, Galentine's parties, and so much more! I am so excited for the summertime to continue with our summer movie nights, those are always my favorite!
Have you ever had any difficult customers?
"Difficult customers are an exciting aspect of the job for sure. There are always customers who lug their bad day into the coffee shop, but an important lesson to learn as a customer service worker is to never let them drop it off. When a customer is being short or nasty, it is always important to maintain a good level of patience and kindness no matter how difficult the situation."
How do you think the Amsden has prepared you for your future jobs?
"The Amsden has prepared me for my future jobs by providing me with a sense of confidence, consistence, and responsibility. I have been working at The Amsden for seven months now, and I have learned so much. The most important thing that I have learned that will definitely benefit me in the future is the fact that in a workplace, your actions do not only affect you, but they affect everyone else present in the environment significantly. This is why it is always important to stay on top of your duties and keep a positive outlook!"
Sources:
https://gatheredky.com/the-amsden
https://www.hmdb.org/m.asp?m=170017
View Comments(1)
About the Contributor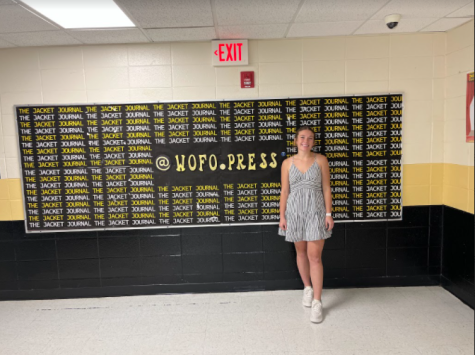 Lily Slayton, Staff Reporter
Lily Slayton is a sophomore at WCHS and this is her first year as a journalist for The Jacket Journal. In her free time, she enjoys going on walks, listening...