Womens Wrestling May Have A New Face
Wrestling is one of the oldest sports known to man dating back as far as 776 bc. The sport was popularized by the greek Olympics but has grown internationally since then. Men's wrestling has become an iconic mark in the collegiate sports category as it is high-paced and thrilling to witness. The largest faces of the 2000s are Jordan Burroughs, Kyle Dake, David Taylor, and Thomas Gilman. All of these men are the faces of men's wrestling but what about girls wrestling? Girls' wrestling is arguably one of the largest growing sports in the United States with numbers exemplifying the growth. What was once hundreds of girls wrestling has not turned into thousands. Nationwide, more girls are wrestling because of just a few faces. With Kayla Miracle, Clarissa Chun, and Helen Maroulis to name a few. The sport itself is a male-dominated sport but the rise of women's wrestling has presented a new competition. as these athletes conclude their careers, who is the next face of international wrestling? To answer that question is Lauren Walton.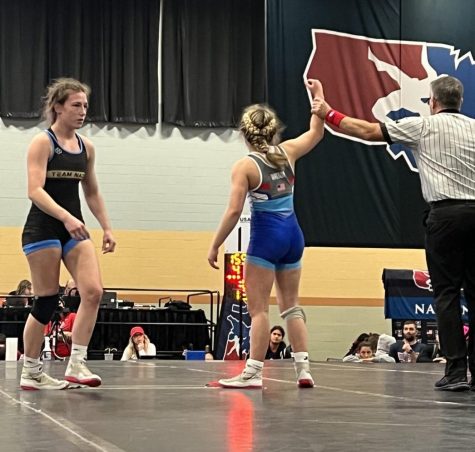 Lauren Walton is a junior at Woodford County high school. She is a 2x girls state champ, Second place Fargo finisher, a grappler fall classic champion in both folkstyle and freestyle, she is a Virginia beach champion for folkstyle, and the first woman in Kentucky history to win the middle school boy state championship. I was able to talk with Lauren about her dreams and goals for her career. "It's been a huge goal for me to wrestle in college but an even bigger goal to wrestle in the Olympics." "I would love to compete at the next level especially since the girls I've wrestled before have gone off to big colleges like Iowa and Campbellsville." Lauren's plans for college are undecided but her options are limitless. Her next national event is march 4th and 5th as she is off to compete in Nebraska. Her largest competition this season will be the US world team trials in Spokane Washington April 14th- 16th.
Leave a Comment
About the Contributor
Harley Graham, staff reporter
Harley Graham is a junior at Woodford county high school. this is his first year as a journalist for the jacket journal. He enjoys athletics such as wrestling...