County Fair
The county fair is one of the best ways to start off summer break– there are still a few months to go but never too early to start planning! With multiple events, competitions, fair food, and rides, the fair is one of Versailles' favorite summer events. There is a vast array of events from pageants all the way to greased Pig Contests, there is undoubtedly something for everyone to enjoy. We have used James Gang Amusements for many years now with rides for people of all ages.
Events such as pageants, Ninja Warrior contests, skillet throwing competitions, Greased Pig contests, demolition derby, a truck and tractor pull, and even a men's prettiest legs contest, are all held within the month of the fair. There are opportunities to win carnival prizes, crowns, trophies, and even money! 4-H members can enter items to be judged to win cash prizes and if scored high enough, can head to the state fair in August for even bigger prizes and awards.
When Nash Raisor, a freshman at Woodford County High School, was asked what his favorite thing to do at the fair was, he responded, "definitely the bumper cars and eating funnel cake." After listing off the many other activities he enjoyed; he also added that expanding the fair by adding a few rides would be very beneficial to the overall turnout of the fair. "They have gradually started taking away rides each year and the past year they only had a few rides I actually liked." I agree with his statement because I have realized that some of the more intense rides were taken away which were the ones that I know teens looked forward to the most.
Jackson Ward experienced the fair for the first time this past summer and believes that," the fair is very representative of Woodford, small fair, small town." He and Noel Devers both agreed that the pirate ship was their favorite ride, but they also enjoyed the Rock-O-Plane (a ferris wheel that rocks back and forth depending on how much the rider shifts their weight). Jackson also recommended that everyone try the pretzels at the fairground and also watch the tractor pull because of the 'dope cars and low riders, pulling tractors'. Noel added by saying his favorite activity to watch was the demolition derby. Some changes Noel and Jackson would add to the fair were to add a few contests such as a pie eating contest or a smoothie drinking competition but all the ingredients taste terrible or even a spicy chip eating contest like the 'One Chip Challenge' and the longest person to go without taking a drink wins. Jackson believes that Falling Springs is a great location but believes they should add more rides and things like a rebounder Trampoline (large trampoline with bungee cords). Noel and Jackson said they would only participate in the Men's Prettiest Legs contest if they won cash.
Be sure to visit the Woodford County Fairgrounds June 3rd-10th this summer to get your summer started!
Leave a Comment
About the Contributor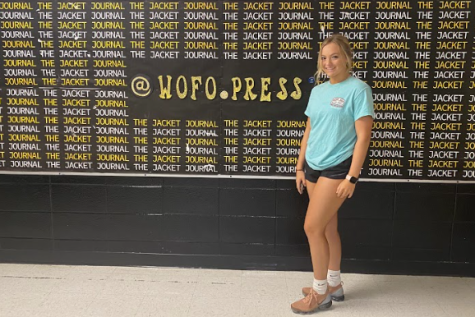 Ashlynn Gampper, Staff Reporter
Ashlynn is a Junior at Woodford County High School. This is her first year writing for the Jacket Journal. She is a Varsity Cheerleader and an athlete...