How to Make the Perfect Desert for the Holidays!
Every Christmas, my parents and I travel to my grandma's house. She takes pride in ensuring her house and the food she prepares are perfect for our family. Her tree, decorated with lights, ribbons, ornaments, and tinsel, towers above the foyer where we open presents. Among these traditions is a candy cane cake she bakes for our family to enjoy every year, and in this article, I will be sharing how it is made! 
First, you  need to gather all of the ingredients:
1 cup sifted cake or pastry flour 

1 ¾ cups sugar 

12 egg whites, at room temperature

1 teaspoon cream of tartar 

¼ teaspoon salt 

1 teaspoon vanilla extract 

1 teaspoon almond extract 

8 ounces peppermint candy canes 

2 cups heavy whipping cream 
After you have grabbed everything you need, you can start baking.
Step 1: Preheat oven to 325 degrees
Step 2: Sift together flour and ¾ cup of sugar, sift again, and set aside
Step 3: In a large bowl or standing mixer, beat egg whites until foamy. Add cream of tartar and salt. Beat until soft peaks form. Add ¾ cup of sugar and the vanilla and almond extracts. Continue beating until egg whites are firm but not dry. 
Step 4: Sift one-third of the flour-sugar mixture onto the egg whites and gently fold the mixture into the egg whites with a rubber or silicone spatula. Add the remaining flour in two batches, folding gently after each addition. Turn batter into an ungreased 10-inch tube pan and bake until browned and firm to the touch, 50 to 60 minutes.
Step 5: Invert the cake (in pan) on a cooling rack for at least an hour. When completely cool, run a long, thin, sharp knife between the cake and pan to loosen, and remove the cake 
Step 6: Put candy canes in a large sealable plastic bag. Crush them into small pieces with a meat pounder, rolling pin, or the bottom of a small frying pan. Sift crushed candy with a fine-mesh strainer. Set crushed candy aside.
Step 7: In a large bowl, beat cream with the remaining ¼ cup granulated sugar until soft peaks form. Frost the cake with whipped cream using a spatula to form swirls and peaks. Sprinkle frosted cake with crushed candy canes. (To get candy on the sides, hold your hand about 1 inch from the cake and gently toss crushed candy at the sides.) Serve immediately, using a serrated knife to cut slices. 
This cake has been the centerpiece for my grandma's dining table during Christmas ever since I can remember. My cousin and I have grown up by her side and helping her in any way that we can. From setting the table to cleaning up wrapping paper after we've ripped through our presents that she has lovingly packaged up for us every year. This cake holds a very special place in my heart and it is something that you can make to bring joy to your family gatherings this holiday season!
Leave a Comment
About the Contributor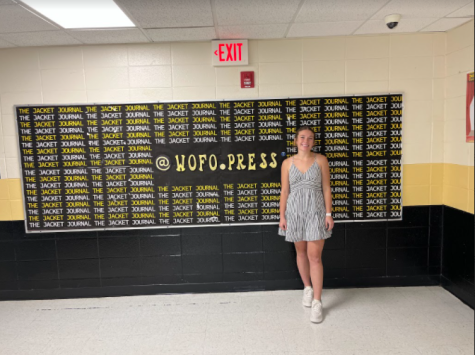 Lily Slayton, Staff Reporter
Lily Slayton is a sophomore at WCHS and this is her first year as a journalist for The Jacket Journal. In her free time, she enjoys going on walks, listening...