What's the Big Deal About Big Fish?
"Is there a big fish?" Dive deep for the answer yourself by getting tickets for this year's spring muscial!
Mamma Mia: Here we go again?
      Woodford County High School's production of Mamma Mia! was a show that audience members probably enjoyed singing along to because they knew every word. Even though the jukebox musical, featuring popular band ABBA, lived its first life on the stage, most people were widely familiar with the hit movie-musical starring Meryl Streep and Amanda Seyfried. Therefore, when our school mounted this production last spring, there was a widespread familiarity that undoubtedly raised ticket sales.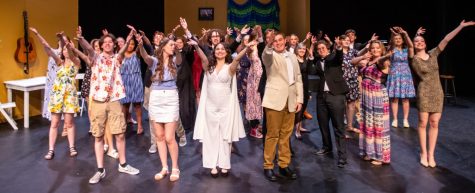 Despite Mamma Mia!'s roaring success, there has been less talk about Big Fish, our musical set to open in March. Most people don't realize that this story began as a movie, just like Mamma Mia!, with Ewan Mcgregor, Jessica Lange, and Helena Bonham Carter leading the cast. Even if someone knows of the movie, more often than not, they have no idea it has been adapted to a musical. This is not a typical high school show and isn't widely known in the theatrical scene, even with Wicked actor Norbet Leo Butz playing the lead role. Before I auditioned for a version of Big Fish that Woodford Theatre put on in 2017, I had no idea what it was. I certainly did not expect to fall so hard for this story when I first auditioned, but there is a reason this simultaneously heartwarming and heartbreaking story made me cry every night on stage. 
Is There Even A Big Fish?
        What is Big Fish? Why should you go see it?  This musical follows the story of Edward Bloom, an older man known for the larger-than-life, seemingly false tales he shares about himself. These fables come at the expense of Edward's realist, business-minded son, Will Bloom. The nature of their clashing personalities is the focus of the musical, a relationship conflict that is made ultimately worse when it is revealed that Edward has had cancer and is quickly succumbing to it. Through the lens of Will trying to unpack the truth about his father and find the "real him", the audience gets to see Edward's best stories played out in real time. The contrast of exciting, magical musical numbers or scenes about circuses, giants, witches, mermaids, romance, war, etc and the hero of those stories being a dying man is part of what makes Big Fish as upsetting as it is. The audience sees first hand how Will and Edward are both deeply flawed, but they each have to come to some sort of goodbye and uproot their norm entirely. From a technical standpoint, the swelling, folk music elevates this story even more while the actor cast as Edward is expected to artfully hop between all different stages of his life, staying on stage almost the entirety of the demanding, 2 hour musical. 
New Director went Fishing for WCHS Cast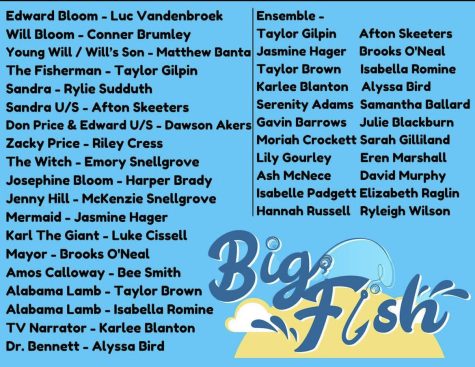 In regards to the cast, the cast list for Woodford County High School's production was released September 30th, featuring Luc Vandenbroek as Edward Bloom and Conner Brumley as Will Bloom among numerous others placed in lovable roles that support them throughout the show. What is additionally unique about this upcoming show is that it is the Woodford directorial debut of Mrs. Hogg, our new theatre teacher. She is working alongside Mr. Strickland (music director) and Mrs. Bays (choreographer), WCHS musical veterans. 
"
I expect them to really step up this year and put on a performance we haven't seen in a Woodford County High School production in a long time.
— Mr. Strickland
      "This show is bigger than any show we've ever done in my five years here at Woodford…This is probably one of the most talented casts we have had in a long time and I expect them to really step up this year and put on a performance we haven't seen in a Woodford County High School production in a long time," says Mr. Strickland.
       Upon being asked about her unique opportunity this year, Mrs. Hogg comments: "I was a little nervous stepping into a leadership position as a first year teacher, but I have felt so much ease around the actors and faculty. Everyone has been super welcoming, hardworking, inclusive, and dedicated to making great art. I directed a few plays in college to benefit a local women's shelter, and I also grew up acting, so being involved in productions feels very natural."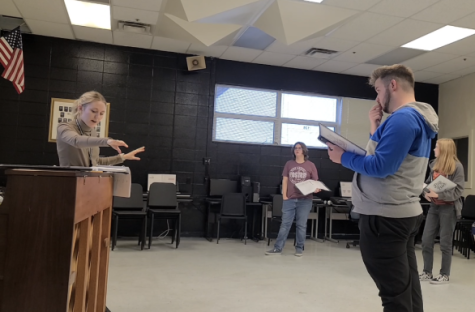 Actors Prepare to Tell the Tail
       Luc Vandenbroek speaks to the experience of working with a new director: "I love working with Ms. Hogg…She kind of just jumped in for the challenge not knowing any of us….I believe she is doing a wonderful job. I am loving seeing her vision for the show come alive. "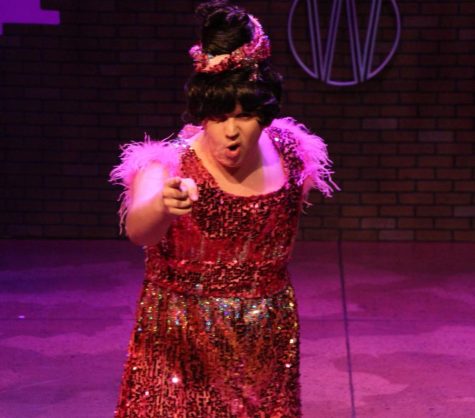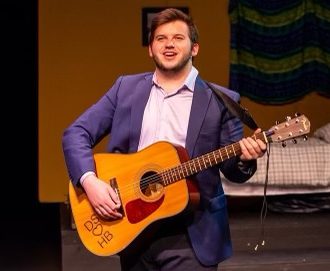 As an actor in the production with a large undertaking in the title role, Vandenbroek explains the part he looks most forward to is the "final product". "This is such a big show with so many moving parts," Luc details, "There is a lot I have to memorize and keep track of. I've been doing theatre seriously for about 7 years now and this definitely one of my most demanding roles I've ever had. But I'm excited for the challenge."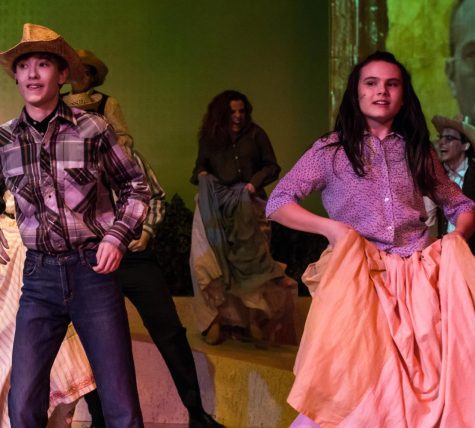 As a member of the cast, I can personally tell you that these collaborators are correct in saying that this is a big show with a lot of storytelling necessities, but we absolutely have the means of doing it justice. Throughout Mamma Mia!, what felt like our first real show since Covid, I gained much more confidence in our ability to work together as a department and mount something special. This show has been near and dear to my heart, especially since I was 13 years old when I was in the ensemble for this beautiful piece and now, I am a lead role as a senior. Not to mention, as Edward's wife, Sandra Bloom, I get to work closely with Luc, who has been a best friend of mine since elementary school.
However, I know my personal story might not matter to you. The infectious love flowing within the story and in the cast should be enough to inspire you to come see this show. As Mrs. Hogg notes, "Big Fish was one of my favorite movies as a kid, and it felt like the perfect start to my job at Woodford County. The musical is full of interesting characters, and I love the notion of a play that is–at its core–about storytelling and community…Also, how many plays have a mermaid, a circus, a werewolf, a witch, a southern town, and a giant (a boy on stilts)? Those elements alone are worth seeing!" Strickland seconds this by commenting: "It has amazing music, a great script, fun choreography and it is overall a great story focused on a relationship between a father and his son. It will have you laughing and crying." 
Fin.
Big Fish runs March 2nd-March 4th in the WCHS cafeteria  and while this date is arriving soon, spreading the word in order to bring in as large of audiences as possible is of the utmost importance. As aforementioned by several, taking a chance on this less familiar story will be worth your while and deserves to be fill our theatre with the same community Big Fish will emulate-one of Southern hospitality, small town comradery, magic where it's least expected, and endless love and warmth, even in the ugliest moments of life. As Edward says, "Be the first one to rejoice with a story in your heart, you won't need any other choice."
Dive In
View Comments(1)
About the Contributor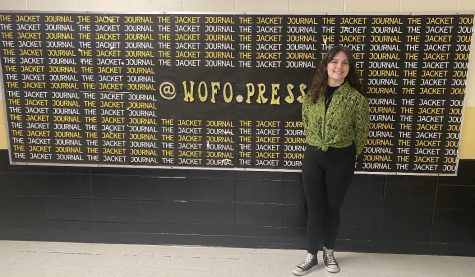 Rylie Sudduth, Staff Reporter
Rylie Sudduth is a senior at WCHS and so excited for her first year with the Jacket Journal!! Rylie's passions outside of school lie with the arts, so...