Spotify Wrapped or Apple Music Replay? Pros and Cons of the Streaming Services
With the 2022 yearly release of Spotify Wrapped and Apple Music Replay, the ever-going argument has resurfaced over which streaming service is more sufficient. Both services are the same price for nearly the same listening accommodation. If they provide the same features, what makes the difference over which is better? As someone who has continued to use Spotify while paying precisely $9.99 a month for Apple Music, while also receiving feedback from students on which they prefer, I have built up pros and cons between the two platforms:
Spotify
pros
Accessibility – With the premium feature provided by Spotify, such as unlimited skips and no ads,  they also provide a free version, which Apple Music does not. Although, with the free version of Spotify users are limited to 6 skips an hour and 1-3 ads every 15-30 minutes of listening. It can also be accessed across most devices, which is convenient for instances when a user does not have their phone or is not allowed to use it.

Spotify Home page, Becca Adkins

The interface – Spotify's home page displays everything you need, from recent artists, albums and playlists listened to, personalized playlists based on recent listening, and suggested tracks to start your listening.
Desktop and Web player app – Compared to Apple Music, the ability to use Spotify's desktop app and web player is increasingly easier than Apple Music. With playlists displayed for easy access, as well as tabs for search, your saved library, liked songs, and a list of created or saved playlists.
Personality – Every day, Spotify creates personal playlists specific to each user. In 2015, Spotify introduced Discover Weekly, a playlist pitch to help artists gain listeners by pushing out songs that are similar to a user's music taste. Following in 2016, they first introduced Daily Mixes, generally a range of 1-6 playlists curated for users to discover new artists, or reminisce on old favorites, coinciding with Discover Weekly, grouping similar songs or genres together. Generally, I like listening to full albums or artists rather than creating a playlist for myself, so this feature allows me to listen to a compiled playlist of music that I actually like, without having to put in the effort of creating one on my own.
Compatibility – Spotify covers a much wider range of compatible devices compared to Apple Music since it is not limited to only Apple products. Spotify can be accessed on Roku, Google Chrome Cast, Amazon Alexa and Echo, Playstation 4 and 5, Xbox One and Google Nest.
cons
Low sound quality – In comparison to Apple Music, Spotify's sound quality is next to nothing. In February 2021, Spotify announced that they would introduce lossless streaming before the end of the year, which still hasn't come to be in December 2022. The ability to upgrade the audio quality to a lossless CD format will only be available to Premium users, which already gain better sound quality than the free version. While this new feature is said to still be in the works, it's been almost a year since it was first hinted at, and there are still no updates.
Limit to song downloads – Spotify only allows users to download 10,000 songs for offline listening with its premium feature. Limits that Apple Music does not have for offline listening, in that case, the only limit is the capacity of your phone's storage. While 10,000 seems like plenty enough songs, if a user downloads multiple extensive playlists, it turns out to no longer be reasonable.
The free version only allows for shuffled music – As someone who enjoys listening to albums, this is the one problem that pushes me away from using Spotify on mobile devices. If you want to listen to a specific album, hitting play doesn't only shuffle the album, it plays any suggested or similar song. While this can be a way to discover new songs, as stated before, Spotify already includes suggested, personalized playlists. Also, with the limit of 6 skips per hour, trying to listen to a single album is next to impossible.
Artist pay – While this does not affect Spotify users directly, it affects the music they listen to. Many artists have strayed away from Spotify, despite its accessibility, as their pay per stream is said to range from $0.003 to $0.005. Even with that, for an artist to get any revenue from a stream, it has to be played for at least 90 seconds. In order to receive a decent wage from Spotify, an artist would need to amass 300,000 streams per month.
Apple Music
pros
Apple Music Replay can be accessed all year – Unlike Spotify, with the one-time release of Wrapped at the end of November each year, despite stopping the tracking of listening activity in October, the status of a user's Apple Music Replay can be accessed year-long, allowing for users to track their listening activity even after its release for the year.
Dolby Atmos & lossless sound quality – One thing Apple Music surely gets right is the sound quality. In 2021, they introduced that all songs on the services would be converted to lossless quality. Essentially, every track on Apple Music sounds the same as it was recorded in the studio. At first, only limited tracks were included, by 2022, every track is now included for lossless listening. Along with this introduction, Apple Music included that they would be including Dolby Atmos spatial audio into certain tracks. Dolby Atmos creates an immersive experience for listeners, sounding as if music is coming from all around.
Exclusive artists – Apple Music, in attempts to gain more users, has signed exclusive deals with artists, having certain albums or entire discographies exclusively on their service. Even before Apple Music's start as a subscription service in 2014, artists like Taylor Swift had signed exclusive deals with Apple to have their music only on its service and nowhere else. In recent controversy with Spotify, artists such as Neil Young, Joni Mitchell, Graham Nash as well as David Crosby and Stephen Stills, removed all of their music from Spotify, though it can still be found to stream on Apple Music.
Offline listening – Apple Music allows users the capability to download 100,000 songs for offline listening across ten devices, whereas Spotify only allows 10,000 downloads across five devices.
Ability to upload local files – While Spotify has this feature as well, the local files can only be accessed when using the desktop app. With Apple Music, any file uploaded from a Mac or desktop can be accessed on any device connected to the app. This is great for artists with songs not accessible to stream, as users can download unreleased songs and
cons
No free service – A big preference for Spotify over Apple Music has to do with Apple's lack of a free option. However, this allows more exclusivity and traction for new users to pay for the service. Despite not having a free plan, Apple Music gives users the first three months of streaming free, which can be canceled before the first official billing period.

Apple Music library, Becca Adkin

No social media accessibility – Spotify grants users the ability to connect their Facebook and Instagram accounts, allowing for easy sharing of favorite songs and artists. In Spotify's desktop app, they allow users to see what their friends are listening to in real-time. While Apple Music allows users to follow others and track their recently listened to and public playlists, there is no real-time feature like this. It is also not as accessible to see friend activity on Apple Music, as it is only accessible to see when viewing a user's profile, something that I was not even aware of until I had been using the service for over a year.
Complicated interface – In the feedback I received via Google Form, many listeners complained that Apple Music's interface was too confusing and that Spotify's was more user friendly. For the mobile app, when accessing the Library tab, everything included in a user's library is displayed, and organized from newest to oldest, along with customizable tabs displaying downloaded songs, saved albums, artists, and playlists.

Apple Music Listen Now, Becca Adkins

Limited personalization – Compared to Spotify's Daily Mixes and Discover Weekly, Apple Music's version of these customized playlists is nowhere near the same. On the Apple Music app, there is a tab titled "Listen Now," which includes recently listened to songs, suggested artist stations, playlists, albums, and minimal customized playlists to a user's listening. One problem I have always had with these customized playlists is that they do not gauge by recent listening, but by overall listening, meaning some songs will be included on these playlists that I haven't listened to in at least two years. These playlists usually include 25 songs, which comes to be about an hour and a half of listening, while Spotify's Daily Mixes usually include no less than two hours of listening. Although these playlists re-generate every few days or weeks, they are not as up-to-date with recent listening, or even categorized by similar genres as Spotify's personal playlists are.
Out of the 45 responses I received in a Google Form, 77.8% of those responded claimed to use Spotify, 66.7% used Spotify Premium, with 11.1% used the free version. Many stated that Spotify is the better service because it is more personalized, user-friendly, and overall easier to use than Apple Music. One user claimed that Spotify is easier to find new music, with easy access to any other user's playlists or simply listen to your personalized playlists. Spotify has even introduced a "Blend" feature where users can connect with friends and have a generated of combined songs each user listens to, updating daily.
Despite the masses preferring Spotify to Apple Music, with the redesign of Apple Music's replay, many users have started considering switching subscriptions for this one-time, end-of-the-year feature. Compared to Spotify Wrapped, which became an annual occurrence since its initial release in 2016, the new, revamped Apple Music is no different than what Spotify has been doing with its year-end music wrap-ups. One problem users have had with Apple Music Replay for years is that it is unavailable in the app, users must go to a browser window in order to see their statistics, while Spotify offers Wrapped in its app. A new change to Replay is that users can now see if they were in the top 100 listeners of their favorite artists, similar to how Spotify displays what percentage of listeners users were for their most listened-to artist.
Despite being an Apple Music defender myself, I see the interest and accessibility of Spotify, whether that be Premium or the free version. Argument aside, we all just want to listen to music, however we may see fit. The debate over what service is superior will never lessen, yet I can appreciate any listener's passion for music. In the survey, I asked users how many minutes they streamed music over the course of 2022, a feature that is included in both Apple Music Replay and Spotify Wrapped, the numbers ranged from 773 minutes to 195,855 total minutes listened.
Leave a Comment
About the Contributor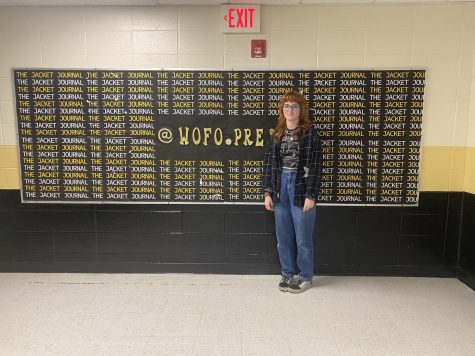 Becca Adkins, Staff Reporter
Becca is a senior at WCHS and this is her first year writing for the Jacket Journal. In her free time, she enjoys reading, watching movies, listening to...