2022 Senior Spotlight: How last years seniors are doing in college.
Class of 2022 has officially moved on from WCHS. Many started college this August and are finally settling into life away from home. Some have stayed close to home, but others have traveled far away from our quaint little town. I have interviewed some of Woodford's most exemplary students of the graduating class of 2022 to see what their college experience has been like so far. 
Our first interview is with Tara Rapoport, a freshman at Morehead State University. They are currently majoring in astrophysics and minoring in creative writing. 
Q1: "What are the major differences between high school and college that you have experienced so far?"
A1: "There is a lot more responsibility on me to go to classes, study for exams, and also just live. Like I have to make sure I get food every day and stuff like that. There is also a larger space to navigate with less time to get to classes."
Q2: "What is your favorite class you are taking this semester?"
A2: "Martial arts and self-defense. It's a mix of practical self-defense, boxing, kickboxing, and jiu-jitsu."
Q3: "How has settling away from home been?"
A3: "It was definitely a little weird but it helped that I have really great roommates I can hang out with. I do miss my cat a lot."
Q4: "Are you looking forward to the future of your college career?"
A4: "Yes! I really like it here so far and I'm excited to get further in my courses and my major."
The next interview is with current freshman at Berea College, Aidan Teague. Aidan is currently undecided on his major. 
Q1: "What has been the biggest surprise about moving to a new town?"
A1: "The community is a lot more diverse. Berea is a college town which means everything revolves around the college which is a little strange. But other than that it's pretty similar to Versailles. Just another Kentucky small town."
Q2; "What is your favorite class you are taking this semester?"
A2: "Traces of the global past II. It is a history class that covers world history from 1400s to modern day. The class is really small and follows more of a guided discussion rather than a lecture."
Q3: "What has been the biggest difference between high school and college so far?"
A3: "High school had a lot less expectations. Here I was assigned a whole 300 page book to read over the weekend and I have to read about 20-40 pages of something most nights. It only makes you a better student though."
Q4: "Are you happy with your choice of Berea?"
A4: "Yes. It's a very high rested school. And it's free. What more is there to ask for?"
For our final interview, we have current freshman at the University of Kentucky, Max Savage! Max is currently majoring in Journalism. 
Q1: "How do you feel about the newfound freedom you have now that you live alone?"
A1: "I definitely appreciate the free will and daily choice I have in things. Getting to make my own decisions on things daily is a great change."
Q2: "What is your favorite class you are taking this semester?"
A2: "My anthropology class has been my favorite so far. Getting to study the beginning of humans and all things surrounding them has really been a fun time. I also like that it's in the evening, so it feels like a real wrap-up of my day."
Q3: "Do you miss any aspects of home?"
A3: "I don't really have the opportunity to miss it because of how close I am to home. I also come home on the weekends most of the time so I still get a good mix of college and home life."
Q4: "Do you prefer college or high school?"
A4: "I can't really pick one I prefer. As I've said I love the choice I have in college, but I do miss the simplicity and structure that high school provides."
Leave a Comment
About the Contributor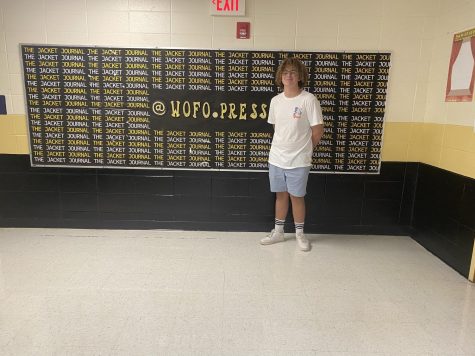 Jonah Savage, Staff Reporter
Jonah Savage is a junior this year at Woodford County High School. This is his first year writing for the Jacket Journal. He works a part-time job at Falling...