Album Of The Year?
A deep dive into Mr Morale & The Big Steppers, what makes it the album of the year?
2022 is already almost halfway over and so far the new music has been slim pickings compared to 2021's vast array of new albums from big names. One album stands out from the crowd for this year, though. Mr. Morale & The Big Steppers by Kendrick Lamar has shot ahead of the competition for new music this year. Lamar has constructed an album with each song telling its own story of a part of Lamar's life. 
1,855 days. 1,855 days was the gap between Kendrick Lamar's last album — DAMN. , and the release of Mr. Morale & The Big Steppers. This gap brought angst from fans as they waited for new music from the grammy winning artist. The gap between albums was not completely empty, As Lamar had a few features on Lil Wayne's "Tha Carter V" and Baby Keem's "The Melodic Blue".  
Now getting into the songs off of Mr. Morale & The Big Steppers, the songs of this album relay a look into Lamar's childhood, personal issues, personal view, view of the world, and daddy issues. Just to name a few. These songs are separated into 2 "discs". The first disc, "The Big Steppers" and the second disc, "Mr. Morale". Starting with the first track,
United In Grief (10/10)
This starting track is a strong intro to the album. It starts with an echoed voice that states 
I hope you find
Some peace of mind
In this lifetime
I hope you find
Some paradise
This song has 2 different meanings in the verses. One of them is Kendrick perceiving the world and how troubling the meaning of it all is. The second meaning is how Kendrick feels guilty about how much joy and satisfaction he receives from buying flashy items and having a braggadocios nature. The repeating lyric "I Grieve Different" plays into this meaning by showing how Kendrick satisfies his grief and despair by buying expensive things. 
N95 (10/10)
The second track on the album, "N95", is about how when people hide behind a "mask" of sorts, whether it be expensive clothing, a self-righteous attitude, or a faked view of something, you can't really see the proper person they are. This song uses a looping trap-esque beat in the back while Kendrick goes all in on his rapping with a fast and efficient flow. This is also the most popular track from the entire album. This is due in part to its more upbeat and party sound. Out of all the songs, it uses the least amount of thinking and is more so just a really good song. 
Worldwide Steppers  (8/10)
The third track off of the album, this track utilizes a repeating almost "oomph" sound with rapping from Kendrick about a bit of a sensitive topic. He talks about his guilt from sexually exploiting white women. Along with Kendrick having sex with white women for "revenge" due to all the injustices from white people towards black people such as himself. This is also the first track on the album to feature Kodak Black. His inclusion is one intended to spark controversy due to Kodak Black's past abuse allegations. He will pop up multiple times on the album, one of which is a full-feature verse. Others are him doing spoken word intros to a few songs. 
Father Time (Featuring Sampha), (10/10)
The fifth track from the album, this track is really the first track where the meaning is very clear to the listener. This track goes into Kendrick's struggles with his father. It starts off with a spoken-word conversation between Kendrick and a fictional woman. She says "You really need some therapy" which is followed by Kendrick's response of "Real ***** need no therapy, **** is you talking about". This is representative of the mindset driven into Kendrick's mind by his father when he was younger. Keeping your feelings and emotions bottled up instead of talking. The line "Mama died, I asked him why he goin back to work so soon, His first reply was 'Son, that's life, the bills got no silver spoon'". This is about the emotions his father has bottled up, even after his Mother died, he was back to work the next day. 
The feature from vocal artist, Sampha is highlighted in the chorus of this song. His angelic voice has this song floating through the entire verse.
We Cry Together (Featuring Taylour Paige), (11/10), Best on album.
The eighth track off of this album is also my favorite track on the entire project. It's a very unnatural song for a hip-hop album. Instead of full-on verses, the duo of Kendrick and Taylour Paige create a full-on screaming match over a looping piano beat. Throughout the entire song, it's just anger and screaming. Taylour Paige is coming over from acting and creates an excellent array of vocals. As the song goes on her voice gets more and more raspy and hoarse as her screaming gets angrier and angrier. Meanwhile, Kendrick remains with an almost calm voice throughout the entire song. This song ends with an interaction that can only truly be taken in with a listen on your own, so I'll leave that to you. 
Savior (Featuring Baby Keem & Sam Dew), (10/10)
The fourteenth song on this album, Savior starts out with Kendrick saying,
Kendrick made you think about it
But he is not your savior
Cole made you feel empowered
But he is not your savior
Future said, "Get a money counter"
But he is not your savior
'Bron made you give his flowers
But he is not your savior
He is not your savior
From what I have gathered from this song, the intro segment of "He is not your savior" comes from the tendency to look upon a figurehead as your one and only savior. Someone who would help with whatever is going on. Kendrick's spoken word verse is saying how dangerous it is to swap out a true figure with a celebrity like LeBron James or Future. 
This song features a verse from Baby Keem on the chorus of the song and sharing verses with Kendrick. Sam Dew is mostly used for adlibs and small words spoken throughout the song. 
Auntie Diaries (9/10)
The fifteenth song off of the album, this track is one of the first very slow and somber tracks on this project. This song dives into the topic of Kendrick coming to terms with sexuality and gender as he has seen family go through the struggle of gender identity. The aunt he had grown up with had come out as transgender after Kendrick and his friends and family had grown up using the f-slur loosely and not seeing anything wrong with it. It was just part of the vocabulary and this is mirrored by Kendrick using it in this song. Coming to terms with the struggle his uncle had gone through to become who he is today. He comes to see the relationship he had built was unchanged by the coming out of this uncle of his. Kendrick has since become accustomed to recognizing this word as a slur and derogatory. 
Mirror (10/10)
The 18th and final track off of this album, Mirror is a powerful track with a strong beat and musical tone behind it. This track is Kendrick's way of saying how he chooses himself and his well-being over anything else. He comes first. 
This track is mirroring the rest of the album. Both discs of the album have similarities with each other. With similar sounding tracks falling in the same spots of the discs and even the interludes falling in the same spot. The entire album is a mirror and this is solidified by this track. 
This album is one of my favorites of all time. Everything blends together so well to create a full listening experience and on like no other. I could not review every song off the album but any that I didn't list, I would still absolutely recommend listening to. 
I would give this album a 10/10 rating. Every spot on this album has something to enjoy. Even the tracks that don't have as big of an impact sound great and are easily made up for by the absolute hits this album holds
Leave a Comment
About the Contributor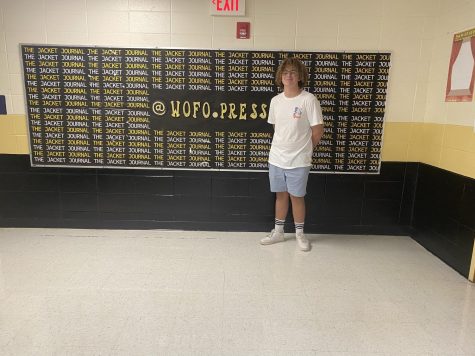 Jonah Savage, Staff Reporter
Jonah Savage is a junior this year at Woodford County High School. This is his first year writing for the Jacket Journal. He works a part-time job at Falling...