Lady Jackets Ball Out: WCHS Girls Soccer Senior Night
A recap of the WCHS Girls Soccer Team Senior Night on Wednesday, September 29th, 2021.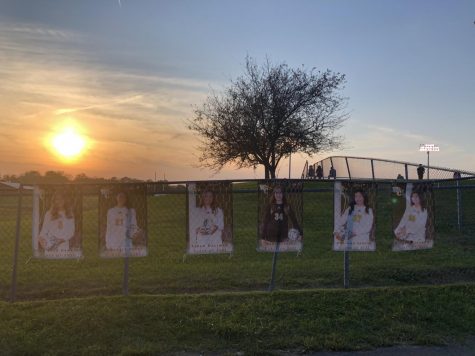 Though the girls had a slow start, the Lady Jackets came away from their Senior Night with a 3-0 District victory over the Shelby County Rockets. Before their hard-fought game, the Seniors- Anna Beth Hawkins, McKenzie Terry, Kaylen Escaloni, Sarah Hallman, Adriana Santos, and Maria Laksaa- were honored on the field. Each girl was escorted by their family (or host family!) to a decorated goal, and each gave a pre-recorded speech. Some were emotionally sappy, some were funny, and each one was meaningful. The girls received flowers and some well-deserved praise for their dedication to the WCHS Women's Soccer Team. Sarah Hallman emphasized how crazy it was to be a Senior, and mentioned how "time has flown by really fast." Anna Beth Hawkins said how "being a senior definitely feels weird but, you know, it's exciting." Lastly, Adriana Santos said the night was especially meaningful because, "all of the senior class has been with [eachother] for five years," and that it was a hard rebuild after losing the Class of 2021, but that this years team really understands one another, which has led to a great season.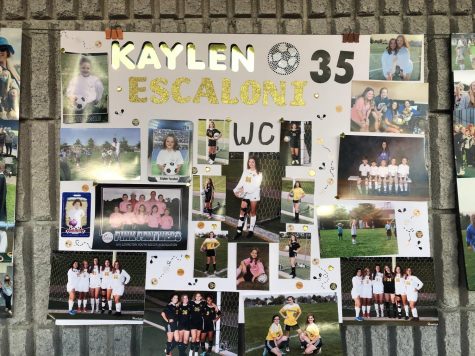 After the honors, both teams took to the field; Woodford in black, Shelby in white. Kaylen Escaloni was able to take the first kick, which was super sweet to watch, especially since her ACL tear stopped her from having the senior season she had dreamed of. Kaylen mentioned how her year has been chaotic, and "a whirlwind for [her] in particular, mainly because [she hasn't] been able to play with [her] knee," and that dealing with COVID-19 has been "especially difficult." Kaylen mentioned how the team "was a little off in the first half, but [that they] really got back to it the second half." She says it's been "awesome," and that her Senior season, despite the setbacks, has been "pretty good."
The game itself was physical all around. Each girl fought particularly hard to win for the Seniors. In the first half, there were several shots on goal by the Lady Jackets, but they were picked up by the Shelby County keeper. At the end of the forty minutes, the score was tied 0-0.
"
I'm very happy to be a part of this team, and they welcomed me very well. I look forward to playing with them for their Senior season. "
— Maria Laksaa
The girls' Coach, Brandon, says that they're a second half team, and that "they settled in after halftime," and that he knew "after the first goal [they] would start to unwind a little bit, which [they] did." Despite the stress of the first half, the girls came out determined to win the game. Sarah Hallman contributes their success "to [their] coaches for always just encouraging [them], but still keeping [them] true to how [they] can truly play."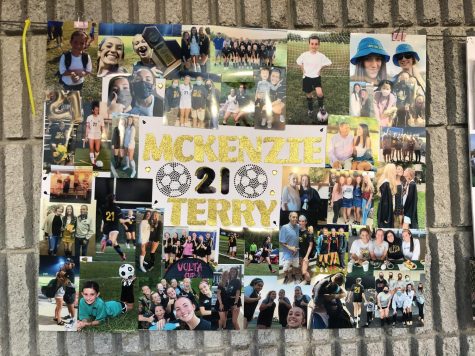 McKenzie Terry scored three times this half- once at thirty-five minutes, once at thirty minutes, and once at thirteen. Her shots led the Lady Jackets to their 3-0 victory. McKenzie said she "was very proud of [the] team and [the] girls for stepping up, especially in the second half to pull a win out for [the] seniors."
The team was excited for the big district win and, as Sarah Hallman put it, are "ready to kick some butt!"
Be sure to come out and support the Girls Soccer Team on October 2nd at 8pm in the Community Stadium behind Falling Springs!
Leave a Comment
About the Contributor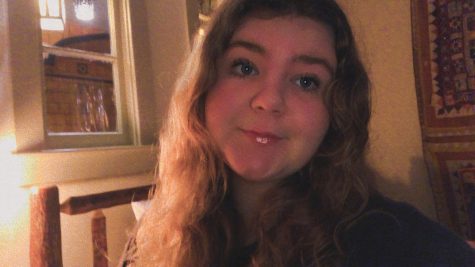 Willa Michel, Editor, Staff Reporter
Willa Michel is a senior at WCHS, and this is her second and final year writing and editing for The Jacket Journal. Willa is a member of the CKYO Symphony...