No Fear All Cheer
All about the WCHS Cheerleaders!
The stadium lights are on and football season is in full swing. The hours of endless practices have all led up to these moments, the athletes are ready to leave it all on the field and the sidelines. Though they may not always be viewed as athletes the cheerleaders put in just as much heart and soul in to their sport as other athletes do. You can always hear them at games being loud and proud, and keeping their team's spirits up!
The spectator and student section only see one side of the cheerleaders, though. They don't see them go through the long choreography process, the Saturday morning practices, or the tumbling classes they take weekly to further their skills. Cheer is an year round sport that lasts from May to February with no break. During these months, not only are the cheerleaders preparing for football and basketball, but also for their competitions that begin in October. The team's competition goal this season is, "To be competitive at regions, and hopefully win a bid to Disney," Coach Heidi Hemlepp said. The team is also working towards "looking their best for the student section." This year the team has some new additions, making them stronger. The middle school sent in a big group of freshmen cheerleaders who are "very experienced from their middle school success last year."
The team is now co-ed with two male cheerleaders who "both have a full twist"  and can do co-ed stunting with two of the female cheerleaders, Meleah(12) and Haylee(9).  As the class of 2018 begins their senior year, they give their advice for incoming cheerleaders and share their best memories from their four years of cheering at WCHS. Meleah Hysell(12) and Chelsea Call(12) said their favorite experiences from cheering are, "Going to Disney twice, winning National Champions in Indianapolis, doing co-ed stunts, and making banners." Call also said, "We do a lot of bonding together and we hang out together all the time." Their best advice for future WCHS  cheerleaders is to, "Enjoy it, and work for it."
About the Contributor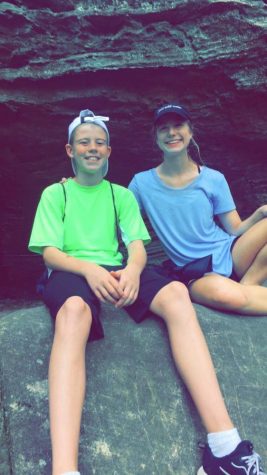 Breanna Willis, Staff Reporter
Breanna is a Junior at WCHS and this is her first year writing for The Jacket Journal! Her hobbies include hand lettering,  and biking and hiking with...