WCHS Volleyball Team Volleys for a Cure
Woodford County High School Volleyball Team hosted Lexington Catholic for their annual Dig Pink game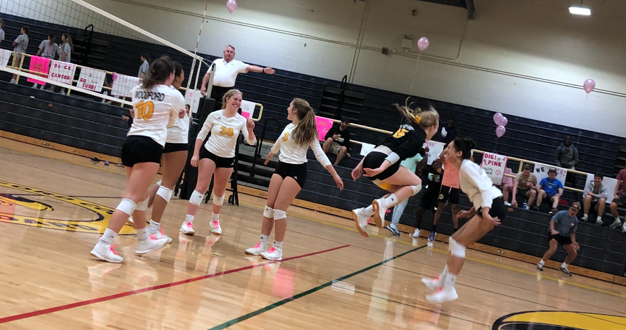 In honor of Breast Cancer Awareness month on Thursday, October 10th, 2019 the Woodford County High School Volleyball Team hosted Lexington Catholic for their annual Dig Pink game, an event organized by the Side-Out Foundation which works with the community to spread breast cancer awareness.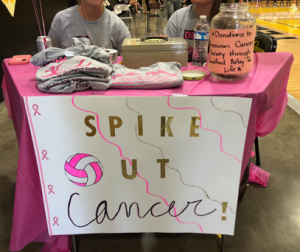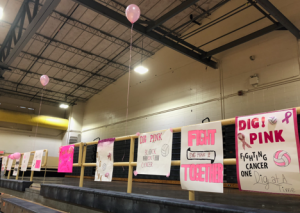 The gym's interior was decked out in pink, from the decorations to the players. The gym was filled with balloons and hand-made posters. Woodford County volleyball players showed off their pink spirit by wearing pink shoelaces while Lexington Catholic wore pink ribbons in their hair.
This year the Lady Jackets played against Lexington Catholic. Together, $1,424.75 was raised to go towards breast cancer research and will be donated through Woodford Relay for Life. Last year, in 2018, the Woodford County and Western Hills volleyball team fought on to raise $1,268 for the Side-Out Foundation.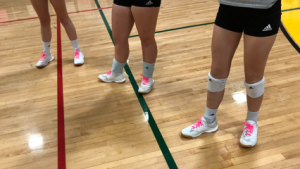 Woodford County beat Lexington Catholic in three straight sets (25-18, 25-16, 25-16), making it Head Coach Meghan Bottom's first Lexington Catholic defeat. The game can be watched here: https://drive.google.com/file/d/1-Nvg8OxAjHW3chqXR16L25Nhev8FL7nv/view
Following the game, Justice Mudd, a sophomore that plays for JV and Varisty, interviewed Woodford County Volleyball Head Coach Meghan Bottom and two of her players. 
Head Coach Meghan Bottom
Out of your years of coaching, how many times have you participated in Dig Pink?
Since coaching, I have participated in three Dig Pink volleyball events and last year was my first one at Woodford County High School.
What do you want your players and the community to take from participating in this event?
We are all a big family and it doesn't matter the differences we have. There are times we all have to pull together to support one another.
Players Eliza Nuckols (9) and Legend Burgess (11)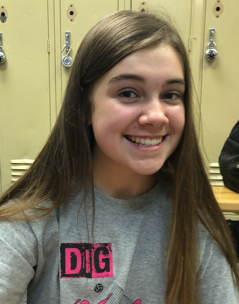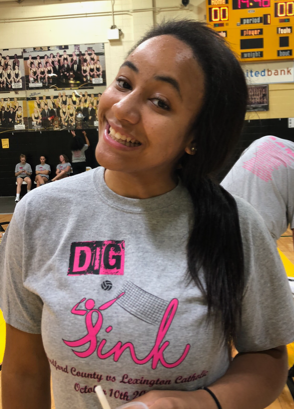 Eliza Nuckols is a freshman at Woodford County High School and plays on both Freshman and JV. Legend Burgess is a junior at Woodford County High School and plays for Varisty.
What mode of exposure do you think would best spread awareness to your fellow classmates and teammates? 
Burgess said,  "Social media and community announcements would be the best way to spread the message."
Nuckols said, "Social Media would definitely receive the most exposure." 
Words of Encouragement
What message or words of encouragement would you like to provide to people fighting breast cancer right now? 
WCHS Head Coach Meghan Bottom said, "You're not alone, all you have to do is reach out for help!" 
Legend Burgess (11th) said, "Just keep swimming and never give up!" 
Eliza Nuckols (9th) said, "Don't stop fighting, have faith. I wish you all a great recovery!"
Further Information
If you are interested in hosting your own dig pink event you can find more information here: https://side-out.org/dig-pink/
The wonderful thing about the Side-Out foundation is that you don't have to be a volleyball team or, for that matter, any sports team to host an event.
If you would like to make a donation you can do so here: https://side-out.org/donate/
Every little thing helps! Go out and make a difference! Fight on Woodford!
Good luck to the Lady Jackets who will be heading to districts October 22nd!
About the Contributor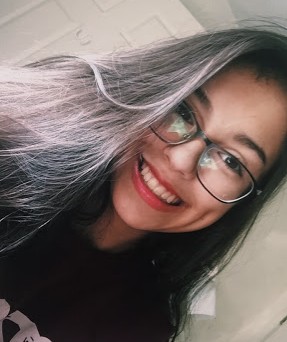 Justice Mudd, Staff Reporter
Justice Mudd is a sophomore at Woodford County High School; it is her first year as a Staff Reporter for The Jacket Journal, and it is her second year...