The Best Treats In NYC
Trying some of the popular desserts in New York City
Over spring break I went on an amazing trip to New York City—my favorite place in the world. One of the many things to enjoy in New York is the food; there is something for everyone anywhere you go, whether it's a famous restaurant or a local hotspot. But what is a good meal without dessert? I made sure to try a few of the popular treats featured on sites such as Instagram and Youtube, and many of them were surprisingly delicious!
---
Milk Bar NYC: Nolita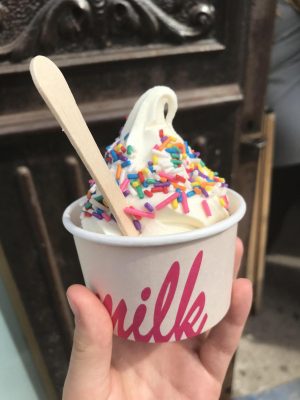 This ice cream is made out of cereal milk. They have two flavors of ice cream: corn flakes and fruity pebbles. They soak the milk they use for the ice cream in these cereals to give it a distinct taste. I enjoyed it, but it is not something I could eat a lot of or finish. If you enjoy cereal, you will like this!
Visit their website by clicking here!
246 Mott St
New York, NY 10012
---
Taiyaki NYC: Chinatown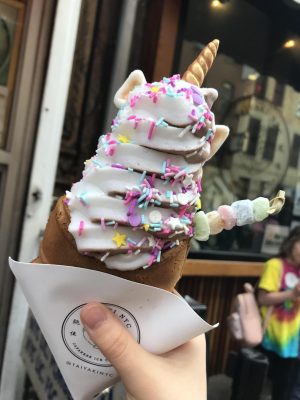 This store offers a taiyaki "cone" topped with your choice of soft serve. This was definitely my favorite out of all the desserts I tried. The ice cream was great and the taiyaki cone was yummy, with a pancake texture and flavor. The taiyaki was filled with red bean paste, which I enjoyed, although many people dislike it. I got the coconut and chocolate soft serve swirled together—a very enjoyable combination.
Visit their website by clicking here!
119 Baxter St.
New York, NY 10013
---
DŌ Cookie Dough Confections: LaGuardia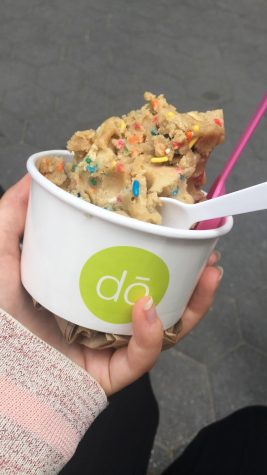 DO is an edible cookie dough company that is very popular on social media. It definitely lives up to the expectations, with its great taste and a large variety of flavors. Just like an ice cream shop, you can taste any flavor you want, and they can scoop the flavor you choose into a cup or a cone.
Visit their website by clicking here!
550 LaGuardia Place
New York, NY 10012
---
Giant S'mores: Hershey's Chocolate World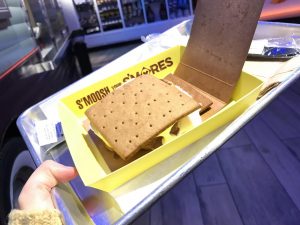 Located in Times Square, the Hershey's store has a s'mores bar inside that sells giant s'mores with a cinnamon graham cracker. It is large enough to share with about 3 people and is definitely worth the money.
Visit their website by clicking here!
20 Times Square Building
701 7th Ave. 
  New York, NY 10036                                                                                                                  
---
Vivi's Bubble Tea: Times Square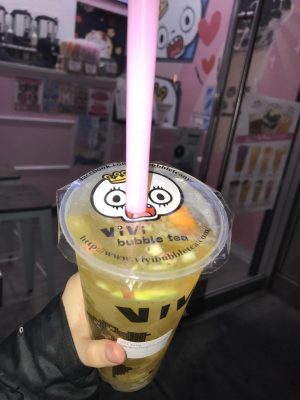 Vivi's Bubble Tea has a large menu with many fruity drinks that anyone can enjoy, no matter the weather. The drink I got was very citrusy and refreshing, which came with fresh fruit and jelly inside. They have many other drinks which you can get either hot or cold.
607 9th Ave.
New York, NY 10036
---
Dylan's Candy Bar: Hudson Yards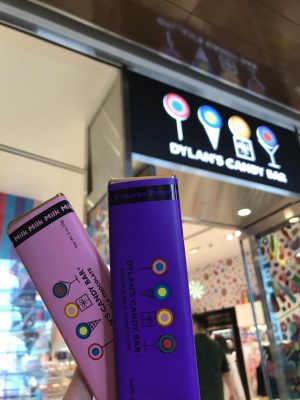 This location of Dylan's Candy Bar is in Hudson Yards and is just an overpriced candy store. As cute as it is, it is overpriced for what you get. The gummies and chocolate are delicious, but you should not spend too much money there. I recommend to go for the experience, but be mindful of how much you are spending on your items!
Visit there website by clicking here!
The Shops at Hudson Yards
20 Hudson Yards, 4th Floor
New York, NY 10001
About the Contributor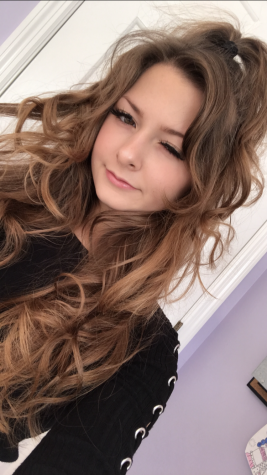 Hillary Ocampo, Staff Reporter
Hillary Ocampo is a junior at Woodford County High School; this is her third year with The Jacket Journal and she plans to continue reporting throughout...