A Look at the 2019 WCHS Tennis Team
With the season underway, the Woodford County High School tennis team is looking like the best in the district
The Woodford County High School tennis team has been competing for weeks now, and it's no wonder they are doing well. WCHS sports are impeccable, and that is no exception for the tennis team. Recently, I talked with two of the top players on the Boys' team and got a look at how things operate.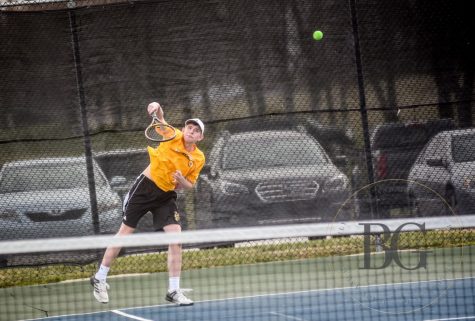 When asked about how the team was performing, Evan Bentley (10), a #1 doubles player, said the team was doing "extremely well" and he is looking forward to the state tournament in May. He also emphasized the need for new players for next years season. After this season, the boys' team will be losing two seniors: Ben Ison and Mason Mcintire. The tennis team urges you to learn more about the Falling Springs Junior Team Tennis* league this summer and visit the Falling Springs website or click here for more information.
Another thing that makes the team so dominant is their competitive mindset. In an interview with Zach Stiefel (10), a #2 doubles player, I asked him what his favorite part about playing tennis was. Stiefel said, "Winning". Tennis coach Stan Watts should be given a lot of credit for his work in training the team. He focuses on "getting better" and "winning" over all else. It is very obvious that this team is very focused on the game and simply winning.
"
With regions coming very soon, later this month, the team is ready to make it to state."
So far, the boys' team has only lost to Henry Clay, LCA, and South Oldham (by a narrow margin). These numbers assert that the team is the best in the region, and are expected to make it past regions. With regions coming very soon, later this month, the team is ready to make it to state. Very Recently, both the boy's and girls team played at the John Harnice invitational at Franklin County High School. The two boys' doubles teams got seeded 1st and 2nd in the whole tournament, dominating the playing field. And again on Saturday (May 4th), the Woodford Tennis team will be playing at the Woodford County Invitational tournament at Falling Springs. The team is expected to dominate once again, and we hope that you will come out to support them.
Overall, the WCHS Tennis team is proven to be dominant, and will most likely continue to be dominant throughout this season. The team will be losing seniors so it is imperative that we continue to dominate despite their absence. For more information on the Recreational tennis league this summer, visit the Falling Springs website. Deadline for registration is May 15.