John Calapari's Amazing Coaching Career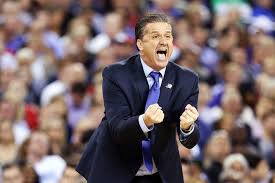 Who is John Calipari?
John Calipari is the current coach of the Kentucky basketball team, He is a coach who loves to win but loves to teach his players more and send them to the pros.  John Calipari has three kids including two daughters–Megan Rae Calipari and Erin Sue Calipari and one son, Bradley Vincent Calipari (who played for Kentucky but he is now a redshirt). Calipari has coached at Kentucky for nearly 10 years and recently signed a lifetime deal with Kentucky on April 1st, 2019–No that is not a joke.
About John Calipari
John Calipari coached UMass in the past, which had not made the NCAA tournament since 1962, but, within four years, John Calipari brought that team to 1996 Final Four until they lost to Kentucky. John Calipari did not make any more than $16,000 a year which shows he is dedicated and loves what he does.
Once Rick Pitino left Kentucky, John Calipari saw his opportunity to coach a BIG college team. He took that opportunity and coached Kentucky and won the national championship in 2012. John Calipari also coached the New Jersey Nets, which is an NBA team, but he did not coach there for very long because they had not made the playoffs and he made an unfortunate racial comment. After all of that, he decided he liked Kentucky a lot better so he came back to Kentucky and won that NCAA championship in 2012.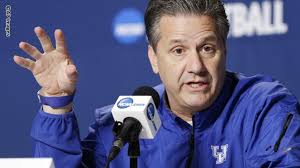 Calipari's Accomplishments and Awards
John Calipari has three Southern Conference men's basketball Coach of the Year awards which were in, 2010, 2012, 2o15. John also has three Atlantic 10 Coach of the Year awards which was in, 1996, 1994, 1993. Lastly, he has two NABC NCAA Division 1 Coach of the Year awards which were in 2009, 1996. John and Frank Mcguire are the only two coaches to coach three teams that were number 1 seeds in NCAA history. He ties his own record on season wins which was 38 with Kentucky and Memphis. Calipari is the first coach in NCAA Division in history to record five straight on-court 30-win seasons. Calipari is also one of only two coaches (the other being Rick Pitino) to lead three different schools to a Final Four. He started with a 54-0 record in Rupp with the Kentucky Wildcats and he is the 4th fastest coach to reach 300 victories in a single school. Calipari also has 31 NCAA tournament under his belt, which is the most in school history–Rupp had 30.
What Calipari Does for the Players and the Team
John Calipari does not just go for winning, he goes for teaching the players and making them better at basketball in order to help them go Pro. Calipari hates zone defense with a passion. I think he thinks that they will not do many zones in the NBA and they will just do a man to man defense the whole time which is what Calipari teaches his players. Calipari said that his favorite night was sending five of his players to the NBA in the first round, which shows he cares more about coaching and helping his players than winning even though he loves winning as well. He loves to scream at his players and tell them to get the rebound and play defense because players these days are slacking off on rebounding and defense and he is trying to teach them and help them to get better at it.