The Amsden's Roots
An interview with Emily Riddle, one of the owners of The Amsden
Hang on for a minute...we're trying to find some more stories you might like.
"They are some of the busiest people I know," said the barista, who is talking about Emily and Alex Riddle.  Most likely, you have heard about Versaille's newer local coffee shop, The Amsden. The Amsden building contains the coffee shop as well as a small store and bourbon bar. Alex and Emily Riddle are the people who own and run the Amsden as well as: The Galerie, Rolling Oven and the popcorn and gelato shop that will be opening soon.  I was lucky enough to sit down and interview one of the busy owners, Emily Riddle.
Emily and her husband Alex own the Amsden and several other adjacent buildings including The Gallery, Rolling Oven, and Spots Gelato as mentioned before, along with various partners who co-own the buildings. When talking to Emily I asked her, "Why do this…why open a coffee shop?" She said, "Honestly we wanted a coffee shop for ourselves, but we bought the building not knowing what we were going to do with it, then thought, 'What does downtown need that it doesn't already have?' and that was the first thing that came to mind—a coffee shop."
Emily and Alex are a young couple with an adorable baby. Emily also runs a blog, The Martial Shop, and is a home renovator and interior designer. I asked her, "How do you manage it all?" She said, "It is a lot of late nights and planning out my week. I have a great support system and couldn't do it without them."
Along with everything else that is going on, a movie was recently shot at The Amsden. Directed by Drew Berrymore, the film was shot in Lexington as well as the Mercantile in the Amsden. When asking about the movie and what it was like during shooting she said, "It took a lot more people than I expected." She also said that "They came in, took pictures of everything removed it paid for storage then put it all back in the exact place."  If you are wondering how on Earth they got the movie shot at The Amsden, which has only been open for about two years, they didn't do anything because the movie producers came to them. At first, Emily and Alex thought it was a joke, and when they finally returned the call, the producers were about to look elsewhere, but Emily and Alex were ecstatic to shoot at The Amsden, and the next thing they knew a week later a movie was being shot. According to the barista, The Amsden did already have a small connection. The crew that the movie used was out of Lexington and one of the crew members has a photography studio above the Amsden.
Overall, the Riddles are kind-hearted, hard-working people who want to better the community and bring people together. Before I even started the interview I had a chance to briefly meet Alex, and before he even knew I was doing an interview with his wife he greeted me and was kind and made sure to welcome everyone in the coffee shop as they walked in. The atmosphere is very positive and everyone who works there is personable and takes the time to acknowledge others and try to brighten their day. If you haven't yet been, take an afternoon to explore all of the wonderful business spaces that the Riddles have introduced to the Versailles community!
About the Writer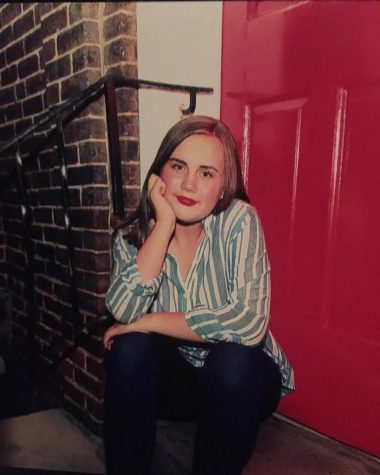 Addison Kerr, Staff Reporter
This is Addison first year on The Jacket Journal, this is also Addison first year at WCHS. She is very excited to see where the year brings her as a Journalist....