The Host with the Most
What's it like hosting a foreign exchange student?
Hang on for a minute...we're trying to find some more stories you might like.
"Does she live with you?" I feel like that's the most commonly asked question, and the answer to that is "yes".  I'm Anna Ward and my family is Erika Stenberg's host family.
So, what is it like to be a host family? Well, I can definitely tell you that it is a unique experience like no other. Let's start at the beginning. The first part of being a host family is actually the process of being approved. You must choose an agency to submit an application to and set up a home interview. During the home interview the coordinator for your area will come to your house and have a discussion with the parents and then they will inspect the house.  After the home interview, you wait to find out if you've been approved and once you get that call saying that you've been approved they match you up with an exchange student. That is when we first heard about Erika. We read through her profile and found out a lot of information about her such as her interests, age, and home country.
The next few days are spent waiting for arrival dates and other small details such as contact information so you can start communicating with your exchange student and their family. I remember we sent each other family photos and my mom obsessed over what to start fixing for dinner when Erika arrived so she always sent a ton of questions about what she liked to eat. I was low-key worried we were already making a bad impression and we hadn't even met her yet.
After two months and 2,000 emails the day to pick up our exchange student Erika finally came. A group of exchange students arrives at the same time and the host families make signs and banners to greet their exchange students. I remember waiting in the Bluegrass Airport with a big sign and then I caught a glimpse of her coming down the escalator and the next thing I knew my mom was screaming her name which we were to soon find out she was pronouncing incorrectly. I remember giving Erika an awkward hug and then heading back to the car and having all of us squeeze in the back seat for the drive home.
After that, we had about a week of summer before school started; that week was filled with horror movies, late night talks, and lots and lots of shopping. From the first day, we instantly clicked and we were already planning out things like prom, homecoming, and Halloween. When the first day of school came around, we walked in the building together holding hands and I could tell she was nervous; I helped her get to her advisory and then walked her to all of her classes that day.
After about a week of school, she was pretty much used to it. These first few weeks were amazing, and I knew there was a lot more to come and I just couldn't wait. Now it's been six months and I can honestly say these past six months with her have been the best time of my life. We have this relationship that can only be described as a sisterhood. I've told her things I've never told and anyone else. We've shared our laughter our smiles and our tears through the ups and the downs we support each other.
This experience has soared way beyond my expectations and I honestly don't know how I'm going to say goodbye, but for now, I'm focused on making her experience in America the best it can possibly be.
About the Writer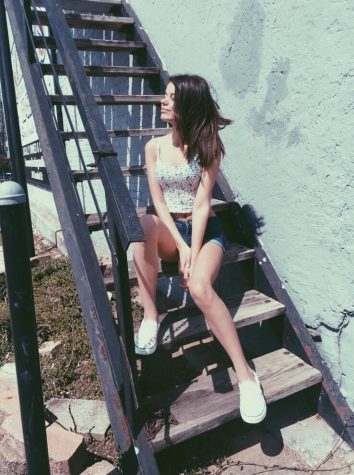 Anna Ward, Staff Reporter
Anna is a sophomore at Woodford County High School. This is her first year writing for The Jacket Journal. She is ecstatic to have received the opportunity to...