New Vocations: Offering New Opportunities for Retired Racehorses
New Vocations is the nation's largest racehorse adoption program, providing thoroughbreds and standardbreds the chance at a second career
You've probably heard of American Pharoh or Justify, world-renowned thoroughbred racehorses, but have you ever thought about what happens to the horses who don't make it at the track?  Some stay with their stables and work as pony horses (horses that lead the racehorses on the track), others are sold for around $2,000-$4,000 to riders or trainers, and some can even end up in the slaughterhouse. This is where New Vocations comes in, they try to rehome and take in as many thoroughbreds and standardbreds that may have injuries or other health problems and otherwise wouldn't be able to be sold right away without rehabilitation. New Vocations has rehomed over 6,000 racehorses since their operation has been in business, which means there is bound to be some success stories.
"
New Vocations has rehomed over 6,000 racehorses since their operation has been in business, which means there is bound to be some success stories."
You can find success stories on their website, here. One story that might catch your eye is the story of Why Not Whiskey, a chestnut OTTB gelding, who was adopted back in 2017. "Whiskey" came to New Vocations in September of 2016, after retiring from racing and rehabbing due to a bowed tendon down in Florida. After settling in and being cleared for work, New Vocations noticed that Whiskey was having trouble being turned out because he would constantly be running up and down fields (even when he was with his buddies!) Finally in December, Whiskey started to settle down and become more comfortable with his turnout schedule and was ready to find a new home. However, Whiskey was having a hard time finding his person, staying 147 days in the New Vocations program (when the usual is 60 days), until he found Keely Bechtol of Lexington, KY.
Since then, Whiskey spent so much time at the center. He learned new skills like how to trot over poles and jump cross rails which made him the perfect match for the ambitious pony clubber wanting to move up the levels. Keeley has been working on his flatwork as of late since "jumping comes very easily to him" and participating in clinics with Lillian Heard. So watch out for these two in the upcoming United States Pony Club competitions because they might just take home 1st place!
"
Whiskey is currently doing lots of flatwork because it's an area he struggles with. Jumping comes very easily to him, so we spent less time on that."
— Keely Bechtol
Thinking of buying your own horse and wanting to compete like Keeley or maybe just ride for pleasure? New Vocations has an adoption facility right here in Lexington, Kentucky at Mereworth farm. Thoroughbreds are great athletes and can manage most if not any discipline you throw at them, as long as they enjoy it! Not to mention, that New Vocations adoptions cost significantly less than what you would be paying for if you were buying straight from the racetrack in most scenarios. Though, don't be fooled! Horses still cost a lot of time and money regardless of their initial price and can cost up to $500 a month. So, if you are ready to take that next step in your riding career or looking for a new best friend click here to look at some possible candidates.
About the Contributor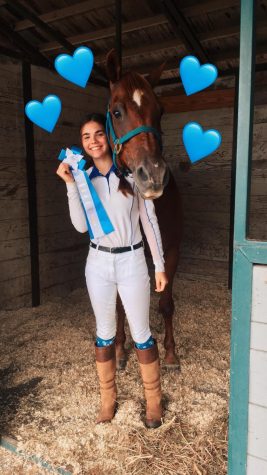 Parker Robinson, Staff Reporter
Parker Robinson is a freshman at Woodford County High School, and this is her first year writing for The Jacket Journal. She moved to Japan when she was...