Searching for the Perfect Prom Dress?
My experience with prom dress shopping in Lexington
Hang on for a minute...we're trying to find some more stories you might like.
Prom is just three weeks away, and by now, those who do not have your dress yet are running out of time. However, if this is you, don't worry, Lexington has many great options for dress shopping. I only visited these four stores and was able to find a dress that I loved. Even if you have no clue what you are looking for, you will likely be able to find something. The most important thing to do is to just keep your mind open. I thought I wanted an emerald green dress in the mermaid style, and I ended up buying and black fit and flare dress with floral accents. Ironically, I didn't even want to try the dress I ended up buying when I first saw it because I didn't like it. You'll never know what will fit you or look best on you, so make sure to try on a variety of styles and colors.

Loading ...
---
Geno's Southland Drive 
Price Range: Anywhere from $50-$800. Geno's has a great clearance section for those who aren't looking to spend a lot on a dress. Sometimes Geno's has weekend deals as well. When I went they had a 20% discount if you followed their Instagram. They also have weekly raffles for $100 off a dress.
Customer Service: Fantastic, very one on one.
Dress Quality: Great, the dresses were very well kept.
Location: 380 Southland Dr-Depending on traffic, Geno's Southand Drive location is about a 20 or so minute drive from Versailles.
I first went to Geno's Southland Drive location in Lexington, Kentucky. As soon as I walked into the store, I found myself in the middle of chaos. Girls were pulling dresses from the racks left and right and there was a long line for the dressing room. After putting several dresses on hold and getting a spot in line, it took about an hour and a half before I was even able to try anything on. The wait was long, but I did go on a Saturday, and the great customer service made up for it. Each girl in the dressing room had someone to help them try on their dresses, which made for a much better experience than some of the other places I went shopping. Because the employees took all of the dresses out of the bags and returned them back to the bags after being tried on, all of the dresses I tried on were still in great condition. Unfortunately, I was not able to find a dress there.
---
David's Bridal 
Price Range: Around $100-$500. I didn't see a clearance section when I went, but their full price dresses started at lower prices than the other places I visited.
Customer Service: Good, somewhat one on one.
Dress Quality: Some dresses were good quality, some had loose threads and broken zippers.
Location: 111 W Reynolds Rd Suite 130-David's Bridal is by Fayette Mall, which is about 20 or so minutes away from Versailles.
At David's Bridal, I found many more dresses there that fit the style and color I was looking for, however, I was disappointed with how the dresses were kept. None of them were in storage bags, like the ones at Geno. This would have been fine, but it was so crowded there as well that I saw many people stepping all over the dresses just to get through the aisles. There was no wait when I was there, and the customer service was pretty good as well. An employee helped clip the spots on the dresses where I would need to get them altered, which was very helpful. When I tried the dresses on, however, I noticed several imperfections, that likely resulted from people accidentally stepping on them. I liked several of the dresses I tried on there, but I still didn't find the one. 
---
Miss Priss 
Price Range: Around $400-$1200. I didn't see a clearance rack at Miss Priss either. The dresses were more expensive there, but Sherri Hill is typically a very expensive brand, so that's why.
Customer Service: Pretty good, but not as personal as most of the places I went to.
Dress Quality: Some dresses were great quality, some had broken zippers.
Location: 906 N Broadway-Miss Priss is in downtown Lexington, near Transylvania University, so it's further away than the other stores. It's about 30 minutes away from Versailles.
If you are not a fan of Sherri Hill dresses, then I don't recommend going to Miss Priss. I didn't intend on getting a Sherri Hill dress, but went anyway just in case I found a dress of a different brand there. I saw a few dresses of other brands, but the majority of the dresses they had there were by Sherri Hill. They do mostly advertise Sherri Hill dresses, so I wasn't too bothered by that. At Miss Priss, most of the dresses were kept in bags, but some of the newer Sherri Hill dresses were not, they were on showcase.
When I went to go try dresses on there was no wait there as well, and there were many dressing rooms. The customer service wasn't as personalized as that of the other places I went to, but the employees still brought my dresses to my room every time I found one I liked. I tried on only a few dresses there and, as I mentioned, I didn't really want a Sherri Hill dress (nothing against the brand, they are just not my style). I did find one Sherri Hill dress I really loved, however when I tried the dress on, I couldn't zip it up because the zipper was broken. This was really disappointing for me. I know I could have ordered a different dress, but it was still frustrating that a $650 dress didn't even have a functioning zipper.
After a day full of dress shopping, I went home without a dress, finally realizing what I had gotten myself into. I ended up going again on a Monday after school to the other Geno's in Lexington.
---
Geno's Richmond Road 
Price Range: Same as the other Geno's. There clearance section at this location was great as well, I saw several gorgeous dresses under $100.
Customer Service: Fantastic, very one on one, but I was also there when it wasn't very busy.
Dress Quality: Great, the dresses were very well kept.
Location: 2573 Richmond Rd-This Geno's location is about 20-30 minutes away from Versailles.
My experience at the Geno's on Richmond Road was the best one yet. Since I went on a Monday, it wasn't very crowded at all; in fact, there were only two other girls in the store. As soon as I took a dress off the rack, an employee took it from me and brought it to my dressing room for later. I found a ton of dresses I wanted to try on, and, like the other Geno's, an employee helped me try on each dress. I ended up loving one of the first dresses I tried on. I tried on a couple after that one, just to be sure that was the right dress, but deep down, as cheesy as it sounds, I knew it was the right one as soon as I put it on. I ended up buying the dress. One of my favorite parts about my experience at Geno's is that they register your dress to make sure that no one else at our school can buy the dress, which makes your dress feel even more special. 
About the Writer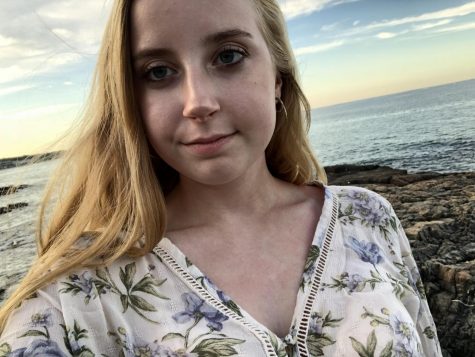 Ashlyn Martin, Staff Reporter
Ashlyn Martin is a Junior at WCHS. This is her first year writing for The Jacket Journal. She's very excited to learn about the ins and outs of journalism....