Cradle Queen Makes History
Sophomore Ashley Courtney is making a name for herself in Kentucky high school wrestling
The cradle is a basic technique in wrestling. The wrestler performs the cradle by grabbing the neck of their opponent with an arm and wrapping the elbow of the other arm behind the knee of the opponent.  The cradle is also known as sophomore Ashley Courtney's signature move in wrestling which she uses to pin most of her opponents. The nickname was given to her by coaches and her fellow teammates.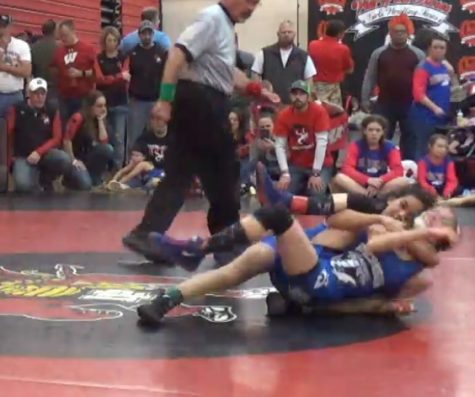 On Saturday, February 9th, Ashley Courtney(10) made history by becoming the 2nd girl in Kentucky high school wrestling history to have qualified for the KHSAA Wrestling State Championship tournament. The first girl to qualify for state was Priscilla Brownfield from Campbell County in 2006 who went 3-2 not placing. Courtney placed fourth at the 106-pound weight class in the Region 5 wrestling tournament. Wrestlers needed to place top four to advance to the state championship tournament which will be held at the Altech Arena February 15/16.
Courtney is also a member of Team Kentucky's National Women's Wrestling team, where she wrestles freestyle in the offseason when high school folkstyle is not in season. Courtney has been wrestling since she was 7 years old. Wrestling is a tradition in her family, her brother happens to be one of the seven to accomplish and win a  KHSAA  high school wrestling state championship four times.
This will be Courtney's second state tournament of the season to compete at. February 2nd Courtney wrestled at the first inaugural girl's wrestling state championship in Kentucky. Courtney placed 2nd losing to Olivia Messerly of Ryle (7-0) in the finals, making her the first ever runner up in the 106-pound weight class.
During the Region Five tournament Courtney's matches went as follows:
106 Pound Weight Class Result:
Quarterfinals Cory Joos (North Oldham)  won by fall over Ashley Courtney (Woodford County) (Fall 2:33)
Cons. Round 1 – Ashley Courtney (Woodford County)  won by fall over Kelton Bailey (Western Hills) (Fall 0:28)
Cons. Semi – Ashley Courtney (Woodford County) won by fall over Braydon Kessinger (Spencer County) (Fall 0:58)
3rd Place Match – Cory Joos (North Oldham)  won by fall over Ashley Courtney (Woodford County)  (Fall 1:08)
Good luck Ashley and keep making an impact in women's wrestling! You can catch Ashley and the rest of the MatJackets in action on February 15/16 at the Altech Arena for their last tournament of the season. Come see what team brings home the state title!