Restaurant Review: Rolling Oven
A review of Versailles' new pizzeria
Have you heard of the new pizza place in downtown Versailles? It's called Rolling Oven and is located in the old Methodist Church Educational Building behind the courthouse. It has only been open a few weeks, but we took a trip there for lunch and are happy to report that it's worth the visit! During our time there, we ordered two appetizers as well as two pizzas.
The first pizza we got was the Potato and Chorizo pizza. The ingredients include olive oil, sliced potatoes, chorizo sausage, shredded mozzarella, provolone, and black pepper. This pizza was not as expected though; you would think it would taste like potatoes, but you could hardly taste the potato. Mostly, all you get in one bite is provolone and chorizo sausage. It has a really great taste, but just a warning, there is not as much potato as you would expect. The cost of this pizza is $10 for a small and $16 for a regular. The pizza also has an appealing look, and it is presented well and is picture-worthy for all your social media. We definitely enjoyed this pizza.
The next pizza we ordered was the Pizza Bianca. On this pizza is olive oil, fresh garlic, shredded mozzarella, that is finished off with fresh basil. This is known in some places as a white pizza. This pizza was very good between the white alfredo sauce and grilled chicken with the hint of basil, also the pizza was presented very well with the nice crisp edges and grilled finish. Overall, we didn´t find anything wrong with the pizza. It cost $10 for small and $16 for a regular. I definitely enjoyed the Pizza Bianca.
During our visit, we enjoyed two appetizers. One of the appetizers we ordered was cheese sticks and the other was fire roasted skins. The cheese sticks are made with shredded mozzarella, provolone, and a side of red sauce. The cheese sticks are by far the best thing I tasted while at Rolling Oven. They were perfectly cooked and had an amazing taste—no sauce needed. The sticks were full of cheese, and they melt in your mouth when you take a bite. They cost $6 for as many cheese sticks as a small-sized pizza. I highly recommend the cheese sticks.
The other appetizer, the Fire-Roasted Skins, were actually potato skins. The two halves of a baked potato were filled with cheese and bacon. We paid four dollars for two halves, but you can get the large version for six dollars. We think that it is a reasonable price to pay for this appetizer. We enjoyed the fire roasted skins even though they were a little messy.
Overall, Rolling Oven has exceptional appetizers that we definitely recommend.
The Rolling Oven is based out of Lexington and has been open as a food truck since 2014: hence the name "Rolling" Oven. The food truck was a twenty-foot shipping container turned into a pizza kitchen. The restaurant just recently opened in Versailles, but the truck is still running as well as their partnership with Mirror Twin Brewing in Lexington.
Overall, we would give Rolling Oven a 5-star rating. The atmosphere and food were enjoyable. The restaurant is open every day but Monday from 11:30 am  – 10:00 pm. The Rolling Oven was quite tasty and we recommend that you take time for a visit.
Leave a Comment
About the Contributor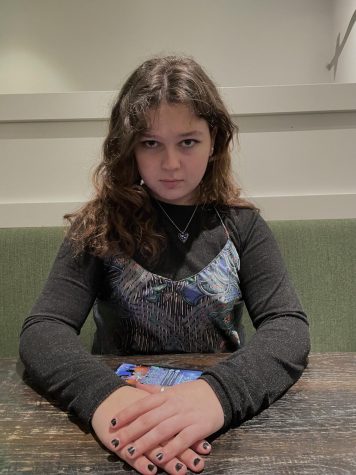 Arissa Keith, Staff Reporter
Arissa Keith is a senior at WCHS and this is her third year on The Jacket Journal staff. She plans to write about politics, student life, and review movies...