Come Along for the Ride: Lakeside Arena KHJA Horse Show Vlog
Vlog giving insight on hunter/jumper horse shows in Kentucky and how much fun it is to compete
Hang on for a minute...we're trying to find some more stories you might like.
Horses have been a part of my life since I was a little toddler, and I started taking riding lesson with a close family friend at the age of 4. Then when we moved to Japan in 2007 and I wasn't able to ride anymore because we didn't live near any horse farms in Higashikurume.
However, I had hope, and soon enough, a few years later we moved to Yokohama where there was a horse park and museum where we lived. At the time I wasn't old enough to volunteer to work and ride at the horse park, but my sister and I did make frequent visits to the museum in an effort to still have that "connection" that we had been craving.
Finally, when I was in 4th grade and about 10 years old, I applied to work at the horse park in return for lessons on the weekends… and sure enough I was accepted. I spent almost 6 months working at the horse park until my family had to move back to the States, which is when I began competing.
I've competed now consistently for the past 3 years in hunter jumper shows and eventing. I've ridden everything from a Clydesdale cross, an OTTB, to a quarter horse and it's made me the rider I am today. This vlog does not represent how most of my shows have been like in the past: there have been refusals, falls, tears, etc. In my opinion, this show went smoothly because I've worked hard to get where I am and in the end, I wasn't caught up in how we placed but cared more about how me and my horse performed as a team.
My advice to you or anyone wanting to get into showing is: do not get caught up in the little things and enjoy the progress you have or will be making because it's all about having fun and making improvements!
About the Contributor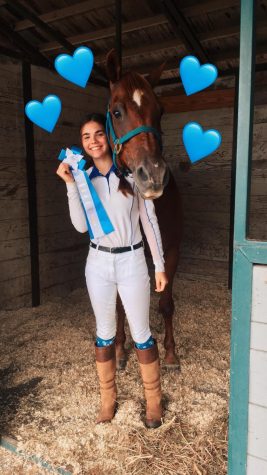 Parker Robinson, Staff Reporter
Parker Robinson is a freshman at Woodford County High School, and this is her first year writing for The Jacket Journal. She moved to Japan when she was...