History of The Woodford Inn
A closer look at a not-so-well-known local hotel and restaurant
Hang on for a minute...we're trying to find some more stories you might like.
The Woodford Inn is an Old Dutch Colonial building tucked away in downtown Versailles surrounded by local businesses and within walking distance of the High School. It's an official part of the Bourbon Trail and is visited by travelers coming from different places around the world participating in the Bourbon Trail. The building is so old that people often forget the origin of the building and the eerie history behind the building.
The business at the Woodford Inn, Addies, was set up 2008 by Bruce and Linda Parker, but the property used to be home to a three-story orphanage home bought and run by the Cleveland Orphanage Institution. The orphanage was a female orphanage full of young orphaned children from across the state, aged 3-13 years, who were relatively free to roam the building as they pleased. Sometime after the orphanage was founded, it acted as a female college for a short period of time until it burned down in 1926. The remains of the building were cleared out and a local group, known as the "Versailles Optimist Club," rebuilt the building into the 2 1/2 story Dutch Colonial you see standing today.
While the building may have burned down, the basement of the building was left standing with visible remains of the orphanage. If you were to go down into the basement and want towards the back hall, you'd immediately notice these childlike paintings of flowers, butterflies, and rabbits. At first glance, you wouldn't think much of it, but the paintings are from the orphaned girls back before the building burnt down in the late 1800s and the very early 1900s before the building was used as a temporary female college.
The paintings are put together like one big mural on the parallel walls in the basement of the building, found even on a metal door at the end of the hall. They are actually the only remains of the orphanage after the fire that took down the whole building, but because these were on a cement brick wall, they were able to withstand the fire that took down the building back in 1926.
So, not only is the Woodford Inn a place to sit back and relax with your family over a high-quality dinner, but it's a look back to the history of late 1800s Versailles, Kentucky, and it's nestled just behind our High School.
About the Writer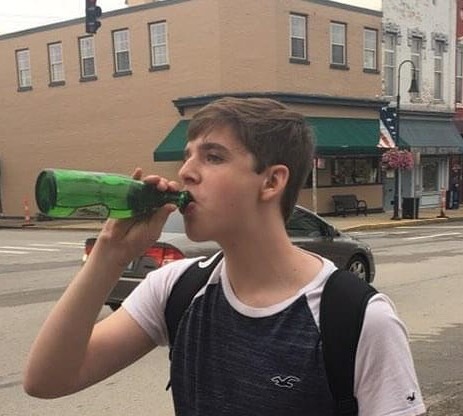 Blake Heller, Staff Reporter
Blake Heller is a sophomore and it's his second year on The Jacket Journal staff. He's always liked hanging out with friends and family, but he loves a...