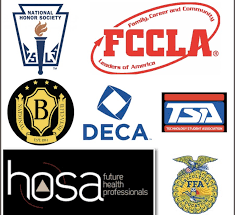 Club Offerings at WCHS
A list, descriptions included, of clubs available to all WCHS students.
Adventure Club:
WCHS provides an Adventure Club, the club's purpose is to provide educational and experiential opportunities to help connect students through many fun outdoor activities. The club is organized by Mrs. Hamilton and Ms. Swan, each month a lesson is taught and the presidents of the club organize a gathering for the students to participate in on after school hours. The fees for the club vary depending on the activities the students go on and are not paid for by the club. Although, students will be able to receive group discounts/rates through the club. Some examples of gatherings include: Belay Lesson at L'Escalade Fitness, Mountain Biking at Capital View Park, or Kayaking/Canoeing at Canoe Kentucky. You should definitely join this club even if it's with your friends, you get to experience new outdoor activities!
Art Club:
The Art Club is organized by Ms. Burge and her mission for the club is to serve others by using artistic talents, and creative knowledge and by exploring and developing an appreciation for our environment. The club hopes to spread a love of art within the school and to other citizens in our community. The fee for the art club is $5.00, as many of her materials will be used. Join this club, it's very peaceful and Ms. Burge is the best art teacher!
Astronomy Club:
The Astronomy Club is a club at WCHS that promotes intellectual and academic inquiry into the realm of outer space. The club gets together and discusses or participates in activities related to cosmological physics, the solar system, space travel, and general information related to space. The club holds meteor shower parties and documentary viewings when it is possible. The club is free and would love for you to participate!
Bike Club:
Mrs. Hamilton's Bike Club discusses and examines all things, including bikes. For example, the club talks about safety, maintenance, and different types of bikes, and they also plan bike excursions! The club fees are $10.00, who doesn't want to go on a bike cruise for $10.00?!
Book Club:
The Book Club is made for all students with a fondness for literature. Mrs. Romine hosts events for all students who love reading! The club chooses a book to read and then has a discussion of the literature at their monthly meetings. The dues are only $5.00, and you get to read many books!
Chess Club:
The Chess Club is simply a club created to play chess. The purpose of the club is to gather students that want to learn the game or students who want to better their skills and professionals who want to share their intelligence. The club members will learn the ancestry of the game and learn new strategies to play the game. The club uses any mobile device and a free chess app to play. The games will be determined on different dates, but the purpose is to have a friendly place for students that are interested in chess. Join this club and learn how to play for free!
Creative Writing Club:
Ms. Benton's Creative Writing Club is designed for writing fanatics! The club writes to the school and the community for $5.00 and every student who loves writing is welcome!
DECA:
Mrs. Schuerman and Ms. Hicks' DECA Club provides a great opportunity for students who are interested in marketing and developing market knowledge, communication skills, and networking skills outside the classroom. DECA prepares leaders and young entrepreneurs like you for careers in marketing, finance, hospitality, and management in high schools and colleges around the world! If you have been enrolled in a marketing class or are enrolled currently, you can join this club just for $20.00!
Energy Team:
Dr. Smith provides this club for FREE to conserve energy in the school, so the savings gathered can be directed to educational purposes. Definitely join this club to learn how to conserve energy even outside of school!
Esperanza Association:
Esperanza club brings students together of various cultures and beliefs, with the commonality of the meetings being "Hope!" All students at WCHS are welcome, and the dues are only $5.00!" Esperanza Association" means "Association of Hope." Join this club to learn about new cultures and all the cultures within our school!
FCA-Fellowship of Christian Athletes:
Mrs. Basanta offers a FREE club for anyone who loves God or wants to learn about him. The club meets consist of learning about God, praying together, worshiping together, and serving the school. The club meets up every Thursday morning at 7:50 am in the gym, and they have monthly meetings. To learn more about the club, talk to Mrs. Preece and Mrs. Basanta in the Spanish hallway or room 219!
FCCLA-Family Career & Community Leaders of America:
This club promotes personal growth and leadership development through annual events such as their Thanksgiving Food Drive, Kiddy Cook Camp, The Brother's Run, and other school/community service projects. Mrs. Miller, Ms. Moffett, and Mrs. Coyle provide this club to focus on multiple family member roles, wage earner, and community leader. Any student who has taken a Family Consumer course in previous years or is currently enrolled in a course is welcome! This club's dues are $20.00, and they do many fun activities!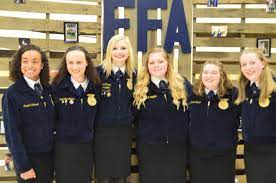 FFA-Future Farmers of America
FFA is the largest youth organization with over 700,000 members! This club is provided for young leaders that share an interest in the many aspects of agriculture, not just farming. The Woodford County FFA club gives students the opportunity to develop leadership, public speaking, community service, and teamwork skills.
Mrs. Boss's $15.00 club is a program using technology in order to solve problems in our school and community through projects and ideas students have developed.
Film Club:
Mr. Ruff provides this club for students who like making, viewing, and discussing movies. The club meets once a month for movie viewing and discussion.  They also shoot an annual Halloween horror movie and put on Woodford's Annual Video Extravaganza-a celebration and contest for student-produced video shorts.  This is an active club and members are expected to participate in the majority of the club events.
Future Educators of America:
This club is for students interested in the education profession. The club meets once a month to explore a variety of topics related to teaching. I.e., school law, SBDM, etc.
Gaming Club:
Ms. Strange provides this family club for all students interested in board games, computer games, and other gaming systems. You get to compete with other students and make new friendships.
Gay Straight Alliance:
Ms. Schwarz runs this $5.00 club dedicated to the awareness and acceptance of human diversity among all students. Club members work together to perpetuate a welcoming space for every voice in the community. Students of all genders and races are welcome!
HOSA-Future Health Professionals Club:
All students willing to pursue a career within the medical field should join this club! The club is very active in the community and school, as they sponsor multiple events such as Pink Week, and the Thanksgiving Food Drive.To join you must have to be in a medical science course or have taken one. The club travels to regional, national, and state for HOSA competitions for only $25.
TSA (Technology Student Association/Vex Robotics):
This club is for students fostering personal growth, leadership, and opportunities in technology, innovation, design, and engineering. All members apply and integrate science, technology, engineering, and mathematics concepts through co-curricular activities, competitive events, and related programs. Mr. Greene and Mrs. Gadberry provide this club for $20!
Y-Club:
The Y-Club is run by Ms. Avsar, and it is a service and leadership club affiliated with the Kentucky YMCA. The club serves the community and develops leadership skills through attendance at KYA and KUNA conferences. The Y-Club also organizes and participates in various activities like service projects throughout the year at both local and international levels. For more information – see www.kyymca.org
Young Democrats:
This club is a political club mostly focused on inspiring young people to engage with the political process at the local, state, and federal levels. All students who care about the community, state, and nation should join this club for only $15.00!
Young Moderates:
This club allows young people to express their political views and be able to humble community service and the civil discussion of various problems in the United States and possible solutions.