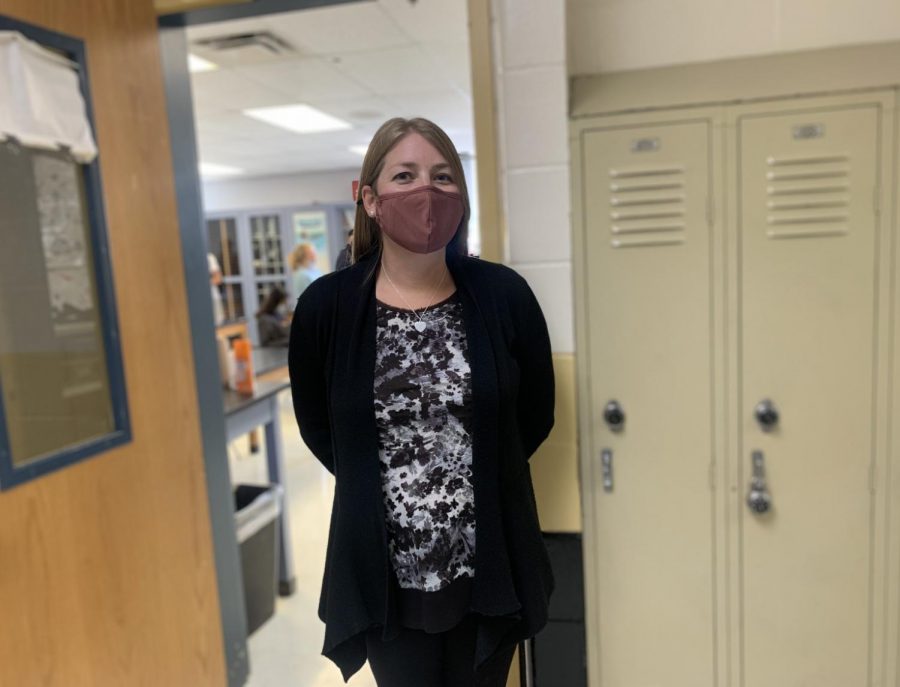 Talking WoFo with Wiley!
An exclusive with Ms. Wiley, a new science teacher here at Woodford County High School.
Ms. Wiley is a new chemistry and forensic science teacher here at WCHS! Born and raised here in Woodford County for most of her childhood, she would go on to high school and college in Lexington and Louisville respectively, before coming back to teach here in her hometown. Here, we were able to interview her and ask about her childhood, teaching, her thoughts on the school, and more.
---
Where are you from?
I am originally from Indiana, but I've been in Kentucky since I was two years old, in the Central Kentucky, Versailles-Lexington area.
Where did you go to school?
I went to elementary school at Huntertown and at Simmons, then I went to high school in Lexington, and I went to college at the University of Louisville. My college choice there was because I did not want to go to UK where my parents could like, show up at my dorm in the middle of the week; I was not going to let that happen. But, my mom did randomly still come to college on Tuesday nights, she would just randomly show up. But I did really want to go in-state, KEES money was really important to me.
What do you do outside of school?
I have two children, 7 and 5, and so I spend a lot of time with them being a carpool mom, taking them places. But then outside of taking care of the kids, I enjoy camping, reading, fishing, and that's mostly it.
What do you like most about teaching?
I like learning about the kids and seeing their interests. Getting to know them, and they're in a stage of their life where they can be somewhat moldable, and can just learn new things without being resistant like you do when you get to college. I just enjoy connecting with them and listening to what they're doing in life, and seeing if I can be a little piece of their life and getting them through high school, and hoping they can achieve their dreams.
What do you like most about Woodford County High School?
Well, I was supposed to go to WCHS, growing up, I went to Huntertown and Simmons, I was supposed to. So when my parents moved to Lexington, it was a crushing blow to my life, not kidding. All my friends went here, I moved in middle school, which is a terrible time to move. So, coming back to Woodford, teaching in the school that I thought I was gonna go to, getting this job was a dream. I've lived in this county for 11 years, I wanted to work in this county, my kids go to school here, so I feel like it's really important to like, be in this community and see kids outside of school and just connect with them when I see them walking down the street, or in Kroger, or wherever in Woodford County. I think that it's just great to have that small community, and I'm really excited to be back here where I grew up and experience high school on the other end as a teacher.
Do you have any advice for the students here?
I guess one piece of advice is to not get caught up in high school, there's a lot of stuff that can go on, and you can get really caught up with like, what your friends are doing, and I think social media can really get people caught up in trends, and I think it's really important to be unique to yourself and find what's really important to you because you're gonna go to college, get a job, leave this high school bubble, and you'll have to find what is important to you. So, it's better to do it earlier and not to be so influenced by the people that are in school with you and to just be unique to who you are.