Ways to Prevent School Shootings
A few possible ways to prevent violence from entering our school.
School shootings are becoming the norm in American society, and rather than find a solution, we tend to blame the problem on the school, the students, parents or anything else. We need to find a way to prevent the problem from even occurring in the first place. As a student at WCHS, I feel that having a few of these safety measures implemented will make students be more aware and feel safer at school.
Metal Detectors
One solution that could help prevent school shootings could be installing metal detectors at the front doors and the gym doors,  and the main entry points in the morning, that way, when kids arrive at school in the morning, if they have a weapon in their bag, then they could be stopped before things go any further.
 IDs
Another idea is a school ID badge–several schools in Lexington have them. Students would have an ID badge or card they would have to carry with them at all times. They would use it to get into the building in the morning. While this may cause traffic jams in the doorways, it would prevent anyone that is not a student from getting inside the building. 
Cops
While we already have one officer in our building at all times, more could be helpful. At WCHS, it takes at least five minutes to go from one side to the other in crowded hallways. If we had more than one cop, we could have one on both sides of the school, which would allow for quicker response time to students in danger.
Active Shooter Drills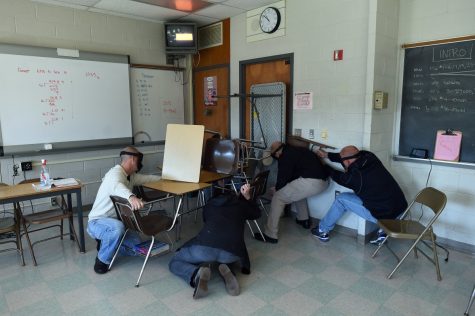 Another solution to make students more prepared would be to do active shooter training for students that is similar to the current training provided for teachers. We could do this on a Saturday and make it 100% voluntary. This could benefit students because they would know what to do in such a situation and could work through the shock in a controlled environment.
At Saugus High School in California, they did active shooter training, and when they recently had a situation of an active shooter, students said because of this training they felt more prepared, and in the end, it helped to save lives.
We went around our school and asked teachers and students, What is one thing that would make our school safer? We got several different responses, but the one response that came up the most was ID badges. These would make taking attendance 100 times easier. We would be able to see which room students were in and make sure students were where they need to be.
When interviewing Officer Bobbitt, he brought up the idea of having an alarm or an alert go off in the office when a door opened. This would allow the school to know when the doors open and close. These are several solutions to the school violence issue. Many students at WCHS hope that they can become a reality.