Student's Opinions on Guns and School Shootings
WCHS' student opinion on gun violence locally and worldwide.
Recently, we sent out a Google form to ask for the student body's opinion on certain gun control and school shootings. Some of the questions included, "Do you think stricter gun laws should be passed on a national level?" and, "Do you think gun control laws have anything to do with the number of mass shootings our country has endured?" Here are some of the results: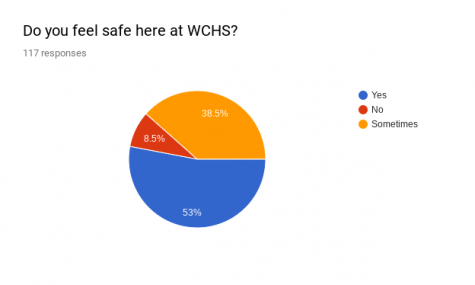 As shown above, 53% of the 117 people who took our survey feel safe at Woodford County High School. 38.5% say sometimes and 8.5% say they do not feel safe. This shows that the majority of the student body feels safe and secure on campus.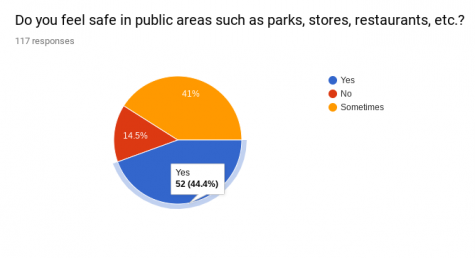 According to this chart, most of the people here at WCHS feel safe in public areas. However, more people feel less safe in public than they do in school. 41% say sometimes, 14.5% say no, and 52% say yes.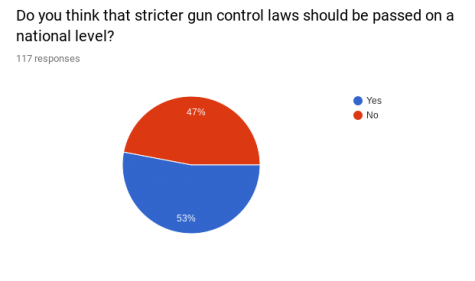 This shows that 53% of our student body belives we should have stricter gun control laws at a national level and 47% believe we shouldn't have stricter gun control at the national level.  This shows that a slight majority of students think that we need better and more protective gun laws as a nation.
When asked if less strict gun laws should be passed on national levels and 60.7% of students said no, 23.9% said yes to less strict gun laws, and 15.4% said maybe they should have fewer gun control laws. This shows that most students believe less strict gun laws shouldn't be passed on a national level.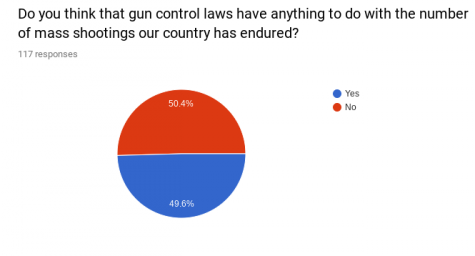 When students were asked if the number of school shootings was correlated with the gun control laws or lack thereof 49.6% of students said yes and 50.4% said no. This shows that the majority of students don't believe that mass shootings occurring aren't related to the gun control laws currently in place.
Based on these results, the majority of the people who took the survey think that stricter gun laws should be passed nationally. However, most do not think the laws on guns in our country have anything to do with school shootings. Students mainly feel safe at school and in public areas. Based on the survey, students tend to feel safer at school than in public places like parks and stores.