History of School Shootings
A brief history of gun violence in schools in the United States.
Gun violence in schools has been happening since the 1800s, but it all changed in 1999.  On April 20th, 1999, 14 students were killed along with 1 teacher and 27 wounded at Columbine High School in Littleton, Colorado. This was the most deadly shooting in schools at the time. Since then, school shootings have almost become a movement or a trend.
"
…school shootings have almost become a movement or a trend.
In the 21st Century, citizens began to see more of an increase in public mass shootings and fatalities.
In 2000-2001 there were 11 killed and 22 injured.

In 2002-2004 there were 15 killed and 17 injured.

In 2005, March, 21st at Red Lake Senior High School in Red Lake Minnesota 10 were killed and 7 were injured.

In 2005-2007 there were 20 killed and 54 injured (not including Red Lake numbers).

In 2008-2009, 8 people were killed.
In the 2010s is when school shootings really spiked.
In 2010-2014

there were 52 people who died from school-related shootings in the U.S.

In 2015-2017 there were 12 people dead from school shootings.
In 2018, 29 people died in school shootings.
In 2019 3 people have died so far, as of August.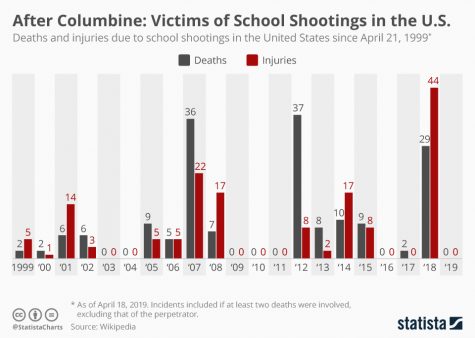 Schools all over the nation have felt the ripple effect of this ongoing problem. It has killed many and injured even more. School shootings like the ones above have become very common in the United States in the past decade, and it's only getting worse.