My Year In Film: 2022 Letterboxd Year in Review
Throughout 2022, I watched 173 films, amassing 313 hours watched. I don't claim to be a strict viewer or a critical film nerd, I simply watch for enjoyment. Yet, only one 2022 release did I rate 5 stars. However, there were two 2022 releases that I rated 4.5 stars. Despite rating most films 3 stars or lower, it does not take away my enjoyment of them, as I find it difficult to gauge my enjoyment when I know a film is widely viewed as good or bad; I feel it takes away from an unbiased viewing. As a result, I refrain from looking over any reviews before watching a new release. I am not ashamed to admit I enjoyed a bad movie, or even disliked a well-loved one, after all, opinions are subjective to each person based on their personal preferences.
Here are my favorite (and least favorite) releases of 2022:
Aftersun
directed by Charlotte Wells
R-rated, 5 stars
Likely my most anticipated film of the year, it is no surprise I felt it deserved a 5-star rating. We watch through the lens of Sophie, the 11-year-old daughter accompanying her father on a summer holiday to Turkey, just before his 31st birthday, with flash-forwards to Sophie reminiscing on the memories of her father 20 years later. Throughout the runtime of 101 minutes, there is never an explanation or resolution to the plot. I kept waiting for something crushing, or at least an answer as to why she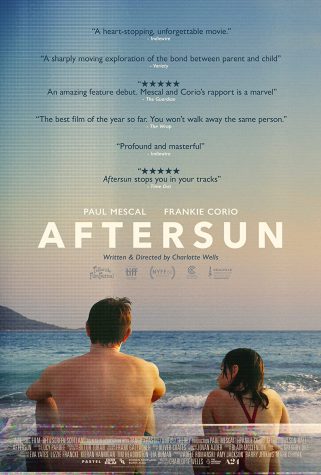 experiences so much resentment towards her father in the present scenes. However, what is astonishing about this film is the lack of one expectation. Many films similar to this one spend too much time in the present and not enough time recollecting the struggles that got them to where they are. This film does the exact opposite. It ends with the two returning from the holiday, and suddenly her father is gone. The interpretation of what happens is left for you to decide and debate. Watching through the eyes of a child, not necessarily seeing what exactly has gone on that we don't see, there is no anticipation of what will happen, it is that it has already happened. The father feels as though he cannot give her enough and cannot offer the things he should. This frustrates Sophie, as is seen when he asks her if she would like to take singing lessons and she tells him that he does not have enough money to pay for it. She doesn't want the things he might be able to offer; she only wants her father. It focuses on the happiness of their time together, with an underlying feeling of sadness. My favorite scene is one the father (played by Paul Mescal) encourages Sophie to dance with him to Under Pressure by Queen and David Bowie. This scene is such a turning point and a heart-wrenching ending. It is a film that you don't think about during the viewing, but cannot stop thinking about once it is
over.
Elvis
directed by Baz Luhrmann
PG-13, 4 stars

Following the life and success of Elvis Presley, this 159-minute biopic lived up to its long-awaited anticipation. However, I felt as though it fell flat in telling the story of Elvis from the right perspective. Parker, Presley's manager, which was my fundamental issue with the film. Though Tom Hanks' performance was intentionally bad, with the terrible accent and awful prosthetics, I found it annoying to have to listen to him narrate the entirety of the movie. One thing I did enjoy about this film is that I felt it was easy to watch. Most people are pushed away by the idea of sitting down to watch a 2-and-a-half-hour movie, yet the way in which the storytelling is split up, it is very possible to watch the film in parts. Not to mention Austin Butler's, debatable, but incredible performance and convincing portrayal of Elvis. I cannot think of another perfect director than Baz Luhrmann to capture the flashy and audacious life of Elvis, with coinciding edits and montages to represent. Luhrmann's creative decisions also brought a sense of modernism to the film, especially encased in the soundtrack, with Doja Cat's Vegas, which includes elements of Big Mama Thornton's Hound Dog, and a remix of Viva Las Vegas with Britney Spears' Toxic, which has now finally been released to streaming services such as Apple Music and Spotify. I really appreciate Butler's dedication to the role as production was postponed due to the COVID-19 lockdown, however, it has been months since the film has been released, I think it's time for him to give up the role.
Bones and All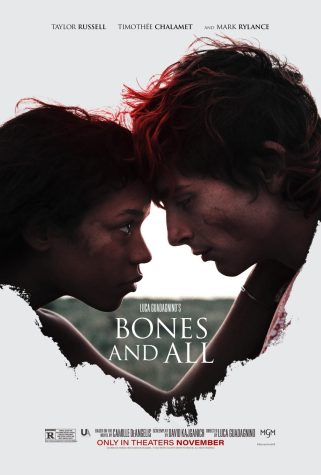 directed by Luca Guadagnino
R-rated, 4.5 Stars
Luca Gaudagnino never fails me. Turning cannibalism into a beautiful, heartfelt love story that has you sympathizing, empathizing, and understanding their nature is something I never thought would be possible. Amazing performances from Timothee Chalamet and Taylor Russell, gruesome and hard to watch most of the time, but an incredulous experience nonetheless. Similar to Aftersun, it just felt so melancholy and sad, even when they were in the act of eating a person. Taking place across the rural midwest (I mean come on, where else would two cannibals be running city to city in a stolen truck of one of the people that Lee (Chalamet) had eaten at the time in which they met). The words cannibal and romance never crossed my mind in harmony before this film, but now I feel as though we need more (?) An honorable mention would be Mimi Cave's Fresh (also a 2o22 release) yet the romance is torn apart after the 30-minute introduction when Sebastian Stan's character becomes a kidnapper and uses multiple women for their bodies. One theme that I wished was more touched on is the idea of genetics that played into the story. Their desire, the "Eaters" as they call themselves, can be inherited and passed down like a gene as if it were any other disease or addiction. Which, ultimately, it is. After being abandoned by her father, Maren wants answers, so she searches for her mother. As it comes to be, her mother was an Eater too.
Now, let's take a turn to look at my least favorite releases:
Don't Worry Darling
Directed by Olivia Wilde
R-rated, 2 stars

I was expecting so much more from this film with its list of well-established actors. I see why so many people enjoy this movie and see its potential, but I think it fell flat in many aspects. For starters, the role of Jack Chambers, played by Harry Styles, whose previous filmography consisted of Christopher Nolan's Dunkirk, in which he had no speaking role, I wasn't expecting much from his performance to begin with. It all just felt flat, boring and unconvincing. This felt anything but a thriller, the build-up of tension seemed to be nonexistent and focused way too long on unimportant subplots. I never felt involved or engaged, just bored. As Styles said, "This just feels like a movie," and it is nothing more.

Not Okay
Directed by Quinn Shephard
R-Rated, 2 stars
The point of this movie is to hate it, but the satire and irony took it so far that I cannot find anything to like about it. I always find it difficult to enjoy satirical films, though if I hate it, at least its goal has been achieved. The beginning of the film starts with the words, "This film contains flashing lights, themes of trauma, and an unlikable female protagonist." Following the story of Danni Sanders, who finds herself feeling lonely and looking for respect as a writer, she uses social media to create a fake writer's retreat in Paris to gain traction and attention to her work. However, when a terrorist attack hits the Arc de Triomphe her lie becomes serious, and she plays along with it. This creates a newfound identity for her as a survivor, exploiting a traumatic event she was not a part of as a way to become an activist. Yet, everything she does is performative. She wants attention and does not care for the causes she begins championing for. Eventually, her lie catches up to her and is exposed to the public. Despite being an unlikeable protagonist, Danni's character has no depth and is boring and unoriginal throughout the film in its entirety. There is no real explanation as to why her character is unlikeable or really wants social media fame which is why I feel the movie fails to serve a point in the relationship of influencer culture and performative activism in social media.
Across the 173 films I watched last year, these top 3 releases are only a fraction of those I enjoyed. With upcoming 2023 releases of Greta Gerwig's Barbie, Paul King's Wonka, and Denis Villeneuve's Dune: Part Two, I can only hope for yet another great year of viewing.
Leave a Comment
About the Contributor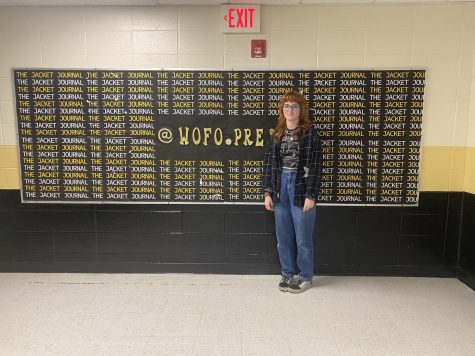 Becca Adkins, Staff Reporter
Becca is a senior at WCHS and this is her first year writing for the Jacket Journal. In her free time, she enjoys reading, watching movies, listening to...