A Winter Wonderland: WCHS Choir's First Concert of the Year
On Thursday, December 9th, Woodford County High School's choirs performed their first concert of the year at Versailles Baptist Church. Spirits were high as this was their first in-person concert since the 2020 school year. The concert choir started the night with an Italian piece titled Caro Mio Ben. They followed with the songs Lunar Lullaby and Imagine by John Lennon, featuring soloist Amyiah Laine (9) and Kate Phelps (9). The last song was the Battle of Jerico. Mr. Stickland, the school's choir director,  introduced the song with a children's book given to him by one of his students which described the biblical story behind the song.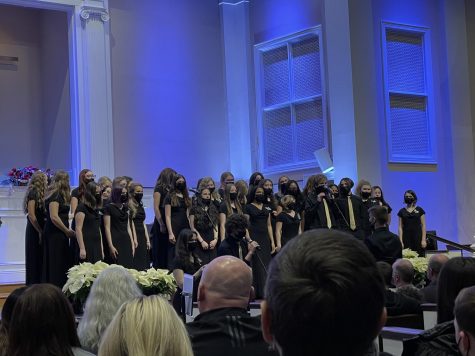 The next to perform was the a cappella group. The first on stage was the Lady Ensemble. They sang  Sing to Me by Andrea Ramsey, a composer who is gaining popularity in the choir world. The Mellow Jackets were next, and they sing sang Don't Stop Believing by Journey, which included a duet from Coner Brumley (10) and Sydney Williams (10).
The all-male a cappella group Stinger Singers took the stage next. They performed Wake Me Up by Avicii, which featured two soloists, Matthew Grimes (12) and Mason Anderson (12). Their next song, End of the Road by Boyz to Men, was arranged by Colin Hewett (12) who also performed a solo alongside Mason Anderson.
"
I'm so grateful to perform and rehearse with these individuals every day, and that commitment and talent showed in the concert."
— Colin Hewett
Hewett is a senior and is a member of the Mellow Jackets and the Choral, as well as the President of the WCHS choirs. He went on to say, "A formal concert with some of the best singers of Woodford County High School is something I'm so glad to have taken part in! A normal choir year is what we all were hoping for, and we finally are getting it! It was truly spectacular and definitely a concert benchmark to remember as I go through high school!"
"
Getting to sing in front of all those people after so long was sentimental to me."
— Mackenzie Gregory
The all-girls a cappella group performed Favorite Crime by Olivia Rodrigo and featured solos from Mackenzie Gregory (12) and Afton Skeeters (11). Gregory has been doing choir since her freshman year of high school. She is a senior now and is in the Honeybees, The Mellow Jackets, and the Choral. "It was really cool getting to perform a solo because we haven't had the opportunity to have such a big concert in two years," she said. The last a cappella group to perform was the Men's Ensemble, ending with the song Jingle Bells.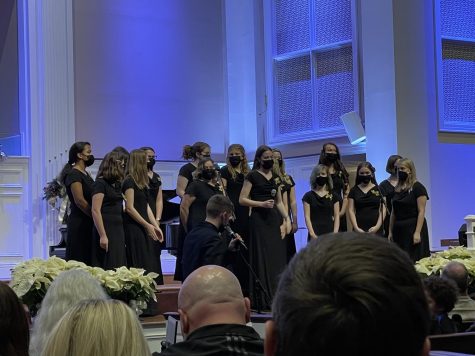 The Choral was next to the stage. Conner Brumley and Colin Hewett appeared once again as soloists, as well as Spud Farrow. "Well, since it's my first concert at this school, I think it was quite nice," said Farrow. The soloist was accompanied by Luke Cissell (9) on the hand bells. Allie Glockner (12) showed off her powerful range in a solo from their next song, Esto Les Digo, which was followed by the song Kyrie. Dies Irae was the next song, and it featured a small group that included Emma Hayes (12), Mackenzie Gregory, Emma Cheser (12), and Elizabeth Raglin (11).  They ended their section of the concert with a very enthusiastic performance of Jingle Bells.
To close out the night, both the Concert Choir and Choral came together to perform two final songs. The first was Light from the musical Next to Normal. Taylor Brown (9), Luc Vandenbroek (11), Yaya Wilson (9), Rylie Sudduth (11), Dawson Akers, and Connor Brumley all joined together to perform a solo to open up the song. To close off the night, both choirs performed Betelehemu, a Nigerian Christmas carol. Dawson Akers, Colin Hewett, and Allie Glockner performed in a small group during, swaying along to the beat of a drum played by Taylor Neal.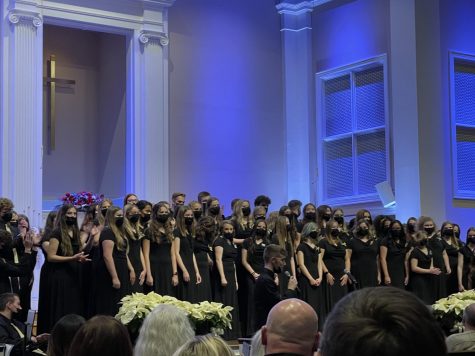 At the end of their performance, the choir was given a standing ovation from the audience. Dawson Akers is a junior and a member of the Stinger Sings, the Mellow Jackets, and The Choral. He had two solos and has been involved in WCHS choirs since his freshman year "I think that this concert definitely wasn't perfect, but I still think it was excellent, and it makes me so excited for what we could do in the future for our next concert both as a full choir and as our separate a cappella groups," he said. WCHS choirs will return in the spring with another concert.
Leave a Comment
About the Contributor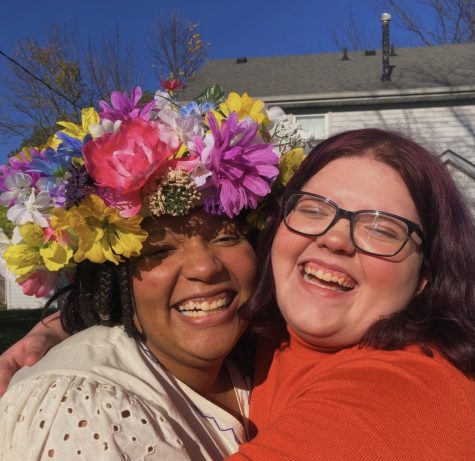 Kendall Edmonds, Staff Reporter
Kendall Edmonds is a senior at WCHS. In her spare time, she likes hanging out with her friends in empty parking lots, baking, and watching movies. She...